The Book's Cover: Dirtyflaws
Every time we hear the phrase "Don't judge a book by its cover" we cringe. Though well-meaning, as an idiom it stopped making sense when most books (and people) ceased to be covered by whatever old piece of brown sacking happened to be laying outside the village weaver's hut. Of course you can judge something by surface appearance. That's why we have graphic designers. Rarely do people have time to read a book before purchasing to determine the contents; in the same way, who has the chance to read a person before having any thoughts on the subject? True, the contents are the most important things, but what makes you discover those contents in the first place? Your eyes; your sense of aesthetics. A good cover speaks volumes, and The Book's Cover gives voice to those who wear theirs well.
Since finding Dirtyflaws early last year, it has remained one of the most inspirational style blogs we know—and one of the few we visit on a daily basis. Through owner Nikki Moose, we've discovered beautiful independent labels like Sisters of The Black Moon, InAisce, and Bond, as well as a plethora of inspirational imagery. Moose's style is, of course, impeccable: black is the base, accented with silver, gray and white. And as for her stunning tattoos? "I've been getting tattooed for the last ten years by some of the raddest artists: Eric Eaton, Maxime Buechi, and Robert BonHomme. I feel really fortunate to have those dudes do my favorites pieces, including the large vulture head on my left outer thigh, the "infamous" Gareth Pugh sketch (a silhouette from his Spring '07 collection) on my inside left arm, and last but certainly not least that mother of a skull/geometry piece taking up 80% of my right leg." Not to mention she lives with one of the sweetest little beasts on blogland.
What's Nikki's ideal cover? Let's find out.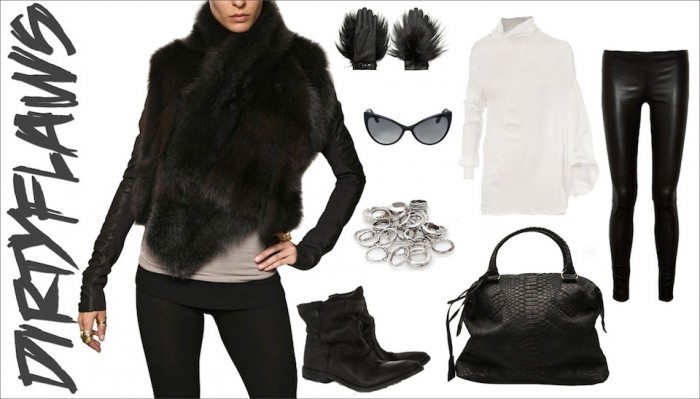 1. Rick Owens Hun – Leather & Fisher Fur Coat
"Fucking no-brainer."
2. Tom Ford Sunglasses
"I've always liked the style of the cat eye and rarely see a thin frame that pulls it off. These look both sultry and slick."
3. Gareth Pugh Mongolian & Fur Leather Gloves
"Two reasons. One: they are Gareth Pugh. Two: Mongolian and leather combo heaven. Although I can promise you if I lost one of these I wouldn't hesitate to just wear one."
4. Sara Samoiloff Sterling Silver Rings
"Sara Samoiloff jewelry is pretty much all on my skin: eight holes in my ears and they all contain her silver pieces, three or four necklaces I hang from my neck and now I am just working on getting my ring collection in order ."
5. Isabel Marant Leather Jenny Boots
"I own the Jennys in taupe and I love them – throw 'em on and you're out. If I have known that leather was in the works I probably would have waited, but oh well – guess I gotta get these guys so my taupe ones have a friend in the closet!"
6. Number Nine Python Bag
"I've been obsessed with this bag since I spotted it last week (I know, one week and I'm already losing my shit over something I really don't need) – you could look like absolute shit, but if you have this python tote in hand you're going to rule the streets."
7. The Row Moto Stretch Leather Skinny Pants
"Leather Moto pants? Really?? FUCK yes."
8. Ann Demeulemeester Asymmetrical Drape Top
"Tried to channel that inner lady in me with this Ann D top. Her pieces are always so beautiful, and a little white with an all-black wardrobe really breaks everything up."
Published November 23, 2012. Words by Daniel Jones.