Cyber-Visionary: Veronica So and L_A_N
Published on May 16, 2011 14:51 Berlin Time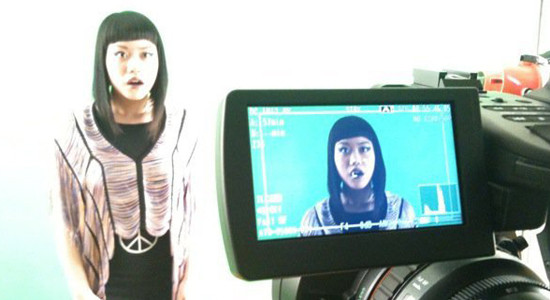 Veronica So is a busy woman. When she's not providing cut-you-up vocals for London synthpunk band Teeth (the group responsible for hacking Lady Gaga's twitter account back in 2009) she's releasing some of the most cutting-edge techno-culture literature out there. L_A_N Magazine is a self-published collection of art and articles about new levels in technology and style, featuring collaborations with visionaries including fashion designer Hussein Chalayan, artist/musician duo AIDS-3D, and cyber-past archivers Internet Archaeology. Slick, creative layouts, a poster-sized format and a trained eye for the on-point and fascinating make this the sexiest time you'll ever have reading about bionic contact lenses and telepathic brainwave headsets. We asked Veronica to tell us about some of her current technological obsessions.
Naturally, the answers were far from standard.
#1 Clock of the Long Now


I saw the prototype of this amazing clock in the Science Museum in London last year and was stunned by it's beauty. The Long Now Foundation is attempting to encourage long-term thinking by building an epicly large, mechanical 10,000 year clock in the side of a mountain in eastern Nevada. It will tick once a year, bong once a century, and a cuckoo comes out every millennium. The foundation "hopes to provide a counterpoint to today's "faster/cheaper" mind set and promote "slower/better" thinking." Also cool: "The term was coined by one of its founding board members, Brian Eno. Upon moving to New York City, Brian found that "here" and "now" meant "this room" and "this five minutes" as opposed to the larger here and longer now that he was used to in England. We have since adopted the term as the title of our foundation as we try to stretch out what people consider as now."
#2 Zero Touch
I'm pretty sure this will be amazing for all sorts of applications- video gaming, secret hand gesture accessing, petting virtual pets. The important things of the future.
#3 Fukushima Plate from Nils Ferber


My mom, who lives in San Francisco told me recently that she was eating less sushi nowadays because of the Japanese Earthquake and how eating sushi is probably not a very good idea due to nuclear spillage/radiation. It really upset me and I refuse to believe her- maybe this plate will affirm the facts.