Review: Mac DeMarco – Salad Days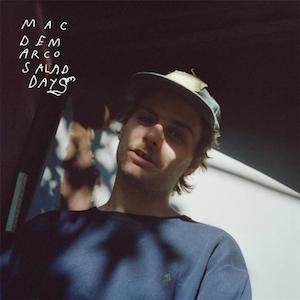 Captured Tracks' favorite gap-toothed slacker-king grows up. But are Mac DeMarco's salad days really behind him? Max Gruber finds out. 
Within just two short years, it has become virtually impossible to avoid Mac DeMarco. After putting out an array of EPs under his former alias Makeout Videotape, the Canadian crooner released both the addlebrained Rock And Roll Night Club EP, as well as his universally praised full length 2 in 2012. Laden with off-color humor and quirky cover medleys (including both Bachmann Turner Overdrive and Limp Bizkit), DeMarco's raunchy live shows became notorious—and the 23-year-old the modern king of slacker indie pop.
DeMarco's rise to stardom is almost comparable to that of a child actor: an exhausting touring schedule, the pressure of having to deliver new material plus the burden of maturing in public while always having to maintain that persona that people have become accustomed to. In DeMarco's case, this persona is an uncombed and unshaved bib-enthusiast with a cigarette dangling from his lips. But now that the cigarette smoke (and the hype) has cleared, Mac DeMarco sees himself confronted with having to strike a balance between his signature goofiness and being a serious artist—and on Salad Days he succeeds.
While 2 came across as simpatico and ADHD-driven, Salad Days abounds with a subtle fatigue and angst. The album is aptly titled: the term 'Salad Days' describes the days of carefree innocence, while also referring to a person's heyday—DeMarco declares that his "salad days are gone" within the first thirty seconds of the record. On songs like "Let My Baby Stay" DeMarco also showcases his ability to strike more serious topics. After moving to New York with her, his longtime girlfriend Kira was almost deported for not having an American visa. "Half of my life I've been an addict / and she's been good to me", he softly sings, backed by a steady, slightly off-key xylophone, before ironically adding: "As far as I can tell she's happy living with a monkey". While the self-explanatory love song number two "Treat Her Better" is heartwarming both in its musical and textual simplicity, Mac can't help but distort its beauty with a crude vocal rendition of a guitar solo midway through the track. This ambivalence, swaying between severity and silliness, is Mac's leitmotif on Salad Days—and will ultimately become his credo. ~
Mac DeMarco's Salad Days is out now on Captured Tracks. Catch him live at EB Festival Cologne on May 23rd.

Published April 14, 2014. Words by maxgruber.