Audioccult Vol. 39: Mr. Style Iconography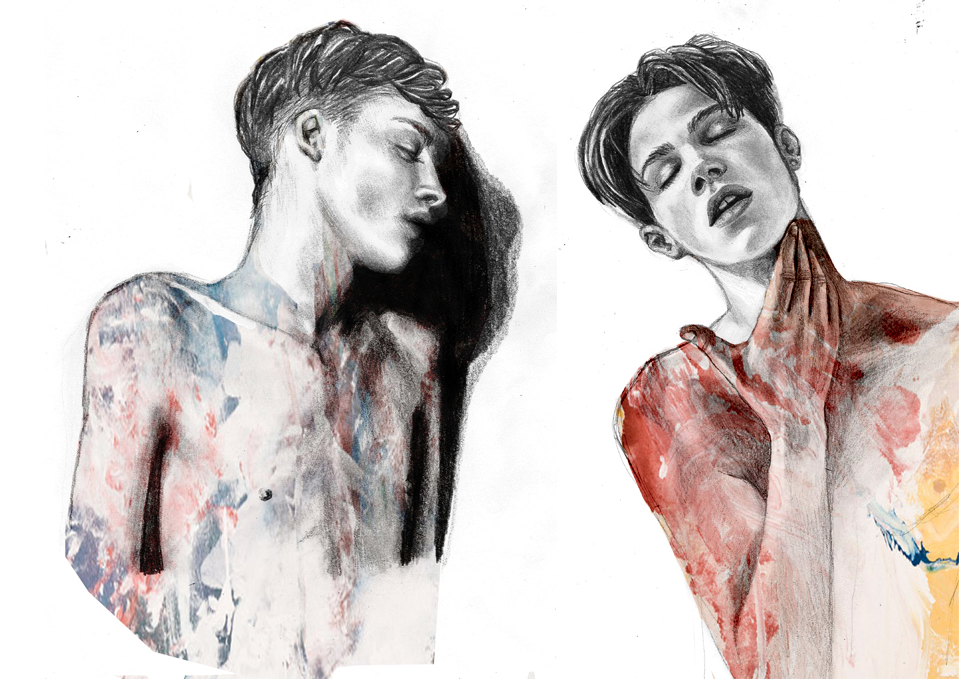 Light a candle. Draw the required sigils. Now, raise your arms above your head and slowly, gently, exhale your soul. You won't need it here. This is Audioccult, and it's time to get low. Illustration: Simone Klimmeck
Lovely brunches. Hard bass. Sweat-soaked bodies and discovering that the new Destiny's Child mixes nicely into Fad Gadget. That's what memorable weekends are made of, especially when preluded by the time-absorbing Berlin Fashion Week. Well, tell a bit of a lie: I only went to two shows before my giant foam FASHION! finger was confiscated, then left to get Mexican food and hang out at my friend Campbell's shop Darklands. The best thing I saw came off the internet (naturally), via the always-on-point Zana Bayne. Just when the influx of fashion harnesses was getting OD, Zana brought out her amazing new collection and once again blew everything else out of the water. Leather flog garters. Clear vinyl headpieces. I'm won. I also saw the fucking Hobbit and I'm pretty certain it was written by the ghosts of the Three Stooges.
Fashion Week was good for one thing, at least—making connections. I'll soon be hawking a new line of style candybars: Dries Van Nuttin, Karl Lagerfruits, and of course Ann Demueslimeester. Couldn't think of anything funny to say about Rick Owens, but he's pretty ripped and I kind of don't want to anger his buff arms. You the man, Rick, even if I prefer your arch-nemesis Damir Doma. Draped myself in his lovely pieces, then had a dream I was the Cool DJ at the Big Party. Woke up and I was actually mid-DJ set repping this Just Blaze/Baauer collab. You gotta be careful when people hand you stuff sometimes. I also keep getting my butt grabbed in my dreams; just another reason why reality is the inferior format.
As far as editorials go, I've seen a few nice ones lately. Katie Eary's new digital print line is fairly sick, a sort of floral vampiric power-mom style. I also love the styling for Greta Ilieva's Under The Influence magazine shoot. Where on earth does one get a hyena jacket? Carrion predators are so chic. As usual, however, I've eschewed most fashion coverage in favor of solitude and mixing equipment, compiling sound revisions for my CTM showcase. Soulja Boy spins into a flock of shattered choirs, the voice of Azealia Banks refracts off binaural beats with 10x echo,  and powernoise R&B is Forever 21. Genre Jesus will be in agony until the end of the set. There must be no resting in the meantime.
Impressions of London Fashion Week AW12
According to the press, London Fashion Week is now amongst the big players. This season British fashion houses returned to their home country with Stella McCartney hosting a table-dancing dinner and Alexander McQueen's Sarah Burton presenting the first catwalk show for the brand's second line called McQ in the British capital.
While Paris, New York and Milan are about money and business-minded decisions, London is known for its creativity, originality, experimentation and passion, a hotbed for exciting and extreme far out styles. With that in mind, we were keen on unearthing young talent and up-and-coming designers to satisfy our hunger for fresh ideas and new inspirations.
Beside the catwalk shows there are more than hundred off-schedule shows, presentations and performances taking place during the week. It's not easy to make a manageable timetable to cover all of the interesting stuff so we're going to highlight some of the best things we experienced. This AW 12 season's trends were prints, jacquards with motifs and sculpture-like silhouettes, and lots of colour. Although one of our favourites was Katie Eary's dark fantasy. Her previous collections also referenced notorious stories but this fairytale was incredible with black, elf-eared urban warriors emerging from the depth of a concrete jungle, with intricate detail applied to the silhouettes, textures, leather and fur.
Back from the dark fantasy world to the poppy and colourful side. Similarly to the NewGen-talent Louise Gray and her colourized QR-code collection, we also liked the 'Diamond Li' collection by Sibling. Both their women's and men's wear lines were inspired by East London club culture and were "based on the idea of the Marked Man and the relationship between a protective matriarch and her wayward son", as the designer trio explained Dazed Digital. Disco revival, sequins and glitterballs brought to the next level.
© Dean Mayo Davies courtesy of Dazed Digital
We love fashion pioneer and talent scout Lulu Kennedy's Fashion East shows for their refreshingly new and progressive approach to fashion courtesy of the youngest generation. Debuting last season within the fashion incubator, Marques' Almeida has been on our radar since last September and didn't disappoint. As their statement declares "Helmut Lang school of thought, where 'fashion is about attitude, not hemlines'" and one can identify with their world of nomadic silhouettes combined with acid colours and deconstructed denim.
Digging deeper into the off-schedule shows, we became aware of Alexandra Groover three seasons ago, when we saw the first LFW screening of her dark and conceptual short film trilogy 'Birth-Life-Death' whose final instalment took place this season presenting the AW12 collection. She worked closely with Dave.I.D (read our interview with him) who made a special drone track for the occasion.
Among the ones to watch we have to highlight CSM graduate Carl Craig's diploma work, Heohwan Simulation's pattern cutting talent, Mattew Miller's menswear prints, Asger Juel Larsen's soldier cloaking coats and the already featured KTZ.
It's obvious that fashion and music are strongly connected, not only in regards to image-making in fashion videos or catwalk shows, or drag queen inspired freaks hanging around chasing street style photographers but most evidently it's the club culture itself where both trending fashion and music are merging. It's as if another parade started as the sun goes down: at the catwalk show after-parties…
Katie Eary collection photos © Morgan O'Donovan