Feed/News
Help This Swiss Museum Open Its Massive Archive Of Synthesizers To The Public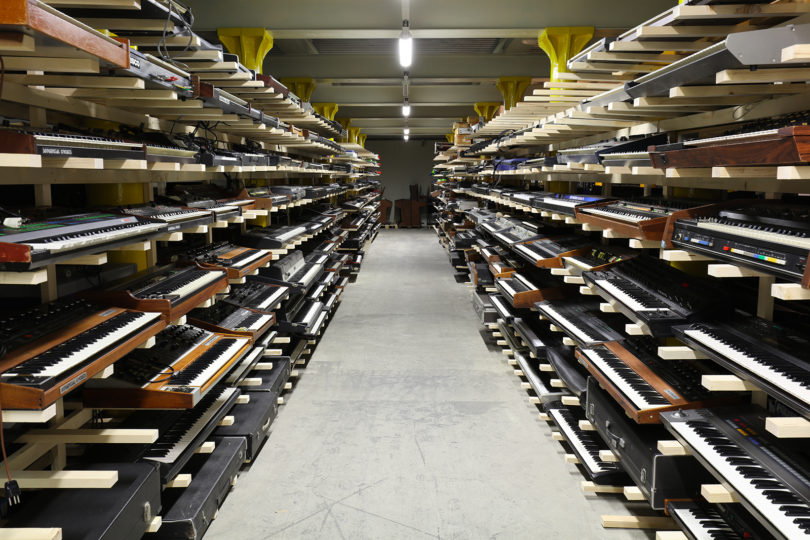 The Playroom will be an interactive space to explore and play the world's great electronic instruments.
Do you love electronic instruments but don't have the budget to spend on your insatiable thirst for hardware? A new initiative proposed by the Swiss Museum & Center for Electronic Music Instruments (SMEM) could be your ticket to having the world's collection of synthesizers at your fingertips.
SMEM (pictured above) is one of those places that can make even the most obsessive and knowledgeable collector's jaw drop. Legowelt—hardly an amateur when it comes to these things—said this about the center: "I was truly flabbergasted…endless rows of synthesizers—some so obscure I had not ever seen nor heard of them…Its pretty much like that ending scene of Indiana Jones with the giant hall for relics but with synths."
Now, SMEM wants to open up the collection of over 1000 synthesizers and 5000 other objects—including effects and other electronic instruments—to you. The Playroom—currently being crowdfunded via Kickstarter—is a space to play and explore these wonderful machines. Their plan is to have 50 synths and 10 effects stored there at any time and rotate them every three months. The Playroom will also include a library full of books on synthesis and workshops and lectures exploring the history and future of electronic instrument craft.
To learn more about this amazing initiative and to lend it your support, head to their Kickstarter here.
Read more: Watch a 360°video from inside Roland's Japanese synth museum