Culture
How '90s Russian Rave Became The Toast Of High Fashion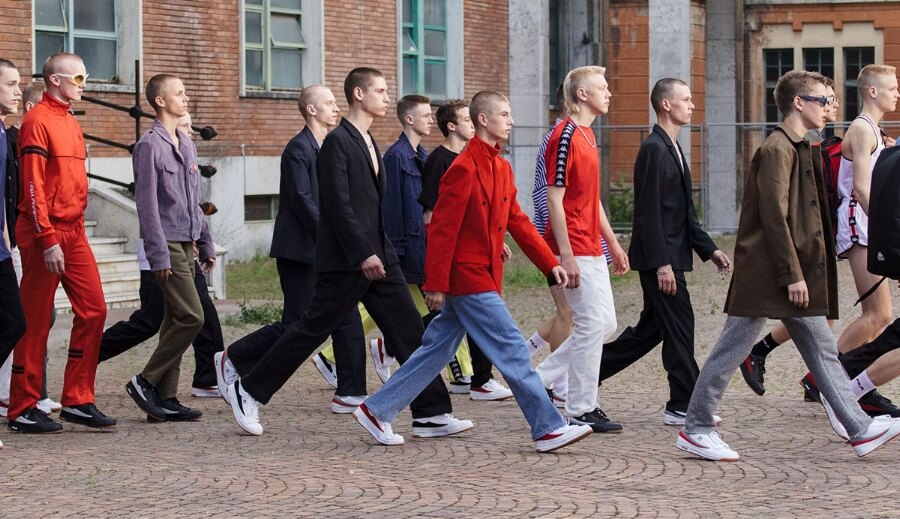 Fashion designer Gosha Rubchinskiy describes the origins of the Saint Petersburg-UK streetwear axis.
While the fashion of '90s rave is currently undergoing a Renaissance on contemporary runways and collections around the world, few designers can actually boast as deep of a historical and emotional connection with the rave revolution as Gosha Rubchinskiy. Even fewer could make post-Soviet rave work so harmoniously with a fashion brand like Burberry.
The Russian fashion designer was a direct participant in the earliest underground parties and raves that rocked Saint Petersburg as far back as 1989. He's even become a vital archivist of this incredible creative moment by paying homage to the scene with a zine accompanying one of his recent collections, and he created a capsule collection in 2015 featuring motifs from the paintings of the first rave organizer, Timur Novikov.
Rubchinskiy has a new collection on the way, and yet again, he's returning to the '90s for a source of inspiration by tapping into the subcultural niches and idiosyncrasies of streetwear to produce a new range of club-couture clothing. This time, it's the cross-pollination of London rave aesthetics with Saint Petersburg high fashion, which has culminated in a collaboration with the cult clothing brand Burberry. Rubchinskiy recently caught up with Dazed to reminisce about the post-Soviet rave scene and how this era lives on in his design work. You can read the whole piece and see a gallery of his new collection here. Below, watch the designer catch up with i-D as he brings fashion and rave to a new, post-Soviet Russian generation.
Read more: This streetwear brand is directly inspired by '90s rave and acid house