Feed/Music
Listen To 15 Of Your Favorite DJs' Favorite Lobster Theremin Tracks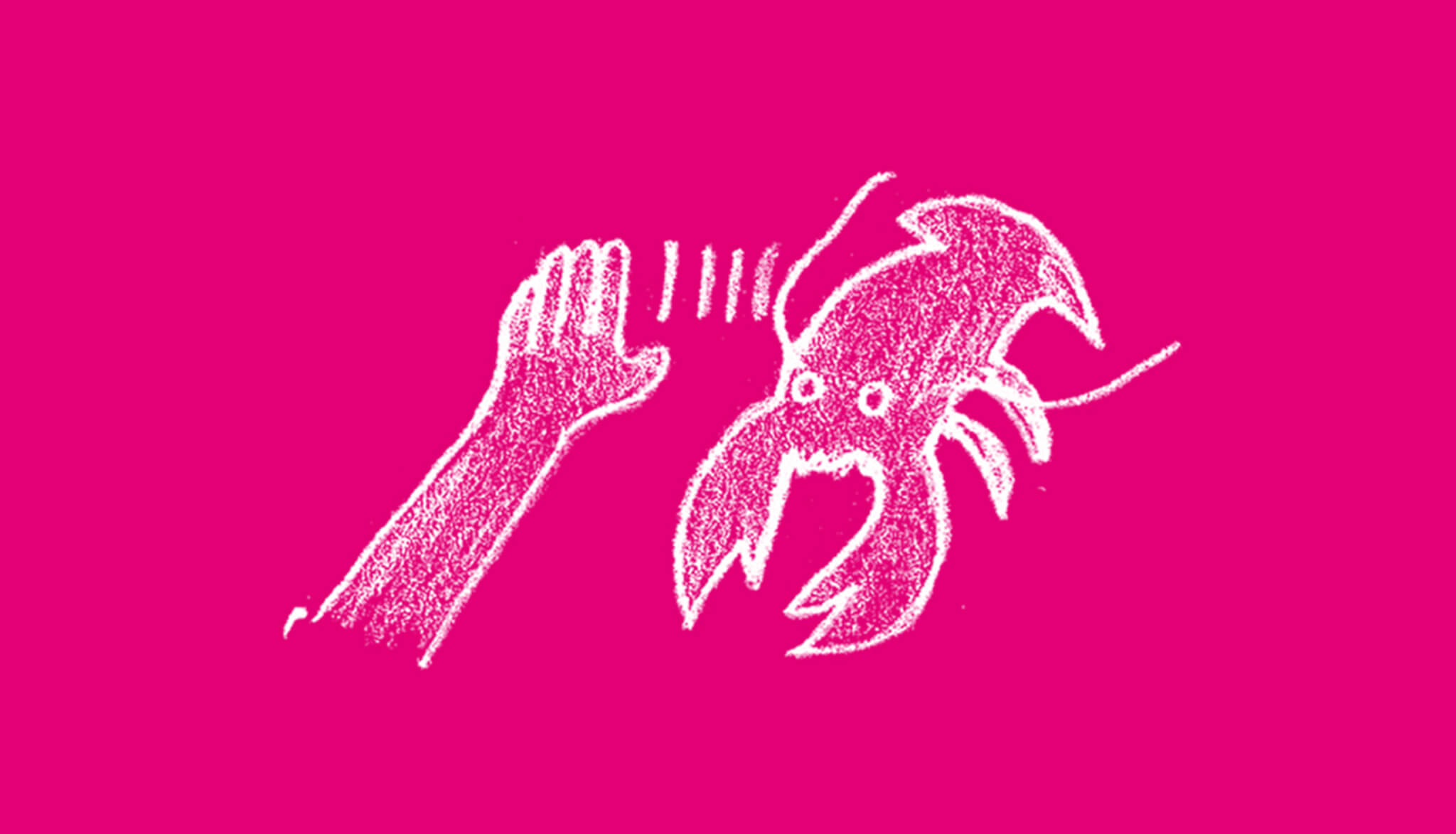 Get up to know the influential London-based imprint before our Clubnight label showcase in Cologne.
Tonight, we're celebrating the fifth anniversary of influential London label Lobster Theremin's existence by throwing a Telekom Electronic Beats Clubnight at Gewölbe, one of our favorite clubs in Germany. We figured that was as good a reason as any to ask some of our favorite DJs to select their favorite cuts from the imprint's vast discography. With selections by Tijana T, BOBBIE*, Mor Elian, Palms Trax, Erol Alkan and even label head Jimmy Asquith, this list ought to help you wrap your head around the many facets of the Lobster sound.
Live in Cologne? RSVP on Facebook here. See you tonight!
1. Palms Trax: Rawaat, "Day Labourer (H.S. Recast)"
"I must have listened to this about 8000 times before it was finally released. I vividly remember how exciting it was for someone like Huerco S. to get involved with the label when it was still in its infancy. The track has such a satisfying sense of propulsion; it still gets me."
2. Tijana T: DJ Seinfeld, "Jerry (Lobster Fury)"
"Usually, I don't rationalize why I love certain tracks or not. This one had the right groove and it made me feel excited every time I heard it. That was enough for me to play it at almost every gig last summer, especially big festivals. Now that I think of it, it's the tribal element that got me. I love tribal rhythms in house or techno, no matter if it's from the actual "tribal" era or current productions.  Elements that make 4/4 dance music sound like it's not really 4/4, or whatever takes it away from sounding dry and purely white Western, is what gets me easily. 'Jerry' is a brilliant piece of work with so few elements, perfect dance floor groove, catchy vocal sample, exciting break and somewhat unexpected deep pads. It could belong to this moment or it could have been released 20 years ago. It's timeless."
3. Route 8: DJ Wave, "Mad About You"
"This record was always really close to my heart. It has the perfect tracks to get lost in the music during the sunrise. It's also a secret side project from a really good friend of mine who usually makes darker songs, so it's interesting to see his softer side on this EP. The whole release is filled with joy and love but my favorite one is 'Mad About You'. Those swinging flange percussions, heavy techno kicks and soulful pads will definitely make you dance and smile in the club, especially when the square lead comes in every now and then."
4. Danny Daze: Snow Bone, "Lost Ancient Language"
"It's hard to choose which Lobster track is my favorite, as I play quite a bit of the label. I had to go with the one I've played the most according to history play count. That would be 'Lost Ancient Language' by Snow Bone. I absolutely love the low end on it and how the synth stabs just come in out of nowhere. It's the perfect record to reset the night if needed."
5. Machine Woman: Jon Fay, "Untitled [MÖRK010]"
"This tune is super sleek and smooth. It makes me feel very relaxed and beautiful when I listen to this. It's like honey to my ears. It's an absolute ambient house belter, mate! I want to eat it this is how much I like it. TASTY HOUSE."
6. Erol Alkan: Imre Kiss, "Non"
"It could either be Palms Trax's 'Houses In Motion (Tin Man Remix)' or 'Non' by Imre Kiss. Those are the ones I played for sustained periods of time, and I feel both are brilliant records. If I had to narrow it down to one, maybe it would be more down to a moment when I played "Non" when it first came out to around 9,000 people on a beach in Cannes, at sunset. It was quite a moment."
7. Asquith: D.Dan, "The Danger Zone"
"We can't have a lobster chart without D.Dan! This is thundering 142 BPM techno that sounds like a Surgeon-Mills hybrid coming to fix your 56k dial up router and literally just battering the shit out of it with a hammer 'cause they're still leathered from the night before at Cream in Sheffield. An absolute rager, this."
BONUS: ITPDWIP, "Blinded By The Light"
"This is easily one of the most touching and emotional tracks thats been released on Lobster. There's a real rawness in the feelings expressed through synthesizers, and the puckered, dust-flecked drum work is really something all of its own. Along with the artwork, it forms an incredibly personal portrait of an individual in turmoil but who is coming to a positive place and final transition to peace. A truly special piece of music."
8. BOBBIE*: Daze, "Death Whirl"
"This release from Daze back from 2014 put Lobster Theremin on my map. I was immediately caught by its driven darkness, falling into a punching acid line. This track squeezes so much energy out of the subwoofer, it just blows your mind hearing it in the club. "Death Whirl" became a steady companion in my record bag for a very long time. It initiated my idea of hosting a LT night at PAL, in Hamburg, back in 2015. What makes Lobster Theremin so special for me today is Jimmy´s persistent label work and his steady support of new talents. Due to his fine sense of discovering emerging artists, the Lobster catalogue shows a beautiful variety of musical form and styles. He managed to grow a company and a great team around him. It's really impressive to watch."
9. Grant: Route 8, "It Doesn't Matter Anymore"
"Route 8 is the artist that made me become a follower of the L.T. stuff. All of his releases to this day are heavy hitters in terms of production quality and style. I feel that this particular track remained in the shadows, compared to his better known hits. But for me, this track is definitely the hidden gem. It's like a track out of time; it sounds as if it was produced in '90s Detroit, rubbing shoulders with Drexciya. Regardless of the current modern resurgence of electro in the underground scene, it has been two years that it's been on rotation in my playlists and there is no sign of me taking it off. Respect to the man Route 8."
10. Minimal Violence: Raw M.T., "Richard's Revenge"
"This track is a favorite to break out in sets because it's composed of so many of our favorite elements. It's noisy and chaotic yet hauntingly beautiful, with laser-like acid strobes to fill a room. Distorted snares and hats quickly overtake the classic techno undertones that this track begins with. There's a moment at 2:41 where it all comes together perfectly, right before the melancholic strings emerge. An early morning sunrise banger for sure."
11. DJ Haus: The Night Flyer, "All Wrong"
This track brings so many great memories for me, it's by a good friend of mine, an Italian party stallion. I played this so many times, but for me, the best experience with this track was at an open air music festival in Munich. The sun was setting, and I played this at just the right time when the crowd was entering from the daytime festival vibe into a more demented night time frenzy! It's such a raw track with very little to it, more of a DJ Tool, which is suited to my personal DJ style. Hard acid Italian free party techno!
12. LUZ1E: Thet Liturgiske Owäsendet,  "Catalina"
"To me, this is a really progressive piece of music that slowly transforms and takes different shapes, like an organic flow of water in a sense. The broad complexity of the sound and the aesthetic remind me a bit of Terreke's works."
13. Violet: Palms Trax, "Forever"
"This track is perfect to me in every aspect. Starting with the metallic percussion and the acid stab, down to the snare work, vocal samples and dreamy pads in the breakdown. The most beautiful part of it is the emotional content of the beautiful lead melody that inspires a feeling of both longing and optimism."
14. Mor Elian: ASOK, "Terran Envoy"
"I love this whole EP by ASOK, and especially this track. It definitely has that signature Lobster feel, and also builds up with great suspense that leads to a break and then back into a brilliant groove and very clever drum work."
15. DJ Boring: Ozel AB, "Sidestep To Your Left"
"My first impression of 'Sidestep To Your Left' was that it was a little bit underwhelming. But as I continued to listen, my initial outlook quickly dissolved and I immersed myself into the music. The transition from the dark industrial sounds to the smooth chord and perfectly timed ride cymbals easily gave it the edge to become a memorable favorite of mine."
Read more: 25 electro essentials that every true head should know