Music
We Don't Know What's Going On In Eartheater's New Video, But We Like It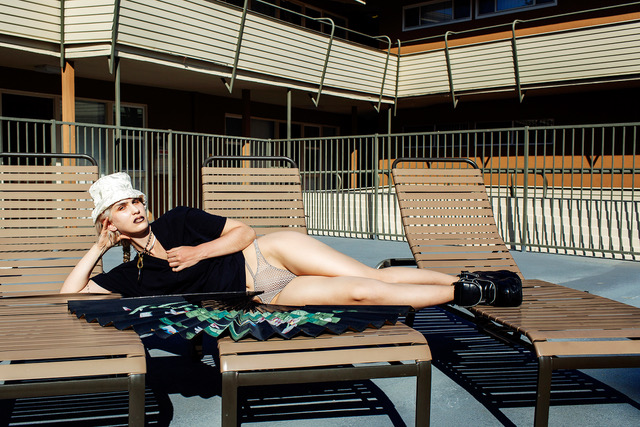 The self-directed video for "Curtains" is kicking off the artist's month-long European tour.
One of the most hauntingly beautiful and strange releases from 2018 has been Eartheater's IRISIRI on Pan. New York-based musician Alexandra Drewchin's unique fusing of classical composition and off-kilter songcraft makes the LP one of the strangest and ethereal listens you're likely to stumble across this year.
Now, Eartheater is bringing her musical talents on the road for a massive European tour that will take her from Lisbon to Unsound Festival in Krakow to Berghain in Berlin. To celebrate the tour, Drewchin has just dropped a new self-directed video for the track "Curtains".
"Curtains" is marked by an intertwining call and response between snippets of rave beats and mournful harp cadences, which effortlessly pulls the listener in and out of two different listening spaces and temporalities. The video adds to the dense, dream-like state of the track, adding an extra visual element to Eartheater's strange musical vision.
Watch the video above and grip the record over at the PAN site here. See Eartheater at a venue near you by checking out her tour dates below.
Eartheater European Tour 2018
Oct 05 – Bern, Switzerland – Dampfzentrale
Oct 06 – Riga, Latvia – Skanu Mezs
Oct 08 – Krakow, Poland – Unsound
Oct 11 – Aarhus, Denmark – Tape
Oct 13 – Prague, Czech Republic – Studio Hrdinu
Oct 17 – Cologne, Germany – Bumann und Sohn
Oct 19 – Berlin, Germany – PAN 10 @ Berghain
Oct 20 – Graz, Austria – Tripledecker
Oct 25 – London, UK – Courtyard Theatre
Oct 26 – Dublin, Ireland – Bello Bar
Oct 27 – Manchester, UK – White Hotel
Oct 28 – Newcastle, UK – Cobalt Studios
Nov 07 – Amsterdam, Netherlands – Muziekgebouw
Nov 08 – Barcelona, Spain – MIRA
Nov 09 – Lisbon, Portugal – ZDB
Nov 10 – Brussels, Belgium – Beursschouwburg
Nov 11 – Utrecht, Netherlands – Le Guess Who?
Read more: Listen to a new mix of boundary-pushing dance music and Bill Kouligas