17 Anthems From Superbleep3000, The '90s House Party That Put Wiesbaden On The Map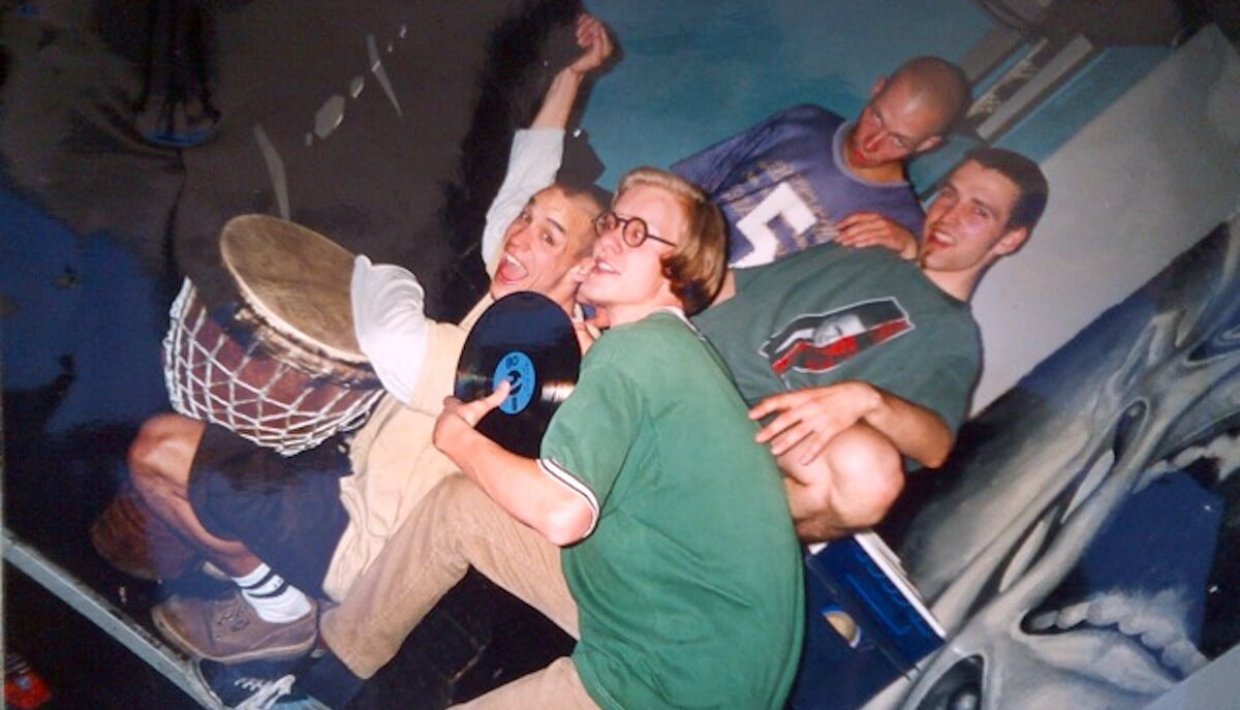 Late '80s and early '90s Frankfurt will always remembered as a techno epicenter. Its surge in popularity was in large part due to the infamous sessions Sven Väth was hosting at Omen, as well as the emergent labels Ongaku, Klang and Playhouse. Neighboring Wiesbaden may have been overlooked by comparison, but it had its own unique cultural makeup that paved the way for Superbleep3000, a cult party organized by Manfred 'S-Max' Koridass, Peter Kremeier (a.k.a. Losoul) and Moritz, three friends defiantly opposed to the big room techno and trance hegemony taking place elsewhere.
Superbleep3000 was always held on Wednesday nights in a "dirty cellar" venue in Wiesbaden called Basement, more commonly used for indie, rock and industrial—and looked down on by local mainstream techno DJs. The party's regulars looked down on electronic music as a commercial entity. This inherent state of friction was fuel for the defiantly underground approach the Superbleep team took, mixing up UK hardcore, bleep techno, rough-cut house music and acid.
As well as forging a sound based around the crew of residents, Superbleep managed to host guests including Daniel Bell, Boo Williams, Terrence Parker and Matthew Herbert, thanks to the rising prominence of Wild Pitch Club in Frankfurt. Mid-week gigs were offered to artists who were coming to the area to play at Heiko M/S/O, Ata and ND Baumecker's infamous Frankfurt party on the weekend. Zip, Ricaro Villalobos, Chris Duckenfield, Even Tuell, DJ Traxx and Ian Pooley also passed through the underground club in Wiesbaden, many of them in the earliest stages of their careers, busy forging exciting new approaches to house and techno.
Both S-Max and Kremeier went on to record and release their own music. Kremeier arguably found the most notoriety as Losoul, releasing solidly since 1996 on Frankfurt's seminal label Playhouse and still rolling out a refined, subtly kinked strain of deep house to this day. S-Max, meanwhile, pursued a unique strain of off-kilter techno with distinct roots in the music played at Superbleep, from early electro to Underground Resistance and Daniel Bell. He launched the Boogizm label alongside Fym in the early '00s and continues to release left-of-center club tracks.
S-Max and Losoul and sat down with us to describe 17 tracks that defined the party's style. Check them out below, and then listen to a tape recording of an S-Max set from the party circa 1995, as aired on S-Max's Boogizm radio show.
S-Max: LFO, "LFO" (Warp Records 1990)
"This or Nightmares On Wax's 'I'm For Real' are life-changers! And as a result, you get the chance to get people accustomed to that style!"
Losoul: Marascia, "For The Music" (ACV 1992)
"This was the perfect design symbiosis of Chicago house and techno with a clear, straighter European arrangement. Idealism and punch from Italian DJ amd producer Marascia on the ACV label that also brought us Robert Armani, Leo Annibaldi and more."
S-Max: Underground Resistance, Sonic EP (Underground Resistance 1990)
"This EP was very, very influential. I played all the tracks on this record so many times, and still see it as a visionary piece of art! It was made in 1990, and it still sounds futuristic!"
Losoul: Tropical Underworld, "Theme" (Definitive 1995)
"This combination of psychedelic atmospheres and raw grooves was exactly up my alley. I was always looking for the more abstract kind of house—still funky but then taking you outside the house. I think already my early productions shared that vibe."
S-Max: DBX, "Flying Saucer" (Accelerate 1993)
"Back then, this was such an unknown way to go; sparse, funky and dry!"
Losoul: Doctor Rockit, "Pockit Doctor" (Clear 1996)
"I found this 7″ release together with some others of the very first Doctor Rockit releases at Hardwax. If I remember correctly, I was asking for sample-based electro. From my 1980s hip-hop background, I was more into electro and breakbeats when it was less synthetic. Herbert came to play a few times at our basement parties later, too. There's no media for this track online, but you can check it out on Doctor Rockit's Discogs page."
S-Max: H&M, Drama EP (Axis 1993)
"This or Jeff Mills's Humana EP. Space! Emotions!"
Losoul: Mr. Kenny Dixon Jr., "Shades Of Disco (1978)" (KDJ 1994)
"We celebrated a lot of early '70s soul, funk and jazz music in our sessions in the western German countryside back then, and this one was a pretty juicy yet reduced house jam on that vibe."
S-Max: Drexciya, "Black Sea" (Warp Records 1995)
"I played this as well as 'Rubick's Cube' and 'Bang Bang' so many times."
Losoul: Photon Inc., "Give A Little Love ('Tha' Wild Pitch Mix)" (Strictly Rhythm 1992)
"DJ Pierre made a big impact when he moved from early acid to house and came up with the 'Wild Pitch' mixes. These turned house, techno and acid styles into long but sensitive rides that focused on experiencing the moment on the dance floor. Before that style went commercial, this was one of my favorites."
S-Max: Traxmen, Basement Traxx Vol. II (Dance Mania 1994)
"Paul Johnson's 'Let Me See Your Butterfly' was quite a hit!"
Losoul: ERB, "Weekend" (Clubhouse 1992)
"Back then, I was very much into the sensitive soul vibe of vocal and garage house. S-Max and Moritz didn't seem to feel that in the beginning as they considered it generic, or even commercial. Things changed no doubt—I finally heard them opening up to the soulful side of house. This is an early Ron Trent production. Who couldn't resist his smooth vibe?"
S-Max: Psychotropic, "Psychosis" (02 Records 1990)
"This track was very, very important! This was one of the first breakbeat house tracks I owned!"
Losoul: DJ Skull, "The Graveyard Orchestra" (Djax-Up-Beats 1995)
"S-Max and Moritz were more into the psychedelic approach of the Djax-Up label—I had just some of the releases. This one brought the full package of energy and melancholy into techno and house. Raw and soulful."
S-Max: Acen, "Trip II The Moon Part 2 (The Darkside…)" (Production House 1992)
"We all went mad on this one!"
Losoul: Chez Damier, "Untitled" (KMS 1993)
"KMS—followed by Prescription and Balance—was on the forefront of raw but soulful disco and house vibes. This one represents the particular style we were playing. Reduced, funky, even rough, house cuts with an emotional edge. That's what we usually went for back then."
S-Max: 33 1/3 Queen, "Searchin'" (Nu Groove 1990)
"This track will last forever, even knowing that they nicked that whole bassline from A Guy Called Gerald!"
Like this? Let them know!