10 Tracks That Define The Savage Neo-Gabber Sound Of Poland's WIXAPOL S.A. Party
From "pope core" to hardcore remixes of Italian ballads, Polish party crew WIXAPOL S.A. runs down the tracks that have defined its sound over the years.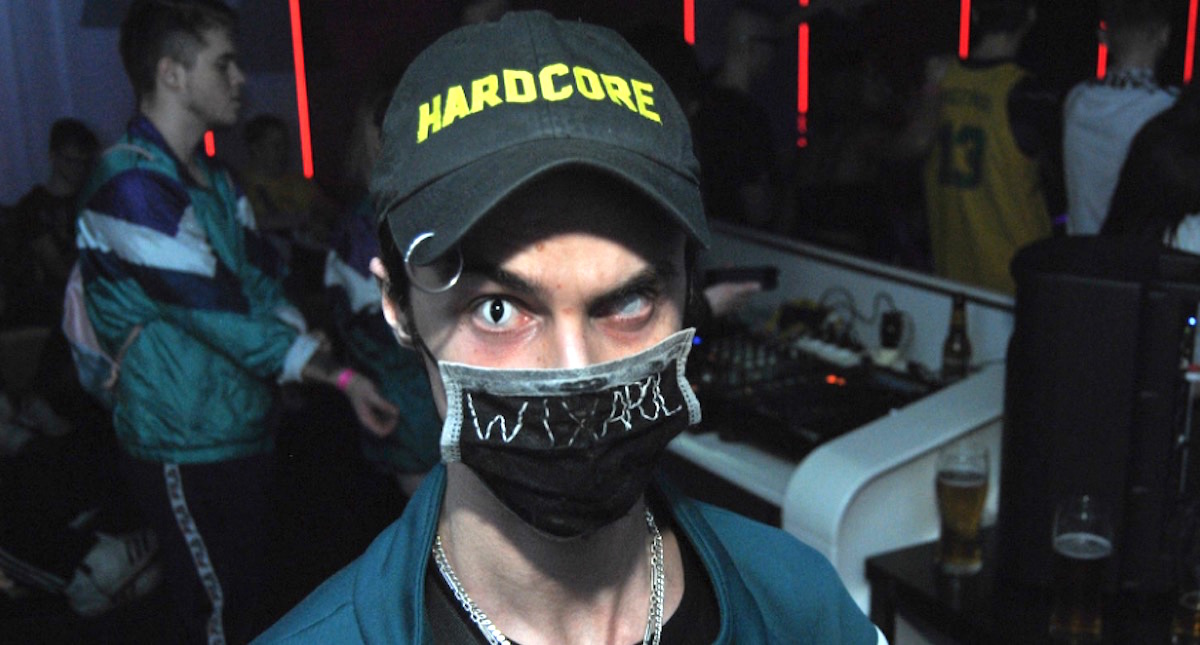 As we've written before, Poland's WIXAPOL S.A. is one of the most exciting parties in Europe. Wild, trollish and versed in the language of memes, it offers an environment of accelerated raving set to the sound of brainmelting uptempo neo-gabber tracks. The party's SPORTY SPICE, MIKOUAJ REJW and TORRENTZ.EU combine an encyclopaedic knowledge of hardcore's past with an irreverent and trollish approach to purism that regularly sees them mixing things up with donking hard bass, ridiculous nu-metal remixes and sounds from a satirical genre called "pope core".
In the years since our profile on them in 2017, the crew has begun to expand outside of Poland and into the world. First they played Berghain, then they played Boiler Room and now they have a show on Rinse.FM. And, if you're in Berlin, you can catch them tonight for a rare one-off party at Diskothek Melancholie 2.
To get in the spirit we asked WIXAPOL S.A. to provide us with a list of neo-gabber tracks that have come to define the party over the years. The crew's TORRENTZ.EU clarified that "neo-gabber doesn't necessary mean 'dutch gabber/hardcore only'; it's a fusion of many other style of course. Gabber is more about attitude, sense of humor and rave values than some strict technical definitions."
In typical style, they provided us with some pretty amusing track descriptions. We've left them unedited.
DJ HAZEL – WEZ PIGULKE
"MOM ASKS HAZEL ABOUT HIS SHIRT WITH CHERRY
– WHAT IS DAT ALL ABOUT?
– TAKE A PILL (WEZ PIGULKE) AND U WILL SEE!
(UN)OFFICIAL ANTHEM OF POLAND AND WIXAPOLAND!1! DIS IS A FRAGMENT FROM SET OF DJ HAZEL PLAYED LIVE MUSIC IS A TRACK BY POLISH PRODUCER DJ BAZZ – ANDRE & MICHELLE AND WORDS ARE MOSTLY GREETING REQUESTS FROM PEPOL AT DE PARTEY TO THEIR FRIENDS AND HAZEL'S STORYTELLINK ABOUT HIS MOTHER
HAZEL IS GOD HAZEL IS KING."
BULA (KTS) – CALE KIELCE
"KTS = KIELCE TERROR SQUAD = FIRST EVER POLISH GABBER CREW FROM A SMALL TOWN – KIELCE: SPLATTER, BULA AND I:GOR WHO IS NOW FAMOUZ HARDCORE PRODUCER DOIN STUFF WITH ANGERFIST ETC. THEY STARTED AROUND 1995 AND ARE SUPER IMPORTANT FOR HISTORY OF POLISH RAVE AND HARD UNDERGROUND."
ARAB TECHNO / ATLANTIS – SEPTEMBER 28TH
"HIT SONG OF POLISH INTERNETZ AS U CAN SEE IN COMMENT SECTION POLISH MEME LOVER KNOWS IT! AND WE LOVE THAT SOMETHINK CALLED ARAB TEHNO COULD BE POPULAR EVEN DESPITE THE NEGATIVE FEELINGS TOWARD IMMIGRATION IN BOLAND IT GIVES HOPE! BTW REAL NAME OF DIS TRAK IS "NETHERWORLD – ATLANTIS' AND DIS STYLE IS MAKINA – SPANISH BOUNCY RAVE MUSIC."
WIXAPOL x GPF – PEJA POLKA UPTEMPOLKA ({MIKOUAJ REJW TU BYL})
"OUR WIXAPOLISH MASHUP OF GREAZY PUZZY FUCKERZ AND 2 TRACKS OF LEGENDARY POLISH RAPPPER NAMED PEJA IF ITC TOO FAST YOU AR TOO OLD }))"
ALBY LOUD X YANCK YANCK – LUJURIA
"ALBY IS FROM MEXICO AND HE LOCO!
HE MAKES RAELY UNIQ FUSION OF HARDCORE PSYTRANCE HARDSTYLE AND LATIN MUSIC AND WE LUV IT1!11!"
LIL TEXAS – ACAB
"HE THE FASTEST COWBOY IN AMERICA BUT HE AIN'T GONNA BE A SHERIFF WITH THIS NOUGHTY ACAB ATTITUDE!
WE THROW A RAVE TOGETHER IN CRACOW IN JUNE
PS DID U KNOW THAT A-LL C-HILDREN A-RE B-ABIES?"
EVIL GRIMACE – 3 LITER VODKA
"OK SO THIS FRENCH GUYZ UNDERSTAND POLISH POEPLE NEEDS XD
EVIL GRIMAC IS A MEMBR OF OUR SOULMATE FRENCH CREW – CASUAL GABBERZ AND A PIONEER OF NEW GENRE FRAPCORE = FRENCH RAP+HARDCORE AND MOST OF ALL VODKA IS SACRED MAGIKAL AND IMPORANT FOR NEW FRENCH AND POLISH GABBERZ."
XD PROJECT – DAWAJ PAPAJ
"ONE OF EXAMPLES OF SO CALLED POPECORE WHICH SAMPLES JOHN PAUL 2 WITH DIFARENT FAST TUNES }) THIS 1 IS ABOUT HIS VERRY SPECIAL AFFECTION THAT JP2 HAD TOWARDS LIL GIRLS WITH AND WITHOUT PONYTAILS XD BECAUSE IN BOLAND WE RESPEKT POPEY WERY MUCH AND THER WAZ ONLY ONE TRU POPEY IN HISTORI AND HE WAZ POLISH OF KORSE!"
WIXAPOL X HEWRA – TONIEMAJAMI (REMIX ZAJEB$TY)
"WE DO NOT ONLY DO PARTIES FUNNY SCARVES AND BUILD NEW RAVING TRIBE!!! WE ALSO DO MUSIK MIXING MANY INSPIRATIONS AND THERE IS MORE COMINK SOON DIS YEAR }) DIS ONE IZ A COLLAB WITH INFAMOUZ RAP CREW – HEWRA FROM WARSAW + SOME LOVE PARADE VIBEZ })"
TOTO CUTUGNO – ITALIANO VERO (LEX IMMITEM BOOTLEG)
"DIS IS TRAK IS THE FINAL SONG AT ALMOST EVERY WIXAPOL PARTEY IT ITALIAN BUT WERY POLISH TOO! IT ROMANTIC IT SENTIMENTAL BUT ALSO IT BRUTAL TERROOORR!! DIS IS HORRIBLE AND DIS IS BEAUTIFUL! LIKE US })"