72 hours in Rio de Janeiro: Caetano Veloso and Arto Lindsay
Above: Caetano Veloso (left), Arto Lindsay (right). All photos by Luci Lux.
Brazil today is a country divided. And nowhere is this division more palpable than in the cultural capital Rio de Janeiro. There, in the hilly tropic idyll, rich and poor live side by side. They share the same beaches, dance to the same rhythms, and are watched over by the same monolithic Christ the Redeemer. But they live drastically different lives. Since being awarded this year's FIFA World Cup and the 2016 Summer Olympics, the appalling differences between rich and poor and extremely wasteful spending on public projects have sparked violent mass protests in South America's largest economy. We met Rio and Brazil's preeminent cultural ambassadors to explain the current state of affairs in their own words and, throughout the course of the 2014 FIFA World Cup, we will be publishing the results of our trip. First up, no wave icon turned Brazilian music champion Arto Lindsay sits down with influential Brazilian superstar Caetano Velosos to discuss poetry and infinity over the latter's kitchen table on Leblon Beach.
To read the rest of our Brazil investigation, go here: part two, part three.
Caetano Veloso: The Portuguese poet Fernando Pessoa once wrote in a poem: "An East, east of the East", where he describes his longing for and the promises and riches of new and exotic lands. In that sense, to me, Brazil is a West, west of the West. Even though Fernando Pessoa is not from Brazil, his poetry—and poetry in general—is a strong force in this country. It's one of the things I like about Brazil because poetry can actually be a very strong tool to project visions of the future. With poetry you can be ambitious about discussing a new role of Brazil. Currently, Brazil is a wreck. Brazil doesn't work. Actually it's never worked. Everybody knows that. But it has promise and the possibilities that one can imagine are fantastic. Suffice to say, the same applies especially to Rio de Janeiro as it represents all the good and bad of Brazil to the rest of the world.
Arto Lindsay: Even to itself. Rio represents Brazil to Brazilians. The city formulates a kind of ideal of how to live.
CV: But because Brazil is a failure, it also provides obvious opportunities to create something new.
AL: I think that Brazil is capable of catching and nurturing the imagination of the world, like the United States. Of course, the U.S. is brutal, imperialistic, destructive, as you know, oppressive, racist and exploitative. But at the same time it has represented all these incredible ideals of freedom to the world. And it spread these ideas. Brazil being a huge country also means it's empty. It's a kind of basin of possibilities.
CV: I have the impression that you are a little more optimistic than I am about those dreams. Maybe it's because you're American and I'm Brazilian. Because all the bad things you say about the United States, they all could be said about Brazil. Only the success is missing. My dream is that we could catch the opportunity to create something new, free from being successful in those old ways.
AL: That should be possible. Because Brazil is different. Rio is different. It's tropical.
CV: When I was young, we didn't even believe in the world outside of Brazil. We lived mostly looking and thinking inside of Brazil, not outside. The world outside was not real. Now it's more real as lots of Brazilians have immigrated, especially to Europe and the United States. So today we have the experience of the reality of the outside world that was missing in the past.
AL: Unlike me, you were even forced to leave Brazil and to look at your country from exile. I wonder how that informed your thinking.
CV: The military government was like a nightmare for us. When I was forced to leave I was young. I lived in London for two and a half years in exile, and it was something oddly Brazilian that happened to me abroad: I started to miss the language. I remember when I came back after my exile, I would always change the radio station if they would play an English song. I'd try to find a Brazilian song instead, for the sake of the Portuguese language. I was tired of Europe and its culture.
AL: The decade when I was just beginning to know the world, you were already creating it. You are ten years older than I am. It makes a huge difference what you are referencing when you grow up.
CV: I totally agree. When I was a teenager in the fifties, rock and roll wasn't respected the way it was in the second half of the sixties. That change only happened because of The Beatles and because of the young British people who believed that American rock and roll could and should be taken seriously.
AL: Speaking of change: I would like to know if you consciously tried to change the shape of Brazilian music.
CV: It was a very conscious thing for us to make popular music. We knew that it had lots of power. We were a group of people that deliberately wanted to change Brazilian music.
AL: What you are saying is totally important—Bob Dylan for instance didn't want to change American music.
CV: Didn't he?
AL: No, not deliberately. He was trying to do a lot of things but not that. People forget how folk music was contemporary with bossa nova and how at first it was all about historical excavation. The American folk movement was about finding and unearthing old blues and folk songs. It wasn't about deliberately changing music like the Tropicália movement in Brazil. In your book Tropical Truth: A Story of Music and Revolution in Brazil, you describe how poetry became part of the program within Tropicália.
CV: Yes, we were discovering the program while we were doing things. And in the process we became more and more conscious of what we wanted. We discussed these things, and I thought a lot during that period.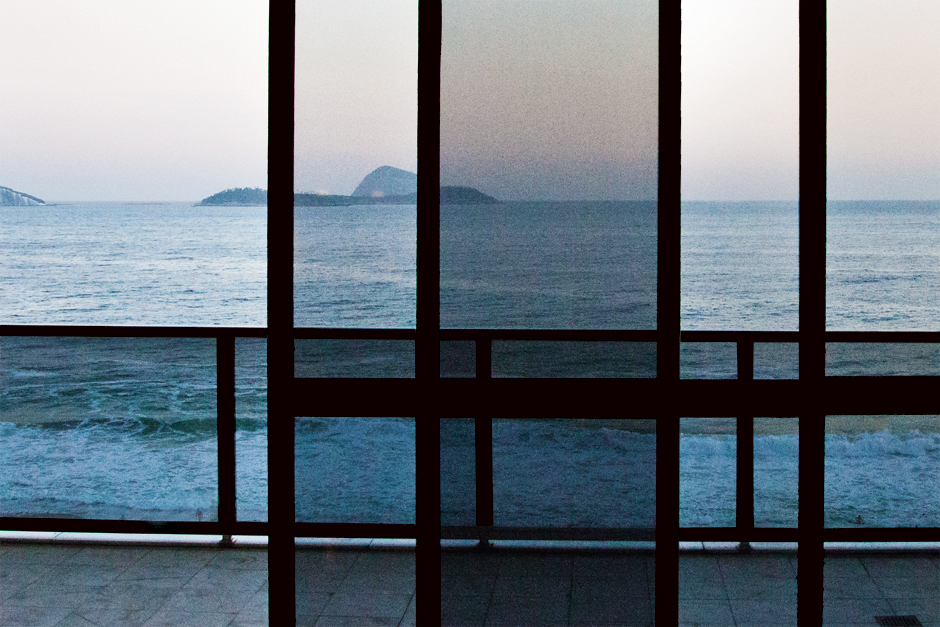 This is the view from the living room in Caetano Veloso's house on Leblon Beach— he says he cannot live without feeling the movement of the ocean. Veloso is to this day Brazil's most influential contemporary songwriter and singer: One of the main figures in the Tropicália movement with Gilberto Gil, Gal Costa, Tom Zé and Os Mutantes, he was among the first to open Brazilian music towards American and British rock, à la The Beatles, Hendrix or Bob Dylan. He was forced into exile in 1969 after using his popularity to openly discuss philosophical and socialist ideas. His time spent in London with fellow artist Gilberto Gil would permanently alter both Brazilian and British music.
AL: Who were some of the people that you discussed these things the most with at that time?
CV: First of all with Gilberto Gil, who became Brazil's minister of culture in 2003. But I discussed things with a lot of poet friends of mine, especially the concrete poets from São Paulo who were true experimentalists. They were as interested in the Tropicália movement as I was stunned by their poetry. I had many discussions with Augusto de Campos, one of the leading concrete poets from São Paulo, who sensed something in my music even before Tropicália  started. He sensed that we would change something and that we were coming from the world of poetry as well. Intensely talking to them definitively influenced the whole movement. The other people we would discuss with were mostly from the "serious" classical avant-garde field of music. They started to write arrangements for our songs, and we'd discuss how we could use these and what was going on in the international and in the Brazilian music scene. All the things we did were results of these discussions. All these encounters made us more and more aware of what we were doing. Everything was born out of a need. But we also started to analyze our situation. Bossa nova jumpstarted Brazilian music onto a very high level, because it was very sophisticated and done by very musical and intelligent people who were all still very young when it happened in the fifties. I was seventeen then and I was amazed by what the bossa nova people were doing. So I realized immediately that the creation of popular music in Brazil was a very important thing that should be taken very seriously.
AL: It was the heyday of European cinema as well. Films like À bout de souffle premiered in Brazil at that time.
CV: Godard especially was very important for me because he was everything that pop art meant. I got to know Andy Warhol through Godard. His cinema was the beginning of the new way of understanding American mythology, mostly from Hollywood, but also other aspects, such as music. It was completely different to see a Hitchcock movie before and after Godard and Truffaut. They changed our perspective on these things. And as I said, I was very young. I was touched and I understood it quickly. And then I went to the São Paulo Biennial when I was already engaged with the Tropicália movement in 1967. The pop painters from the United States were presented in Brazil for the first time. I was amazed because everything I had gotten from Godard movies and from Godard's and Truffaut's texts about American movies—I found the roots of these perspectives in these paintings. I didn't know the pop artists before then. I learned about this special consciousness. Concerning myself with the diverse ideas that drove the pop artists as well as the poets surely shaped my own understanding of what pop music should be all about.
AL: I have some ideas about why Brazilian popular songs are so filled with poetry or are so close to poetry. Brazil was an oral culture until the middle of the twentieth century. So, language was very alive, language was spoken, it changed constantly, was played with and examined in a different way than if it had been mainly a written language. Another thing is the particular heritage of the Provençal language, an ancestor of Portuguese. In a country where most people don't read, the people who do read are in the position to spread their point of view. All these things contribute in some way to why the language in Brazilian music is so charged and powerful. I guess these ideas are a result of constantly thinking about the difference between Americans and Brazilians. In Brazilian songs—from bossa nova to the songs that were influenced by concrete poetry—there is a kind of closeness between the words and what they are referring to. You know, the sea, the sunset, the beach are not only common topics in the songs, they somehow seem to constitute the song. And concrete poetry takes this one step further by concentrating on the shape and sound of the words. In American music it is almost as if you want to escape from language. In soul music made by black Americans singing in English, the intervals sometimes don't fit the words and there is so much singing beyond the words. A growl, a scream, a yell often follows an otherwise simple line such as "I love you baby—aaarrgh!" You always want to go beyond the literal word. Talking about the "thingness" of words—how important is it to live near the ocean?
CV: I think it's good to feel the motion of the ocean. When I came back from my forced exile in London, I went to Bahia and stayed there for three years. Only then I wanted to move to São Paulo, but my wife didn't want to. She found Rio de Janeiro more pleasant. So we came to Rio even though I would have loved to experience the contrast at that time. If I had gone to São Paulo then, everything would have worked out differently, because the sea is powerful. Most of the Brazilian cities were founded and grew during the colonization of the country. The cities were built along the coast. All these various cities have their own tonality and their own spirit, but they have this one thing in common: the ocean. They sense the infinite. If you don't have that you feel kind of trapped in the city. That's what most people feel deep in their hearts in cities like Belo Horizonte, Brasília or São Paulo that are not on the coast.
AL: In Rio the beaches are numbered. Certain sectors of the beach over the years were always connected to certain people.
CV: In 1972 when I came back from exile, Posto 9 was the "in" area of the beach. The hippie-ish people or whatever you want to call them would gather there. But the real "in" place was called "Gal's dune", as in Gal Costa's dune, right across the street from where she lived. It was the place where people would go to get high. That's why it was also called the "high dunes." Nowadays it's the gay part of the beach. In fact, the bossa nova people didn't go to the beach much. João Gilberto didn't, nor did Carlos Lyra. Tom Jobim told me that when he was young he would often go to Leblon.
AL: Leblon was still in the countryside at that time. Today it's a concrete jungle.
CV: It was just dunes and forest and farms. And he liked it. But when he started working he was rarely seen on the beach. Unlike me, the bossa nova people were not beach people. I lived in Arpoador near Posto 8 for a while. I would go to the beach alone. The beach was filled with lots of different people, also people from the favelas. They would all come down to the beach. But there were also surfers—blond guys with their surfboards and with nice white girls, and some musicians as well as people from the theater scene. Everything was mixed at Arpoador. I remember talking to a black girl from the favela. We were looking at the Pedra do Arpoador, and she said: "That's my rock." And I thought it was touching that this favela girl was naturally and full-heartedly calling this postcard view of Rio her rock, because she had spent her life there. This is so different from São Paulo where the favelas are far away from the city center and the postcard views. In Rio, the people just come down from the favela to spend the day—or their life—on the beach. In that sense, the most important spots in the city really belong to everybody.
AL: And vice-versa. Samba and the samba schools originate from the favelas, and samba is the music that functions like an amalgam to Brazil.
CV: And all the people are proud of it. It's the other way round, but again, people share what they think is theirs. In São Paulo there is no way that people could mix on the beaches like they do in Rio. Take Mano Brown of the Racionais MC's for instance. He's the most prominent rapper from Brazil and he lives in São Paulo, but the favela he originates from is far from the center and there is nothing he could call his own when it comes to his city. It's absurd, as he represents São Paulo to the Brazilians. In Rio, people feel that they walk on the streets of a city they own. It's a completely different mindset.
AL: Did you take notice of the other big musical style that originated from the favelas—baile funk?
CV: I used to frequently visit the favela Mangueira during the period when baile funk was growing. I went there very often to be at the baile funk parties where I would also see many heavily armed young people with big handguns and even AK-47s. It's strange, but after a certain time seeing all these very young guys with machine guns became totally normal.
AL: Did you ever feel frightened or unsafe in the presence of these people?
CV: I always felt totally safe because I would always enter the favelas with friends of mine who lived there. I never went alone. My friends would introduce me to these armed people and their bosses and from that moment on I was under protection. You know, I met some of the drug traffickers in some of the favelas and talked to them. Some of them actually became very famous later on because of their violent style. In fact, I once even met Elias Pereira da Silva, who became notoriously famous as drug baron Elias Maluco. But my most memorable experience in the favelas was meeting some of the old samba people together with Gilberto Gil. We would go to favela Mangueira and talk to these masters of samba for entire nights. And once you are there you'd talk also to the traffickers too. The samba people and the drug traffickers are the flip sides of the same culture. It doesn't make sense to only talk to representatives of only one part of society.
AL: The traffickers were actually the unofficial mayors of the favelas. They decided what would happen and they would mediate disputes.
CV: I once read the book Brazil: Land of the Future by Stefan Zweig that he'd written in the late thirties. The book is brilliant, but nobody reads it. It is ridiculed for its title. Brazilians can't stand the idea that someone else could see their country's future in an optimistic way.
AL: Do you have an explanation for this?
CV: I'd say: They don't want to take responsibility. If you think that you are crap, that you are shit and that you are nothing, then life is easy. This allows you to hate the Americans because you can point your finger at them and say: They are successful. The lament is the prototypical Latin American approach to responsibility. But I don't identify with it. I still think that very good and very important things could be done by us. I don't like to see myself as a loser and to grow resentful of people who do things and change things. Even the failures must be taken as a sign of opportunity. We should not be victors according to the values of the past. That's at least the way I think. ~
This text first appeared in Electronic Beats Magazine N° 37 (1, 2014). Read the full issue on issuu.com or in the embed below.
Published June 11, 2014. Words by Max Dax.