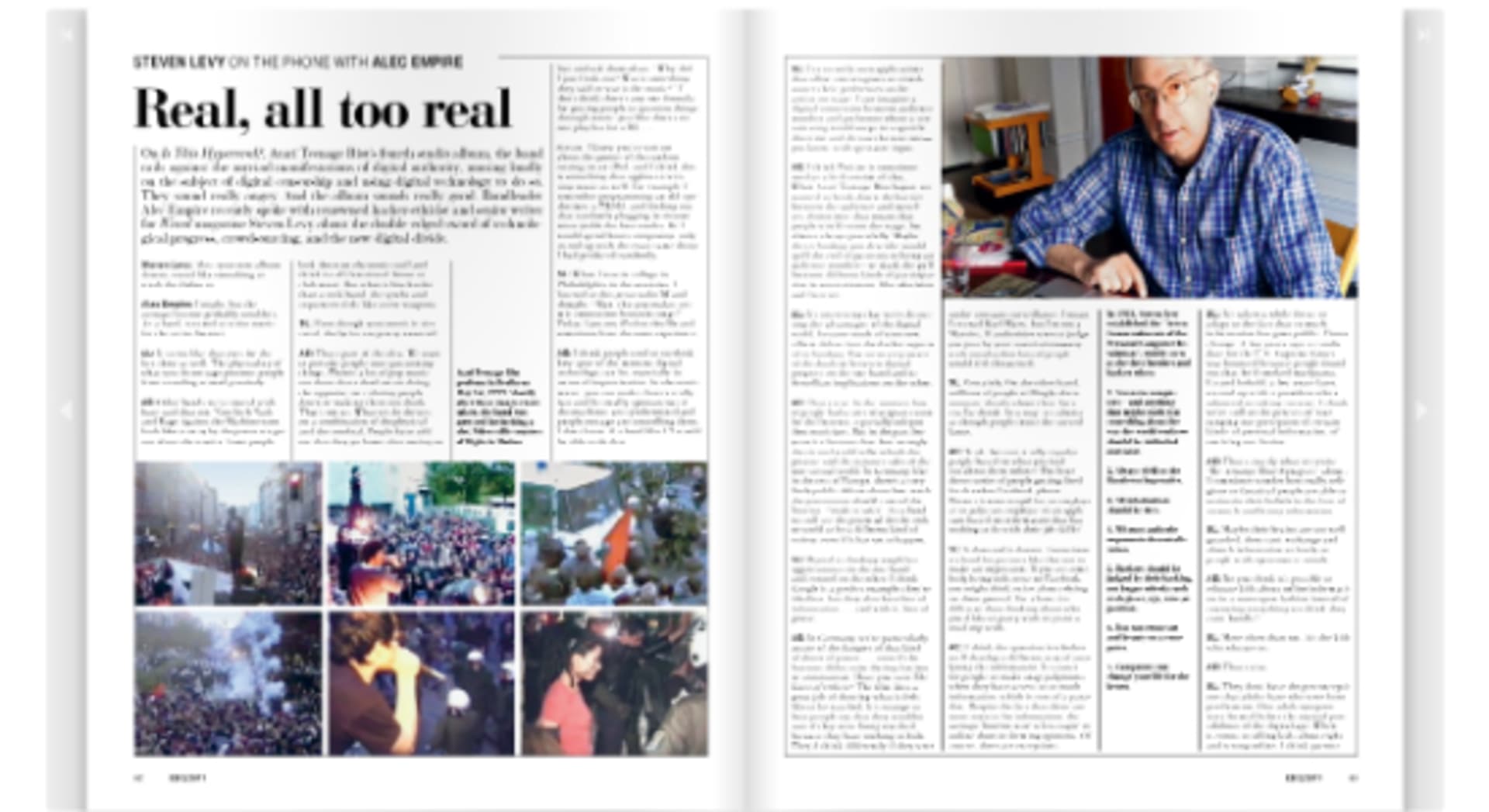 A toolbox for ideas: read the new issue of EB Magazine on the net
Following our recent re-launch, we've been receiving great feedback on the first edition of the revitalized Electronic Beats Magazine – thanks for all of your comments! Printed on a new breed of paper the magazine is revamped both graphically and conceptually and backed by a new editorial team led by new editor-in-chief Max Dax (Spex, Alert Magazine).
Sticking to the byline of 'Conversations on essential issues', the new magazine is mostly in dialogue form, with contributions by people such as curator Hans Ulrich Obrist, writer Glenn O'Brien (GQ Magazine), artist Arto Lindsay, musician Alec Empire (Atari Teenage Riot) producer Adrian Sherwood (On-U Sound Records, Soundboy Records, Carib Gems) and pop legend Neil Tennant (Pet Shop Boys).
Besides picking up the new issue at news stands, record stores, restaurants and shops (.pdf) all over Europe for free or by subscribing to the magazine (for postage & packaging costs only) you can now also browse the new issue right away on your laptop, desktop computer or mobile phone – just install the free issuu Android app and get reading on the go or flip through the magazine via the embedded player below.
Did you know that you can also subscribe to Electronic Beats for free at issuu.com and receive a notifications as soon as a new issue is out – or peruse our back issues where there is even more to read.
Since we're very interested ti hear what our readers think of we ask you to please get back to us with some feedback. Either via the comment form below, as comments on issuu.com or via Facebook and Twitter. You can also send in thoughts or pictures directly to the editorial office via email (magazine @ electronicbeats.net). Whatever suits you best – just holler!