A week in the life: Montenegro
We spent a week in Montenegro, a country which has only known independence for seven years, to understand the struggle for a national identity through personal narratives of some of its cultural players. Interviews by Max Dax and Lisa Blanning.
Since declaring independence on June 3, 2006, the tiny ex-Yugoslavian Republic of Montenegro has had aspirations of becoming the Adriatic's next St. Tropéz, wooing the rich, beautiful and famous to its shores by investing heavily in elite tourism. But until this utopian vision becomes reality and the country lives up to its on-screen depiction from Casino Royale (filmed on location), Montenegrins have been hedging their bets in search of alternate national identities, turning to everyone from national football coach Branko Brnovic and various celebrated turbo-folk outfits to find out which way is up. In Podgorica, it's get rich or sigh trying, as we recently learned from some of the city's prominent protagonists. Main photo: Hand painted real estate advertisements adorn the highway outside Podgorica.
Monday, Kotor: Coffee with Dudduh and Noyz of Who See?, Montenegrin rap duo and participants in 2013's Eurovision Song Contest.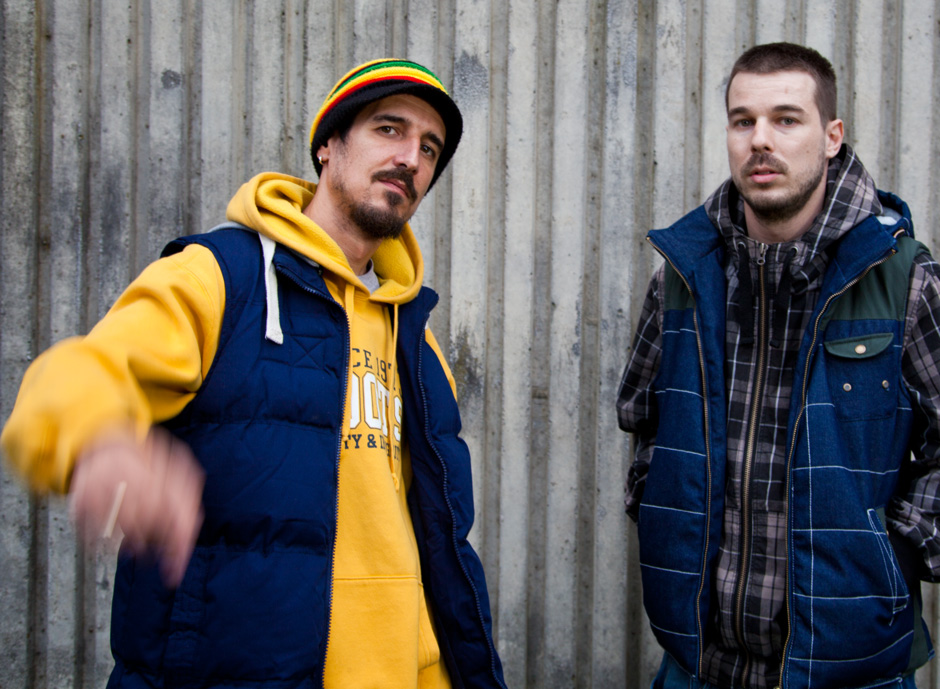 Noyz (Mario Đordevic, left) and Dedduh (Dejan Dedovic) of Montenegrin rap duo Who See?.
Our band Who See? never felt like part of the Montenegrin music scene, which is very small and produces a lot of garbage called Montenegrin "turbo folk". In fact, we have always only listened to international music, especially American hip hop. Since we founded the band in 2000, we have seen ourselves as part of an international hip hop underground which goes back to the mid-nineties when we started listening to that music—particularly Ice-T, Ice Cube and gangsta rap. At the time, it was very difficult to get any original music in the country. This was also a result of the economic embargo against Serbia and Montenegro that came into effect in 1992 during the war with Bosnia and Herzegovina. We had to ask tourists from the West who looked like hip hop fans if they could give us some music that we then would copy onto cassettes.
Today, there are probably only fifty people who do hip hop in the entire ex-Yugoslavia, and we most likely know them all. As natives of Kotor Bay, we were originally inspired by a hip hop duo known as the politically incorrect "Monteniggers". The group was popular throughout the nineties until Nebojša "Nebo" Saveljic was tragically killed in a car accident in 1999. Certainly, MTV Adria has made huge efforts when it comes to promoting hip hop in ex-Yugoslavia. The video to our song "Reggaeton Montenegro" from 2012 may not be known outside of the region, but along the Adriatic it had massive success, receiving double platinum status for more than eight hundred plays on MTV. Having studied graphic design at the faculty of fine arts in Cetinje, this was a huge accomplishment as we had edited the video all by ourselves. And yet despite this regional success, we were surprised when we heard that we were nominated to represent Montenegro at this year's Eurovision Song Contest in Malmö. After all, it's only the country's fifth time participating since independence. And we didn't expect that a hip hop track such as "Igranka", featuring our dear friend and singer Nina Žižic, could ever be considered representative of what Montenegro is about. Back when Serbia and Montenegro were still participating together, a hip hop track would have simply been impossible because it wouldn't have been familiar enough for the authorities. But one thing that we have learned about our home country is that things simply happen the way they do, be it arbitrarily or for totally practical reasons, like sending us to Eurovision to save money. You have to know that since 2006, the Montenegrin understanding of participating in the Eurovision Song Contest meant to spend crazy amounts of money to produce some fancy-ass music they thought would blow the rest of the world away, which of course it didn't. So when we finally received the unexpected phone call from the director of Montenegro Public Broadcasting Service inviting us, we were just happy to not have that happen again. We knew that Eurovision reaches hundreds of millions of spectators, so for us it meant a chance to perform our music in front of a huge international audience. Naturally we accepted the offer. We also hadn't planned anything else: no holidays booked, no work to do, no recording sessions. Last but not least, we'd never been to Sweden before. That we lost in the first round—well, that's another story.
Tuesday, Sveti Stefan: Tour Guide Extraordinaire Andrijana Nikic takes us for a seaside drive along the Adriatic.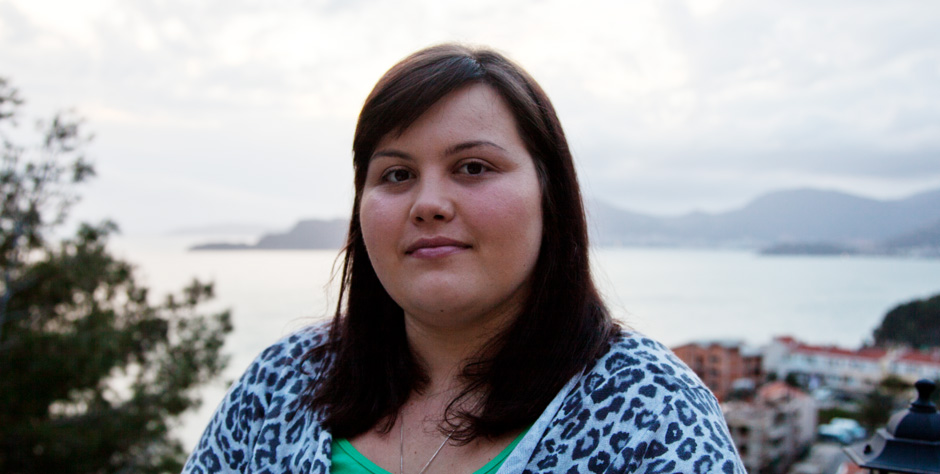 Above: Passionate tour guide Andrijana Nikic lives to help visitors navigate their way around the impressive Montenegrin landscape.
Growing up in Montenegro and loving music, I welcome pretty much every concert that takes place here. Unfortunately, there weren't that many in the past. Almost no major artists or groups come to perform. So I was quite surprised when The Rolling Stones, Madonna and Lenny Kravitz played in Budva in 2007 and 2008, even though it was an exception. Every other artist—including Depeche Mode—will usually only have Belgrade and Zagreb on their tour schedule. I often get asked if a music scene exists in Montenegro at all, and surely you can hardly find a DJ who has his own style. If people go dancing, they go to the big discotheques where mainly turbo-folk is being played. It's a strange phenomenon because this music pretends to be of Balkan origin but in reality is a plagiarism of Turkish and Greek dance music, mixed with sexed-up lyrics that hardly make any sense at all. The other day I heard a girl singing some silly line in a turbo-folk song: "I am so hot that you can boil coffee on my body"—obviously not the words of a feminist. And everybody goes to these turbo-folk events because mass culture always has the positive side effect that you'll meet all the people you know. Still, I will never understand how this music could be so commercially successful and cast such a shadow on the traditional music of Montenegro, which is actually quite beautiful and made with a kind of lyre called a gusle. When I listen to the old music, I feel something like love for my country. But that's as far as it goes.
Apart from that, people are very patriotic in Montenegro. It doesn't matter where they live, Montenegro will forever remain their first love. They will gladly defend their homeland when foreigners dare to criticize its absurd bureaucracy, poorly performing economy or lack of contemporary youth culture. It's as if other opinions are not welcome. Having said that, I don't feel that patriotic at all, maybe because I've lived a couple of years in the US and in Paris and have seen systems that are way better organized. My hometown Sveti Stefan was a celebrity resort in the sixties frequently visited by the likes of Orson Welles, Elizabeth Taylor or Sophia Loren. But all I see today are things that could effortlessly be improved. But nobody seems to care. So yes, this tiny country has huge potential, but the people here mostly don't give a shit. I'd actually describe the overall mentality of the Montenegrins as passive, but not lazy. As a rule of thumb, everybody always expects somebody else to start something. No one ever makes the first move. The results can mostly be seen in our stagnating economy.
You have to know this if you want to understand people of my generation. As children and young adults we witnessed two decades of transition, including a war, a referendum, a declaration of independence and finally turbo-capitalism. On the political level, we currently have the Monty Python-esque situation that almost every political party carries the word "socialist" in their name. The ruling party is the Democratic Party of Socialists, with the opposition made up of the Socialist People's Party and the Social Democratic Party. They all claim socialist ideals, as if they want to nourish the people's need for nostalgic socialist continuity in post-Tito Yugoslavia. But if you take a closer look at their political agendas, you'll notice that they all stand for the various forms of neoliberalism.
You can see this easily in the way our cities were rebuilt in the two decades after the end of Yugoslavia: huge residential complexes were erected in cities like Budva or Podgorica, but nobody ever invests a thought into the infrastructural and urban planning around it. Suffice to say, we sold or privatized basically everything that was formerly owned by the state. As a result, Montenegro, apart from its wine industry, has almost no national production or exports to speak of. No politician has ever addressed sustainability as an issue, and we're left with hoping that beach tourism will solve all our problems three months out of the year.
Perhaps the worst thing is that the two decades of "transition" have also changed the moral values of the people who live here. Money has become the new religion, people are getting greedy and they've even started believing that the war never happened. If you'd ask people on the street, some say that the bad things started when Montenegro gave up its independence and became part of Serbia in 1918. They almost like the idea that our country had been occupied for almost ninety years, because it allows them to blame all the bad things on Serbia. Of course, if you go to Bosnia, Serbia or Croatia you'll hear a completely different take on history. They talk more about communism than the Balkan war of the nineties, but ultimately they'd discuss it all. I don't like Montenegrin hypocrisy. If you ask me, this country is currently undergoing a crisis of spirituality.
Wednesday, Podgorica: Sit-down with cultural event manager Nina Redzepagic.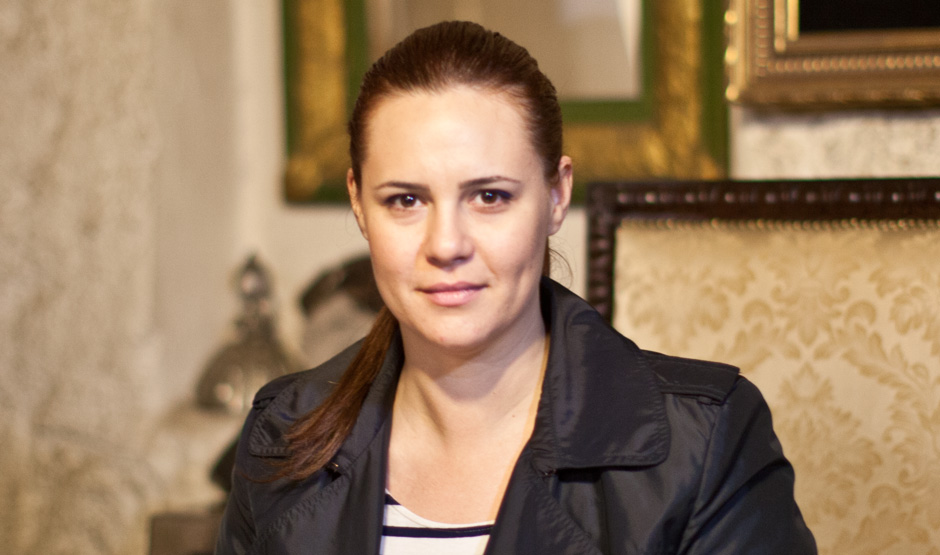 Nina Redzepagic is the person to talk to should you want to shoot a film, find a stuntman or organize a larger concert in Montenegro.
I studied at the University of Bologna in the Department of History. After that I graduated from the Film School ESRA where I studied directing and where I'm currently attending a Master's program in production. I'm the owner and director of the production company OR and I run it together with my colleague Edin Jašarović. OR deals with theatre, film and music production and creates commercials for international brands. Last year we produced Electronic Beats Festival in Podgorica, which was held at the Montenegrin National Theatre and—according to the views of the audience—was very successful. Also, in collaboration with Mainframe Production from Croatia, we were the executive producers of the road trip movie Move On, which was a real challenge considering the fact that it was an action movie with a lot of stunts. For the needs of the shoot we provided full local support in terms of security—I would like to mention here that these projects would not be possible without the great help of the government, local administration, municipalities and the Ministry of Culture of Montenegro, which are always open for cooperation and fully understand our needs and requests. When complicated scenes were filmed, Montenegrin police also showed great professionalism and cooperation.
What is important to mention here is the image of Montenegro as an attractive filming destination which has the capacity to host major international film productions. Montenegro is a small country in terms of its territory; it has a population of about 670,000 people and boasts incredible natural beauty. You can see the entire country from the north and drive from its snow-covered mountains to the warm sea of the Adriatic coast in two hours. This is exactly what makes Montenegro an prime location for shooting films. A country with so many different landscapes will always reduce the costs of transporting the film crew to remote destinations.
When it comes to music in the post-war years, a major problem in the popular culture of Montenegro is the growing turbo-folk scene which is showing signs of becoming a national epidemic. This kind of music is a dominant cultural model and a pattern of behavior and it comes to define the identity of the people who consume it to a large extent.
After the abolition of the embargo many young people have started looking for the alternative. Being able to travel without visas has allowed them to see things from a different perspective and to develop a different musical sensibility and taste. It's interesting to see how these two dominant models of culture clash in Montenegro. On the other hand, since the declaration of independence of Montenegro, progress has been made not only in terms of identity but also in terms of economic independence of the country. Montenegro is a country with huge potential and it's undeniable that exciting challenges are ahead of us especially in the light of its candidacy in the pre-accession negotiations with the European Union. Everything seems possible, and everybody who works for this young state is still motivated to make things happen. I cannot wait for the day Montenegro will become a full member of the European Union, opening the gates for even more investors than we have now. I see a bright future.
Thursday, Cetinje: Meeting with Bojan Martinović, Assistant Dean of the National Music Academy.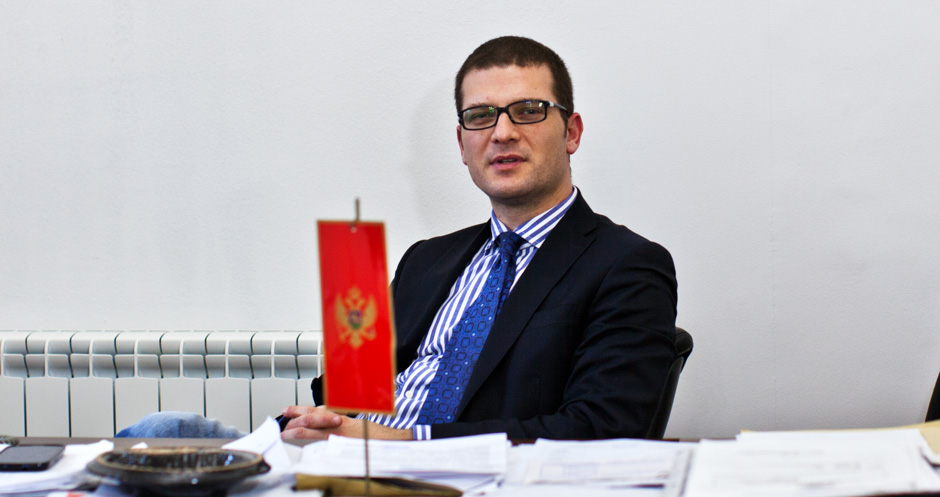 Bojan Martinovic is assistant dean of Montenegro's Music Academy, located in the former British Embassy in Cetinje.
The first vinyl LP I ever bought was The Man-Machine by Kraftwerk, which was released here on the Yugoslavian label Jugoton. I actually bought it at the official Jugoton store in Podgorica, at a time when I was playing violin. A lot of Kraftwerk albums were released in Yugoslavia and every new album was clearly understood as a step in a new direction, so you basically had to own it if you wanted to participate in discussions about popular music. Even though I am the assistant dean of the Montenegro Music Academy, I would go so far to say that Kraftwerk are as influential as Karlheinz Stockhausen or Olivier Messiaen when it comes to the field of electronic music. I wish we had influential musicians and composers like that in Montenegro.
If I turn on the radio, I only hear turbo-folk, and it's an absolutely atrocious sound to my ears. To me it's comparable to musical genocide, as it's completely flooding the country. I would love to turn on the radio and listen to good electronic or twelve-tone music. But every time I'm driving I feel like a prisoner of bad melodies and horrid words, gazing at other cars with customized color jobs. This music was invented to lower the intellectual level of the population. It is a huge enterprise and the market has since exceeded one billion euros in Serbia, Croatia, Bosnia-Herzegovina and Montenegro. If you'd call that large-scale brainwashing, I wouldn't disagree, as I am fully aware of the fact that the music you hear often determines important aspects of your life. And turbo-folk is a prime example of how greed and corruption could damage the ears of generations in most of the Balkans—and not only the ears. This music leads to more strokes, more tumors, more crimes, more prisoners, more fights on the street. It vulgarizes entire populations, especially when consumed together with enormous amounts of cheap lager.
At the same time, musicologists have long been able to show how great music can heal people, if not nations. This applies to classical music, New Music, Chicago house or abstract electronic music in the same manner. In our academy I try to teach this to the students. I try to give them a clear vision that studying, composing and performing music can heal human beings on a spiritual level. It's like in poetry. You're either infiltrated by reading the hate-filled and vulgar language of the tabloids, or you read the wonderful and tender poetry of Jorge Luis Borges. My job is to educate and to teach people to believe in non-functional music that brings the world forward—fully knowing and acknowledging that this is only a very small country and that we are talking about a handful of students at the academy that represent the average non-brainwashed Montenegrin.
Friday, Podgorica: Meeting with Janko Ljumović, director of Montenegro's National Theater.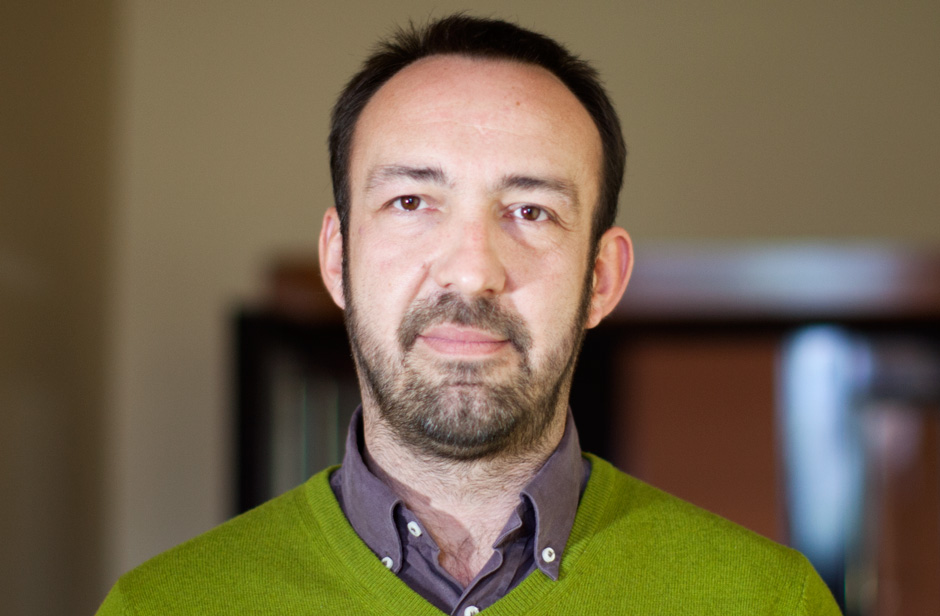 Janko Ljumovic, the director of Montenegro's National Theater in Podgorica, believes that critical contemporary theater can help reunite spiritually divided Montenegrins.
The National Theater in Podgorica is the central meeting point for contemporary theater in Montenegro. It is an untypical institution when it comes to drama because we focus entirely on contemporary pieces—both in terms of artistic expression as well as in terms of poetry. We invite innovative directors from other theaters, mostly Serbia, to show their plays in Podgorica. Just recently, at the Biennial of Montenegrin Theatre in November 2012, we invited Boris Liješevic, who is of Montenegrin descent but lives and works in Novi Sad, Serbia's second largest city. He is now working on a postdramatic documentary piece showing how the influence of money in the capitalist system has changed the people in the Balkans during the period of transition. Ask anybody on the street, and they will agree that new money has destroyed something inside of us. Liješevic's piece essentially is a monetary history, beginning from the fall of the Iron Curtain in 1990 until today, all represented in a post-narrative fashion.
Theater has always been political in the Balkans and this especially goes for the era of Tito. Indeed, contemporary critical culture has undeniably had an impact on the course of events here, in particular when it comes to the referendum and the following declaration of independence. At the National Theater we want to reflect Montenegrin reality. We seek to provoke and create awareness for the frightening new times that we're living in. That's why we are not staging any classical repertoire pieces, but only critical contemporary theater. Even though you will notice that most Montenegrins love their country, the pieces presented in the National Theater don't follow any nationalist agenda. This is worth mentioning as Serbia, Bosnia-Herzegovina, Croatia and Montenegro all speak the same Slavic language, even though these are partially different ethnic groups who had fought against each other in the Bosnian War from 1992 to 1995. Staging modern, experimental plays from Croatian or Serbian playwrights or from Montenegrins who live abroad in ex-Yugoslavia, is also of major interest for us.  We promote our theater as a "hub" for current ideas.
Not to put too fine a point on it, but I truly believe the theaters were the only institutions in former Yugoslavia that perceived themselves as cultural ambassadors whose goal was to reunite the people after all the hatred, killing, ethnic cleansing and mass rapes that defined the war. Our institution was one of the very first that made steps towards reconciliation. In that regard I am very happy to see that we attract a mainly younger audience. To me it shows that the generation that grew up with the war is strong enough to prefer peace and not nationalism as a way of life.
Saturday, Podgorica: Dinner with Dzijo lekić, owner of restaurant Pod Volat.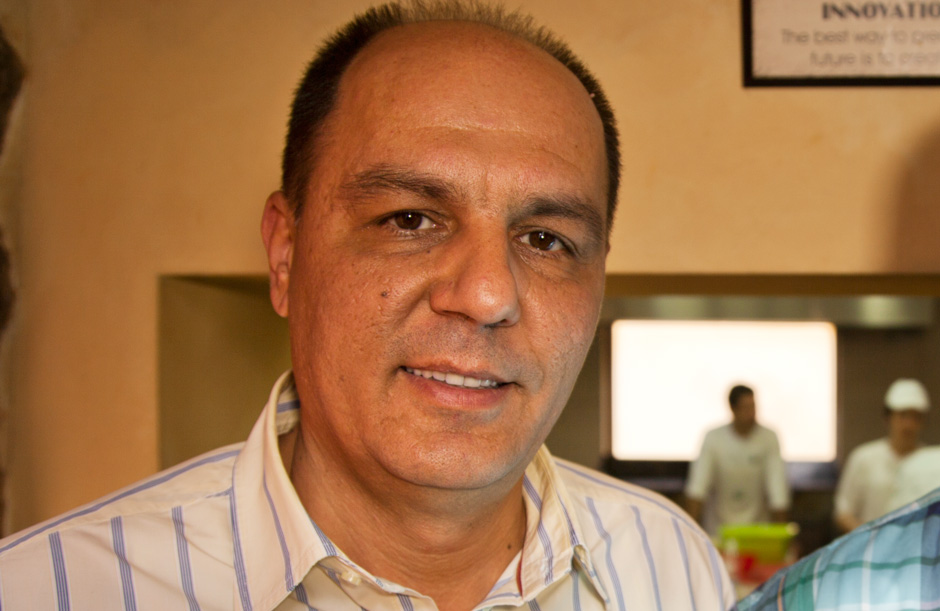 If you haven't dined at Dzijo Lekic's restaurant Pod Volat (run together with his brother Nedzad), then you probably aren't part of Podgorica's cultural vanguard.
If you haven't at least once tasted meso ispod saca, then you haven't really been to Montenegro. It's one of the most traditional dishes the country has to offer and can generally be described as an ancient way of cooking lamb, veal, or goat under an iron lid covered with glowing coal. I use an old recipe from my grandmother, and until only a couple of years ago, you couldn't find a single restaurant that would offer one of these old dishes. All the people who work in my restaurant had to learn how to cook it, and of course they were being watched closely by my mother.
If you really want to deliver the best food for a reasonable price, you have to perfectly conduct every single step of the process. For instance, we only buy meat from one specific butcher who also happens to be one of my cousins. He knows what we need and how we want to have our meat cut. Only if you build up reliable supply sources can you offer better quality for a lower price. I learned a lot in 1998 when I stayed in the United States for two years, cooking in Las Vegas at the MGM Hotel and in New York in an Italian and a Turkish restaurant. When I returned to Podgorica, I immediately changed the concept of my restaurant, the Pod Volat, turning it into the popular buffet eatery that it is today—I added new dishes, redecorated and made it more attractive for families. In New York, I had also learned that you need a distinctive wine list to balance out an ambitious and yet affordable menu. We offer 165 different wines from different countries with prices ranging from low to very high. This way nobody is excluded.
Sunday, Podgorica: Interview with Montenegro head football coach Branko Brnović following the 1:1 draw with England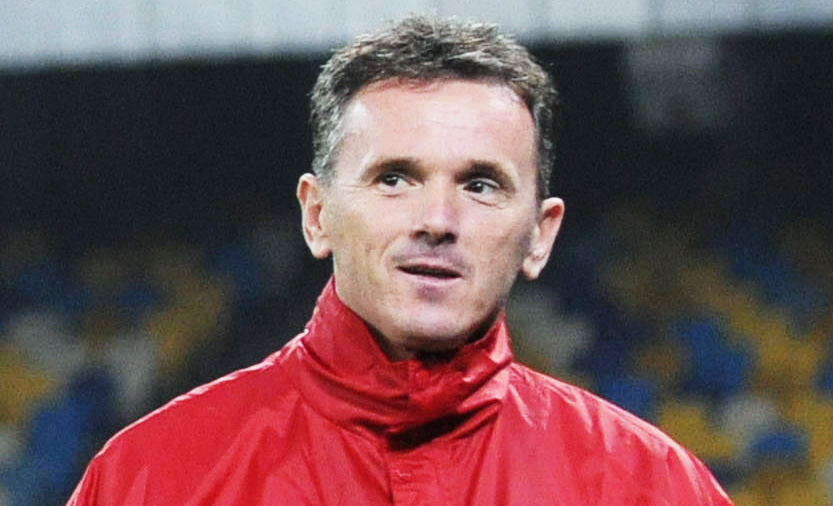 Montenegro's head football coach Branko Brnovic has faith that his team will participate at next year's World Cup in Brazil. By guiding Montenegro to the top of their qualifying group, Brnovic has become key in helping shape the young country's national identity.
Football is the largest and one of the most impressive forms of theater imaginable; the floodlights, drama and amount of passion shown by fans are unique. Football especially plays an important role in light of Montenegro's recently gained independence. That we are currently leading group H in the qualifying campaign for the World Cup is a testament to the time and effort invested in forming our very first gathering of this national team. The Football Association of Montenegro, led by Mr. Dejan Savicević, has provided us with excellent conditions for training, which we have gladly taken advantage of. Our two matches against England were prime examples of how football can unite a nation. The home match in Podgorica against England in particular saw our players and coaching staff drawing our small nation together like a single living being, all dreaming the same dream. However I do not see myself as a representative of the state. For instance, I do TV interviews only for professional reasons in moments when my association and my team need me to do it. I always leave the leading role to my players, because they are the ones who are properly responsible for the success. When it comes to football and strategy, all the players breath and think as one. Of course, nothing would be possible without hard work, and that's probably the reason why there is a saying that, among many unimportant things in the world, football is the most important one. Football is a unique experience—it has the passion, devotion, drama, skills and many other ingredients that every person on this earth should, at least once in their lifetime, experience. Being part of the football spectacle is like nothing else, from whichever perspective you view it: at home, on the field, in the stadium, on the sidelines, or in your dreams. ~
This text first appeared first in Electronic Beats Magazine N° 34 (2, 2013). Read the full issue on issuu.com here. And find out details for our EB Autumn 2013 Festival in Podgorica here.
Published August 01, 2013. Words by Lisa Blanning & Max Dax.