Access All Areas: Milky Chance in Cologne
Milky Chance landed in Cologne last night to play their rescheduled show after having to cancel the EB Festival in May due to illness. Local newcomers Tourist supported them. Photos by Peyman Azhari. Text and media by Jannik Schaefer and Joe Davies.
The day of Milky Chance's rescheduled show in Cologne was one of those days where you end up taking your sweater on and off about ten times in an hour. But alas, as we sat down on the steps behind E-Werk with Clemens and Philipp, the two young Germans from Kassel, the sun finally graced us with its presence. The two have had an absolute whirlwind of a year—and it shouldn't be a surprise that Clemens caught the flu at some point and had to cancel a few shows, including our own Electronic Beats Festival. But here they are: Clemens is flicking through this year's Festival Guide and, more to himself than anyone else, mutters "Oh look, we're the headliner at this one!" with a surprised look on his face. "Obviously things like that are really rewarding" says Philipp, smiling, "but we try not to be to affected by all the fuss".
Guys, welcome to Cologne. Where did you play yesterday?
We just had a week off and went home to record some new tracks actually. We've got a bit of time now before all the festivals happen in the next few months.
Is there a new album on the way then?
We are not specifically working on an album at the moment, yet we are always working on tracks—on tour and in our free time. We will be on tour pretty much until next summer. We're heading across the ocean to the U.S. and Australia too, and at some point we will surely have enough music for a new album.
Is that how the first album came together, too? Creating music without a fixed goal in mind?
Yeah. We hadn't even planned playing it live really. We were just making music.
And then suddenly it blew up. How did that feel?
It didn't really hit us full force because we weren't expecting it or counting on it at all. Somehow that makes it easier to process. We finished recording in April and went on tour in May, and then we were playing these small venues—two hundred, three hundred people. Every single one was sold out, there were lines around the block. That's when it slowly dawned on us that something was happening.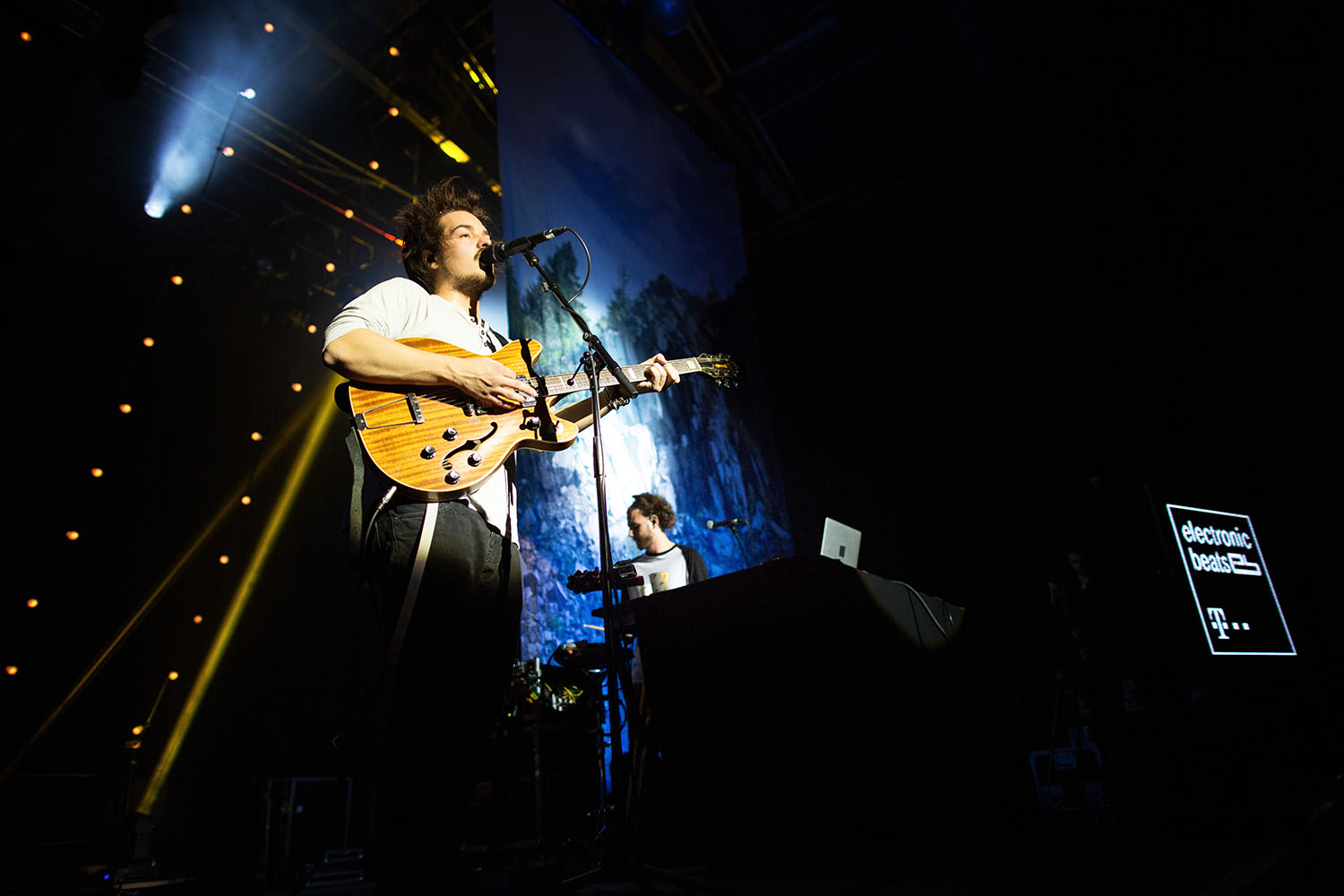 Did you celebrate the first number one hit?
We aren't really ones to get overexcited about that. We are really grateful how it all played out of course, and it's been great for everyone on the team. The guys we work with in France were thrilled. Having worked in the industry for thirty years and then finally seeing one of their own bands reach number one was incredible for them.
Didn't you follow it on social media?
We both aren't much into that really. We mainly use social media for music, like going on YouTube hunts for new music.
Those nightly YouTube Safaris.
Clemens: Exactly! I spent two hours on YouTube last night just clicking through new music before going to bed.
What's the weirdest thing that has happened on tour so far?
Philipp: Actually, I did have something pretty weird happen to me recently. I met my music teacher from high school, and the first thing she said to me was that she thinks our music sucks, ha ha.
So your life has probably changed since your breakthrough? Is it that obvious most of the time?
We have our friends of course, and we keep them close. But we have also met a large number of people in the past year. It feels surreal at times: you know these places and events, you've been there, but now you kind of "step through the curtain". You learn about the life that goes on backstage, the place where things are made, and that's really interesting. But we enjoy working with people that are close to us—we actually have two of our good friends from home with us on tour now, one works on the tour management and the other plays live with us.
Have you got any backstage rituals?
We are trying to make 'The Wolf Of Wall Street' chest bump happen. It's not easy.
–
As they later walk on stage to perform a fulminant, energetic set, they aren't greeted by high-pitched teenie screams, but rather with sincere applause, an honest appreciation of these two youngsters that have turned the charts upside down out of nowhere.
On stage, their boyish slacker charm is channeled with the sort of mature professionality that is inherent in outfits that have been a team for a long time: since high school, Milky Chance have been making music together, starting their own label to put their tracks out when demos remain unanswered. A rescheduled show is never an easy thing to master, but if there were doubts beforehand, Milky Chance wiped them away within their first two songs. When the intro of "Stolen Dance" filled the packed E-Werk—smiles all around—it's not hard to see now why this tune has become an uber-hit. We think we spotted the bar staff singing along too, and it seemed like there was not one person in the crowd that couldn't recite the lyrics by heart.
But good things come in twos, and that was not the only discovery of the night: opening act Tourist created a force field of raw energy on stage. The two Cologne locals set discordant percussion against the lead singers enchanting vocals. It's rare that an opening band uses half an hour set time to the maximum extent like that—we are definitely keeping an eye and an ear on these two.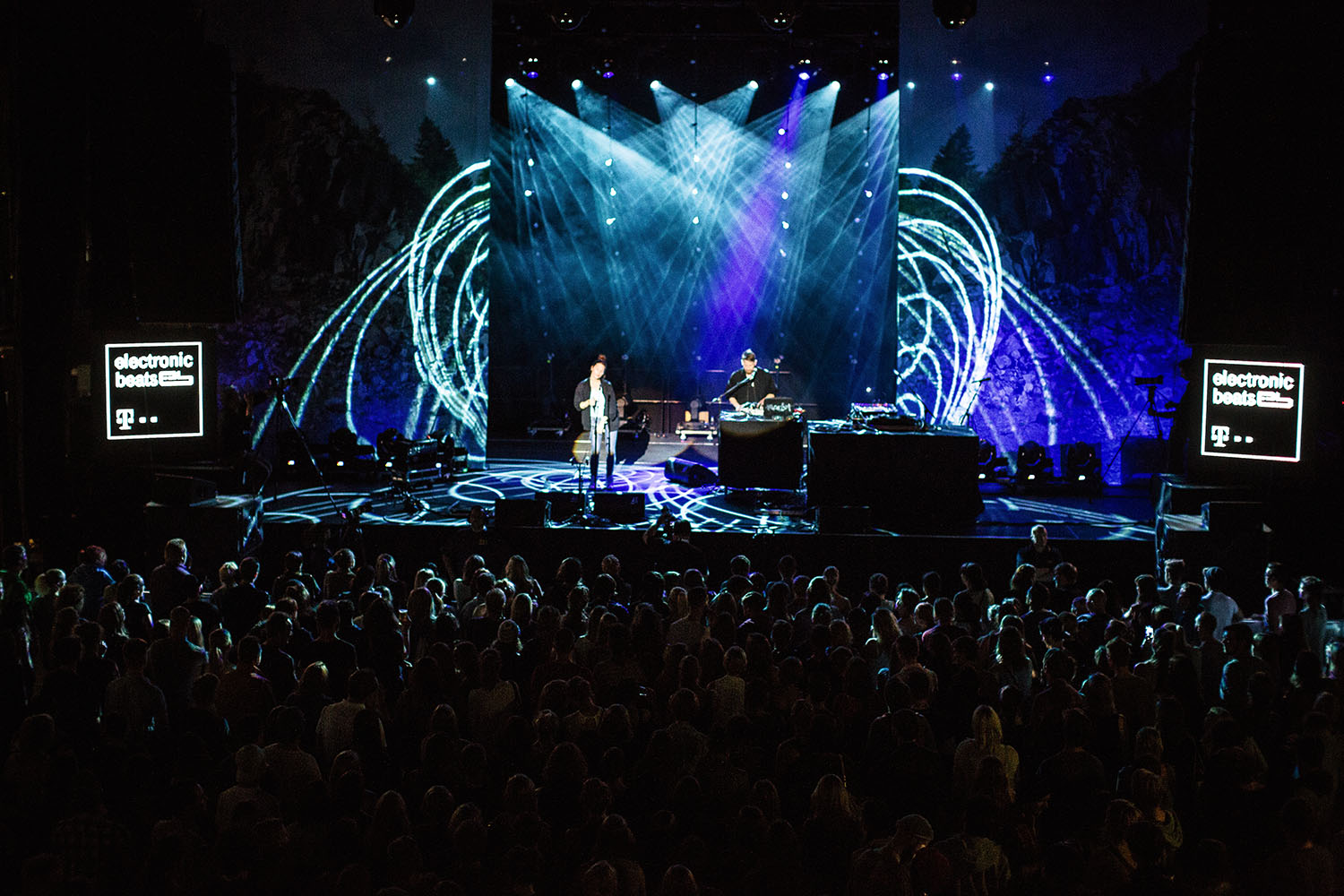 #ElectronicBeats Instagram Roundup: