Adi Ulmansky, Fé, and Poolside Close Out TMTS at Berlin's Fluxbau
Over the last week, Telekom's Music Talent Space program backed three up-and-coming acts with a week of workshops led by industry stalwarts. The festivities came to a conclusion last night, when TMTS participants Adi Ulmansky, Fé, and Poolside traded the expansive isolation of Schöneweide's cavernous Funkhaus studio complex for a show at Fluxbau.
Adi Ulmansky took the stage first, sporting a Cobrasnake shirt emblazoned with the Wayne's World slogan, "Partytime, Excellent." The Tel Aviv singer/producer veered between prowling half-tempo numbers and more confrontational hip-hop cuts, and occasionally stepped away from her stripped-down laptop setup to engage an absorbed crowd.
Her performance was bolstered by some of the subtle touches she worked on during her week at the Funkhaus. According to Ulmansky's dialogue between songs, last night marked the first occasion when she performed with another human onstage. During a few of her more complicated numbers, an extra bandmate, Andy Penn, joined her to provide extra production heft, which allowed her to command the stage with saucy raps that would make her TMTS mentor Peaches proud. Her computer was evocatively draped in tangled branches peppered with the odd petal, illuminating the sinewy quality of her music as much as its precise electronic accompaniments.
Fé was a completely different beast, one that engineered fiercely anthemic pop-rock with a humble arrangement of gear. The British duo traded roles as frontman from track to track, and each was able to lead or add cooing harmonies to the other's lines over taut guitar jabs. The singers won over their German audience by resurrecting and modifying Britpop tropes. For instance, they harnessed mellow Ashcroft-esque vocals to a muscular rhythmic pulse decorated with subtle electronics.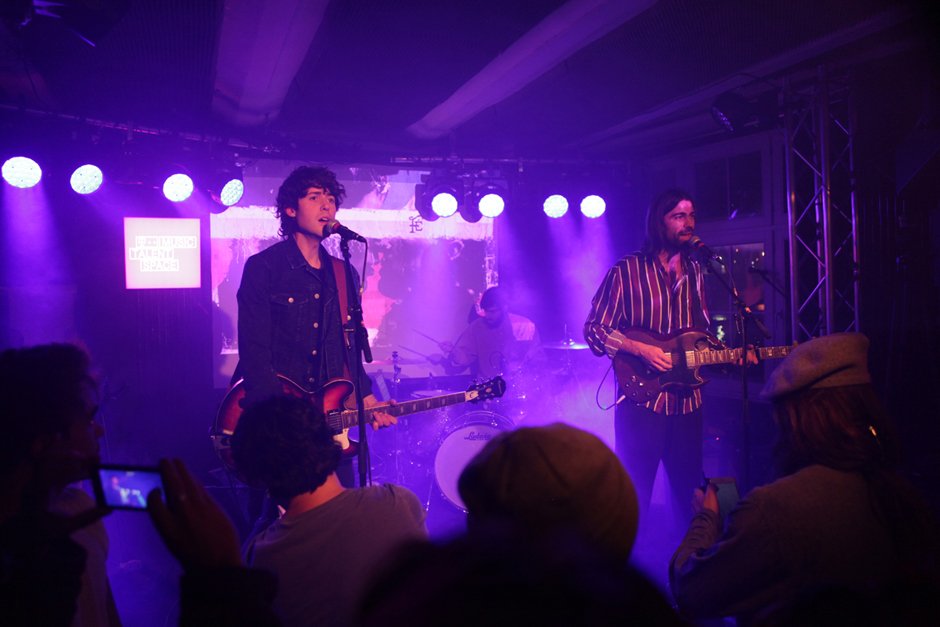 Much of the band's week at the Funkhaus was spent consulting stylists and photographers in order to develop a powerful and unfussy image, but by the time Fé busted out an improvised blues number while repairing a guitar string, it was clear that they offer as much substance as style.
Poolside were a brilliant headline act for a winter night on the Spree. Their carefree falsettos and slinky bass lines whisked away the sub-zero temperatures and took the crowd somewhere a little more tropical. The American/Danish pair's band brought the relaxed funk guitars into sharp focus, while shimmering electric piano chords and spring-loaded drums made their laid-back haze really groove.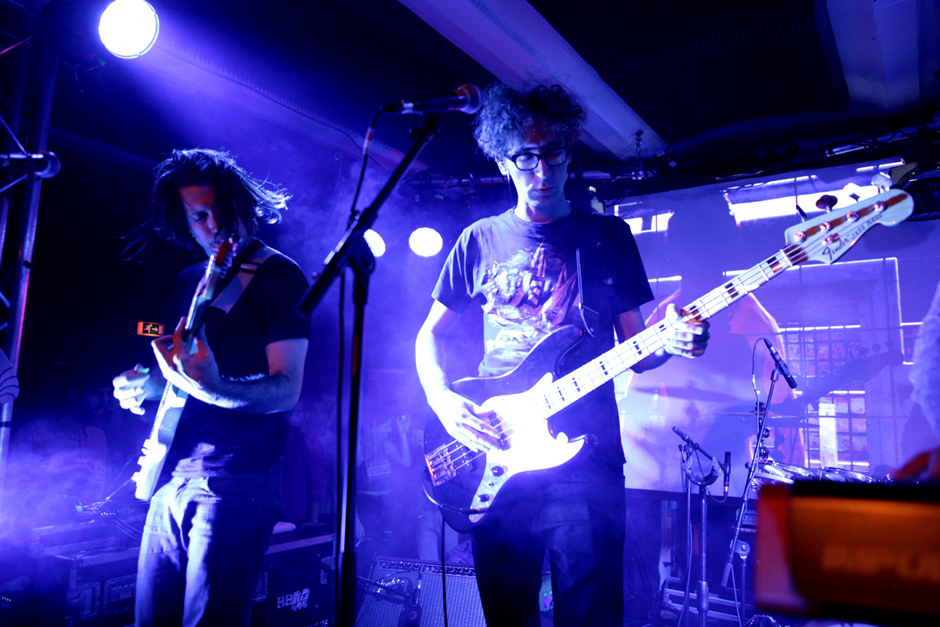 The major achievement of the TMTS program was that the show, although eclectic, was remarkably cohesive. The proceedings flowed slickly from one performance to another, all of which are both visually and musically tight. TMTS helped these musicians take control of their future in the industry, and let's hope they run with it.
Published December 03, 2014. Words by EB Team.