Anthems From The Trippy Ambient Nights At Frankfurt's Club XS
Published on September 28, 2017 10:24 Berlin Time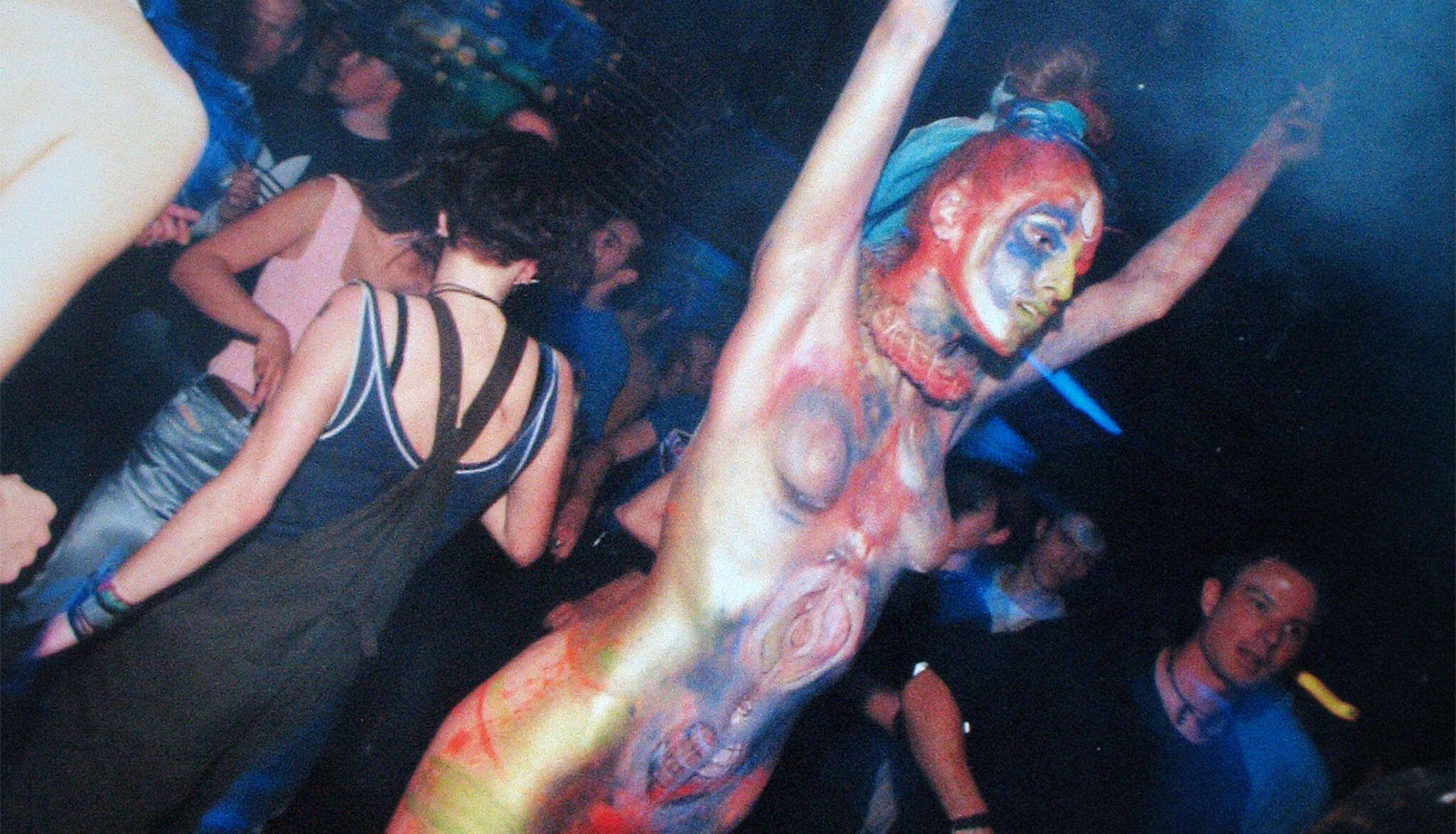 Club XS lived in the shadow of Frankfurt's 1990s techno temples Omen and Dorian Gray—and that's what allowed it to service relatively more niche clubbing scenes. It became a hub for the emerging ambient scene as well as an early adopter of jungle outside the UK. This dare-to-be-different mentality came from its founders, veteran house producer and DJ Mark Spoon and local club promoter Alex Azary, who both felt the range of sounds they heard around the world weren't well represented in Frankfurt, where techno and trance reigned supreme.
They enlisted Amir Abadi, otherwise known as Dr. Atmo, to be one of their principal residents, and his strong connection to Pete Namlook and the Fax Records fraternity helped to establish Club XS' credentials as a haven for ambient music. "In the evenings during the week, Mark Spoon, Azary and I used to meet and hang out at my place and listen to really deep chill-out stuff," says Abadi, "so we felt that Frankfurt needed a new small and cozy place that really worked as a club in the sense of a youth club: open every evening as a place to meet and hang out with cool music as the connecting element, but also open for experiments of all kinds of arts."
Club XS opened in December 1991 and featured a diverse musical programme across five nights every week with décor to match the mood on any given night. The club attracted a cult following very quickly, and they instituted a strict door policy to maintain the convivial, family-oriented atmosphere they wanted inside. Wednesday nights were dedicated to European techno, featuring leading figures of the era such as Carl Cox, Laurent Garnier, Paul Van Dyk and Dave Angel. Friday nights saw XS team up with Mannheim club Milk! (which we featured in a previous edition of Anthems From) to bring in a more breakbeat-focused sound. Milk! residents Bassface Sascha and Groover Klein brought a forward-thinking range of jungle and drum & bass artists over before they were widely popular outside the UK, including LTJ Bukem, Grooverider, Storm, Kemistry and DJ Hype. Saturdays focused on house music, with Frankfurt mainstays Ata, Heiko M/S/O and Joe Jam inviting guests such as George Morel, Tony Humphries, Ron Trent and more.
It was Thursdays and Sundays when Atmo and Alex took listeners deeper into the ambient sounds the club is best known for. On the opening night, XS featured a special dub DJ set from The Orb's Alex Paterson, and they led live sheep into the club as a clear nod to the classic album cover to Chill Out by The KLF. Abadi looks back fondly on another particularly memorable night when a friend returned from travelling in South America with a bag of fresh magic mushrooms, which were promptly distributed around the club. Within the hour between 300 and 400 people—staff included—were all "completely tripping."
"One night nobodoy realized that the fog machine was going non-stop," says Alex. "It was even streaming out of the door onto the street. Suddenly there was an emergency fire squad with about a dozen firemen with torches in full outfits walking through the crowd looking for the fire. This was the most bizarre scene you could imagine. People were completely freaking out. They really thought the aliens had finally arrived. Un-fucking-believable, and until today one of the most cult scenes that happened at XS," he said.
As is often the case with clubs that become the it-spot, XS started to attract unwanted attention from pimps, dealers and others not aligned with the club's intimate and friendly ethos. Meanwhile the venue's finances didn't match the ambitious music policy, and Azary (who was primarily responsible for running the club) was drawn towards other projects. They decided to close the venue in December 1994. For a short time, this unconventional space was an emblem of the open-ended possibilities presented by electronic music in the early '90s. Below, Abadi selected some tracks that will give you an idea of the ambient sound of Club XS's famous chill-out nights.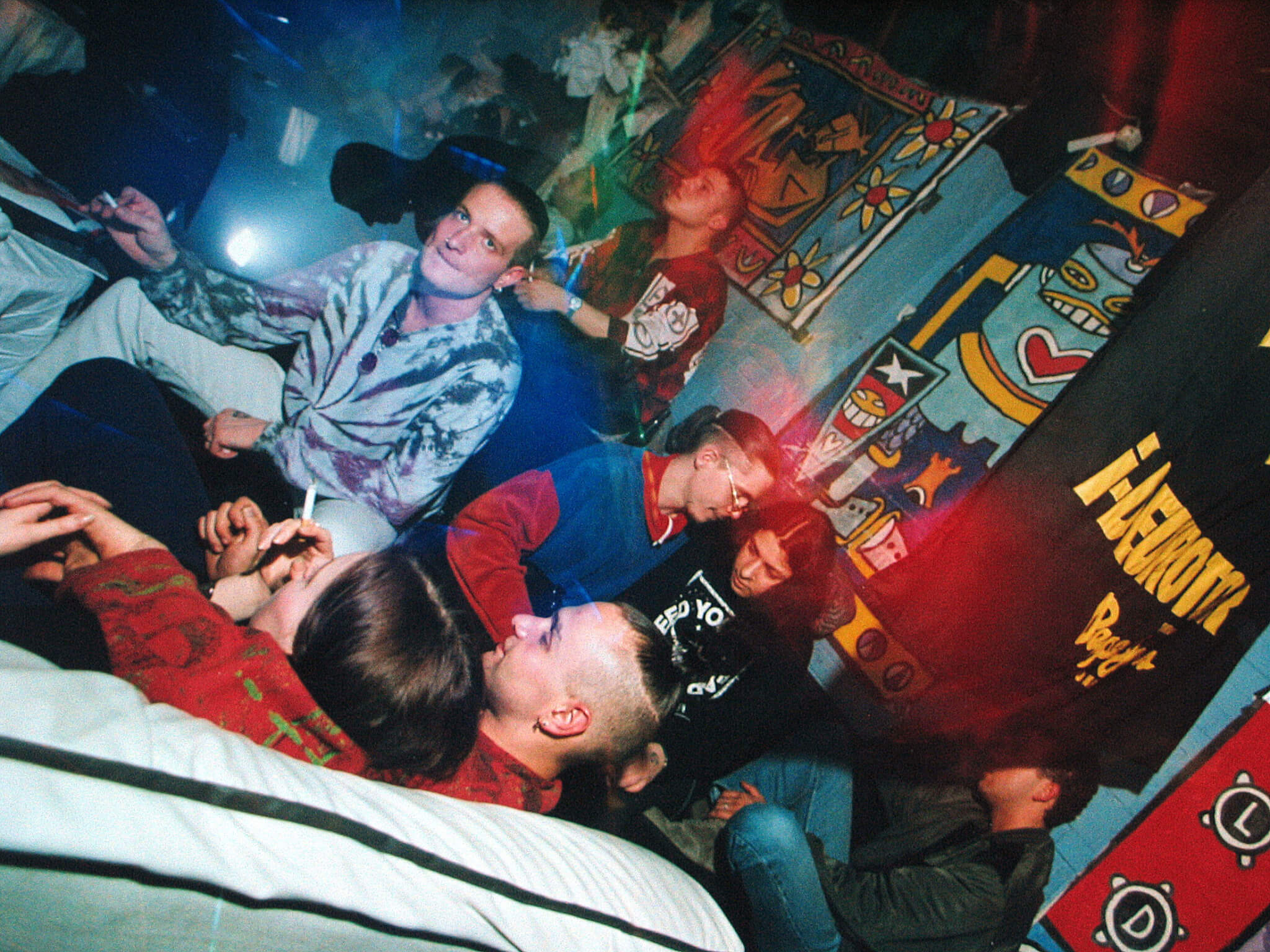 Silence, "Silence" (Rising High 1992)
"A few weeks after the XS opening a friend of mine introduced me to Pete [Namlook], and after that, he was at the club every night. We started to produce ambient music together as Silence, and he played at the club once or twice. This was my first production as Dr. Atmo, and what a feeling it was to play it for the first time in XS!"
Earth To Infinity, Earth To Infinity (Source 1992)
"One night I came to XS at 21:30 (like always) to make a new set design for the night, put on new movies and projection themes, light some incense and prepare the tea. The manager said that a guy had been at the door with a CD for me, and it was the Earth To Infinity album. While I was decorating I listened to the album and was totally surprised. The night began at 22:00 and the first chillers came in. At 23:00 I started to play the whole album, and a guy came to me and said, 'This is my album.' This was David Moufang [AKA Move D]. On this night I played his album two times completely, and the crowd was totally insane. This was the beginning of our friendship."
The KLF, Chill Out (KLF Communications 1990)
"For a long time this was the first album I would play when opening the club. It was so chilled and so varied. I could start my set every night from another point on the CD, sometimes after 30 minutes or sometimes after just 10! This release is perhaps the most commercial underground CD ever."
Electrotete, "I Love You (The Deeper The Deeper)" (Apollo 1992)
"Usually the crowd at XS was totally laid back and chilling or the people were at the bar talking about funny stuff. But every time I played this record, the girls would stand up and start to dance. Always!"
Tangerine Dream, Rubycon (Virgin 1975)
"I collected records for many years before the 'techno' movement, and I always look for that special deepness in all kinds of music. I couldn't wait to play all those historic pearls in a club. For people like Pete [Namlook] or David [Moufang], this wasn't new stuff. They were totally flashed about this kind of mixing. The KLF mixed Elvis in their album, and that just goes to show that everything is ambient."
Japan, "Ghosts" (Virgin 1982)
"David Sylvian was another big artist whom I love and followed from the beginning, and so Japan and Sylvian tracks always appeared in my in sets."
The Orb, "Little Fluffy Clouds" (Big Life 1991)
"The Orb's Adventures Beyond The Ultraworld was another great, classic album that everyone loved from the first tune to the last. We had Alex Paterson play at the opening party and maintained a strong connection throughout XS' lifetime, as I ended up as the support DJ for his tour of Germany."
Ongaku, "Mihon" (Pod Communication 1992)
"This is a great electronic Frankfurt production that was mind-blowing and a great pleasure to listen to. Atom Heart, Ata and Heiko M/S/O (who, sadly, passed away recently) started this unique acid house project and produced an ambient mix of the track that was perfect for the XS chill-out sessions. Ata and Heiko were also resident DJs at XS for a long time."
Dreamfish, Dreamfish (Fax +49-69/450464 1993)
"Dreamfish is a Fax classic from Mixmaster Morris and Pete Namlook that started its life in XS when I introduced Morris and Pete to each other. Morris played the second chill-out night after Alex Paterson. The club was packed and he decided to stay for another night in Frankfurt to play twice."
Mike Perras, "Beginning Of Life" (Bassic Records 1991)
"'Beginning Of Life' is one of my all-time favourite tunes and perhaps the most lovely track ever played in XS. I love to connect different styles to each other without changing the deep mood, going through different doors and experiencing a lot of 'brain movies.'"