A New Beat History Lesson From Record Shop USA Imports
A few months ago we revealed the first monologue from the five-part 72 Hours in Antwerp magazine feature, a Belgian history lesson from techno producer Peter Van Hoesen, and this week we'll roll out the remaining parts one at a time.  This installment features an interview with the Pascual family, who are pictured in the photo above; going clockwise from the top, its members are José, Frie, Daphne, baby Lucien and Nikolai. José and Frie founded the influential new beat and Belgian techno record shop and studio USA Imports, and the family is also responsible for the printed slipmat. If you owned a slipmat with graphics in the '90s, dollars to donuts they printed it.
Frie: José and I met partying on the Belgian coast. Every weekend we would meet there—he came from the south of Belgium, and I came from Antwerp. I remember he was leaving one discotheque and going to another called Groove. He and his friends turned around and followed us. We were going to a lot of soul and jazzy soul parties in Ostend, where we danced the jive, which was fun to watch. The music was all about totally obscure jazz, R&B and funk records, and around 1969, the club Popcorn opened, where they played similarly hard to find soul records but which were slowed down to be a bit sludgier, so everybody could dance together. It was slower than rock, more like northern soul in the U.K. But popcorn was the first genre to properly slow records down. This goes from the late '60s to the early '70s. All of the records were hard to find and all the artists were American: Billy Butler, Motown, jazz instrumentals like Horace Silver's "Song for My Father." Then it branched into cha-cha-cha, which the DJs also always slowed down. Of course they also hid the labels, so nobody would know what the tracks were. It was incredible.
That's when the record stores sold vinyl by auction. When José and I became a couple, we would buy lots of rare records, and that's when we decided to open our shop. But in the French-speaking part of Belgium, they didn't play American or British records, which is why José and his friends came to Antwerp—to listen to those records, James Brown and all that stuff. Back then he didn't know any of the record titles—I knew all the titles! But once we started the record shop, José would go into the clubs with all of his records and sell them to DJs as special "USA imports." And the name stuck to our shop, which we opened in 1973 in Antwerp, so José and I could live together.
This was also the beginning of the popularity of Barry White, whose records we had exclusively in Antwerp because we bought them from the U.S. At some point there was a strong overlap between popcorn and disco as club music, so that's also what we sold. Every week all of the owners of the discotheques in the city came to the shop bringing gin, whisky and orange juice. We had really big speakers, I mean really big, and it was as loud as a disco in the store. It was a party everyday, and this made us very popular. But an important development for us was the first 12-inch. There was lots of publicity for the better sound quality and what it can do for your speakers. The Salsoul label always put on the label, "Warning! This song can blow your speakers."
José: At the time, all of our contact with foreign labels was done on the phone. They would literally play the record into the receiver: "Groove one? OK, I'll take 35 of those. The second track? No, I'll pass." Our phone bill was 100,000 Belgian francs! This was 40 years ago, so we're talking around 2000 euro. Because our specialty was dance music from the very beginning, we played a central role in new beat, both selling records and producing them ourselves. The music we started selling became electronic around the time of Kraftwerk, although before that I would also consider Pierre Henry to have played an important role. We sold all of his EMI records. When the DJs started to play it, we sold everything. Human League's "Being Boiled" was an important one. The bass sound in the beginning worked perfect with the lasers in the club.
Daphne: But electronic dance music was a bit after. I would say it started with Front 242. That was an important foundation.
Frie: But with new beat, like with popcorn, it was all about looking for rare records that nobody could find. Max Berlin? You couldn't find it! And here in Antwerp there was the discotheque AB—Ancienne Belgique— where Dikke Ronny was DJing on Sunday. And all the DJs from Ghent and Brussels came to see what he was playing. We knew what he was playing from other clients, so we were lucky. It all started in Antwerp, even though people from Ghent might tell you otherwise. Of course, one of the most important discotheques for new beat, Boccaccio, was in Ghent. But that was later.
José: The big time was Saturday. It was impossible to come into the shop because it was completely full. People would line up waiting in the street with food and alcohol.
Nikolai: There is the classic story of how new beat started, how DJs played 45 rpm records at 33 rpm and pitched up +8 on the turntable. That was Dikke Ronny. What people don't know is that it was an error. He was too fucked up, and that's why it was too slow. True story!
Frie: We preferred the beginning period of new beat because later, for me, it became too commercial. New beat in the beginning was mainly instrumental tracks, not like the productions they made later on Antler House. Those labels made thousands upon thousands of productions. We sold it because the people wanted it. It's what was being played in the discotheques. It started in Antwerp, went commercial in Ghent and it then came back to Antwerp to die. So you see what was really going on.
José: With new beat it was that classic combination; you have the music, the artist, the look and the dance. It was the same with rock and roll, the same formula as Elvis and punk.
Nikolai: The clothes were a big part. People were wearing bomber jackets with these patches stitched on of cemeteries and tombs or old pictures of their grandmother, sepia tinted images of old people dancing. Ecstasy was the main drug. Huge tablets of ecstasy. They would steal the emblems off of BMWs and Mercedes and wear them as necklaces. Also they would bring suitcases to the club, like silver Samsonites. And they'd dance with a suitcase.
José: Cocaine used to come in from Studio 54 in New York. Two or three people risked the journey every week to fly there. Also they would come back to the shop on a Monday with cassette recordings taken from New York radio. For me this was fantastic because these tapes would include promotional copies of brand new records that we couldn't hear otherwise in Belgium. I'd catch these tracks one month before the release; so every day these cassettes arrived I'd be phoning New York to order them.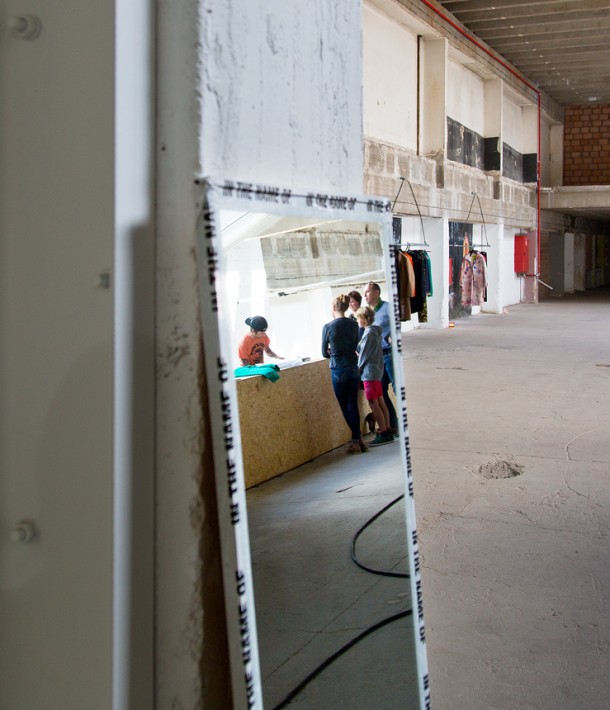 Frie: There was always a lot of sexuality in the music but some of the new beat labels really pushed it. All the young people followed it and over time the crowd got younger and younger. So there were all these DJs who helped start new beat but when it became too commercial they naturally moved on to something else. And they automatically came to techno, gabber, hardcore, and especially terrorcore.
Nikolai: There again, the same thing: the Nike Air Max, the bombers, the certain styles of dance. The entire package of the looks, music and dancing was part of those genres too. There were certain class distinctions between them. Terror was like the intellectual alternative to gabber; it was for the really weird ones that needed this extreme music to get calm. The dress code of hardcore techno from our point of view as a 17-year-old child was like…
Daphne: …white, working-class, suburban. These scenes were a way of life for people. There were these huge parties for terror music. There would be 10,000 people wearing the same clothes doing the same dance. In a way it was beautiful to see. You had the DJ on the stage; he was like the god, and all the people were dancing the same dance toward the DJ. It was rave but more…uniform. See, at first the DJ was a small thing, unknown. Then he was on a stage with fire and lasers.
The early '90s was a crazy time in Belgium. You had these extreme new styles and trance, but remember that this is also the same time as Nirvana. Growing up in a record store was pretty specific, but for us it was normal. I was a kid or an early teenager and you had all those colorful people around. Those beautiful guys also! All of the DJs, they looked beautiful. We came back from school to this. See, we listened to electronic music as kids, but I had a period as a teenager where I listened to grunge. There was a time when I was into rock music because I wanted to rebel against the techno music of my parents!
Frie: We came home late when the shop closed at 7:00 p.m. and then we would eat together. Afterwards, we'd watch television or something.
Daphne: Or we would listen to tracks Frie and José were going to release over and over again—CJ Bolland, Pink Poodle, Christ of Noise. Though in the beginning, it was new beat artists like Confetti's, Max Berlin…
Frie: Yes, because we ran a recording studio also, out the back of the shop. But years passed, things changed and the record store closed in 2009.
Nikolai: The Internet didn't kill it but the fun went out of running the store. Then there was the rise of CDs and later MP3s. So I said, "It's normal that this is happening, I'm not going to fight it because it's impossible." I would be stupid to tell DJs, "Guys, you have to keep buying vinyl!" They pay ten euro for a record and they only play one track off it. So why not pay 99 cents?
This article originally appeared in the Winter 2014/2015 issue of Electronic Beats Magazine. To read more from this issue, click here, and click here to read Part 1 of 72 Hours in Antwerp, which features a lesson in Belgian history from techno producer Peter Van Hoesen. All photos by Elena Panouli.