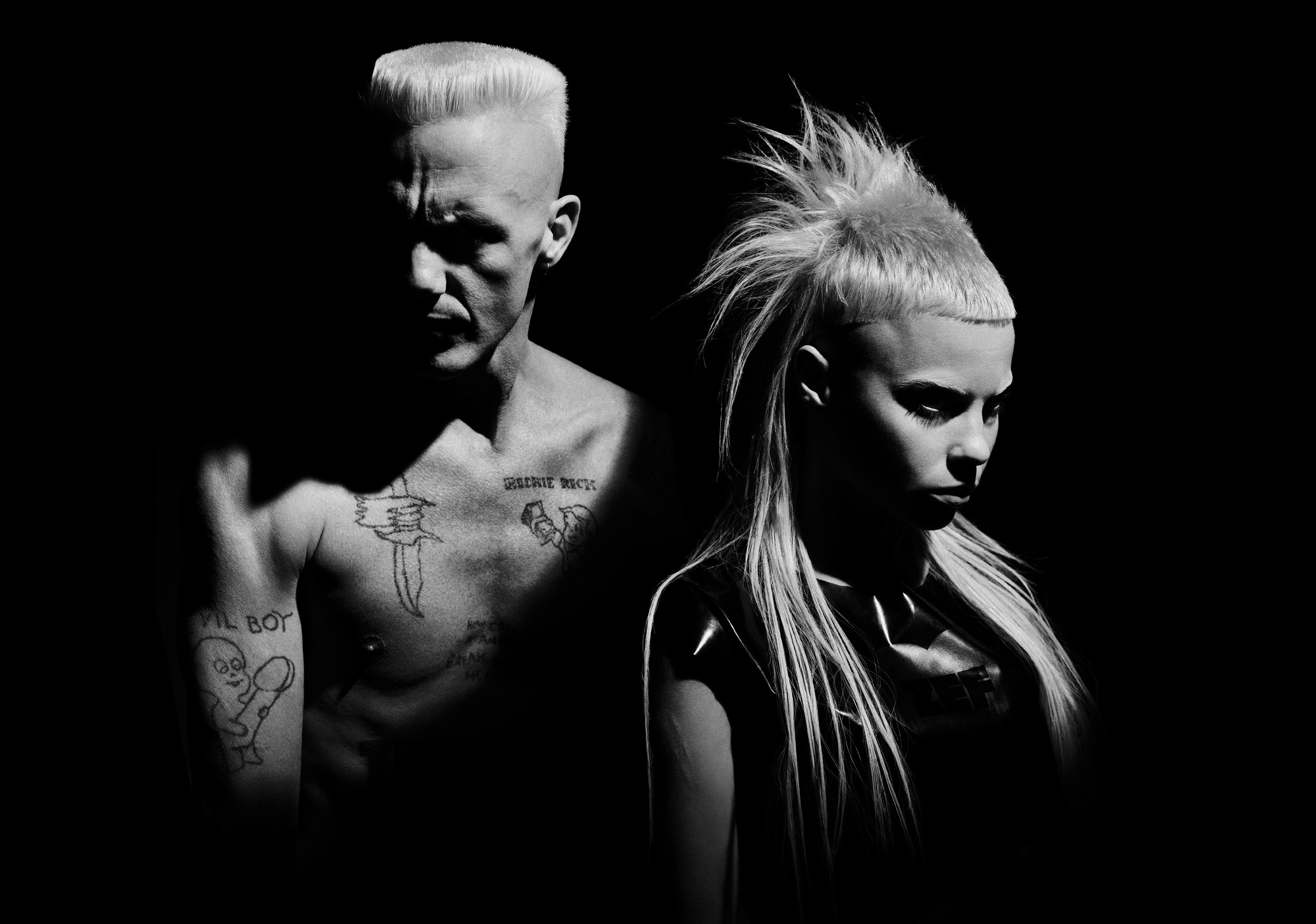 Die Antwoord
Rappers Ninja and Yolandi Vi$$er, and DJ Hi-Tek comprise Die Antwoord, the unhinged South African troupe whose provocative output has won them an international following.
With the free stream of their debut $O$ in 2009, Die Antwoord announced themselves as a unique force within pop culture, attracting a following sizable enough to merit a signing from Interscope Records, who re-released the album the following year. Tracks like "Enter the Ninja" introduced the magnetic dialogue between Ninja's aggressive rap style, Vi$$er's cartoonishly girly vocals, and a euphoric, rave-inspired soundtrack that was to become the template for the group's future releases. 2012's Ten$ion and 2014's Donker Mag, released on Die Antwoord's own Zef Recordz imprint after a dispute with Interscope, proved that the group's emphatically confrontational, and proudly South African work could attract a global audience, as they connected with electronic music stars like Aphex Twin for sold-out live performances across the world.
Die Antwoord's rap-rave sound is a product of South Africa's zef counterculture, which resurrects and revels in trashy '80s and '90s pop detritus. But zef equally informs the group's distinctive look, with Ninja and Vi$$er looming in their nightmarish videos like spectres of bygone gangster-rap or bubblegum-pop icons, their garish tracksuits often smeared in blood and dirt. Many of the harrowing videos for which Die Antwoord are most notorious are co-produced with photographer Roger Ballen. Ballen's video for the 2012 single "I Fink You Freeky", a case in point, sets the group's contorted rave music to images of gurning, deformed dancers and stuffed animals being thumped in time to the unremitting pulse. Die Antwoord's 2014 video for the Aphex Twin-sampled "Ugly Boy" is testament to the group's mass appeal, despite their potentially divisive imagery. "Ugly Boy" features cameos from a who's who of famous supporters, including Jack Black, Marilyn Manson and Red Hot Chilli Peppers' Flea, all of whom give their own eccentric contributions to the pop horrorshow Die Antwoord have made utterly their own.