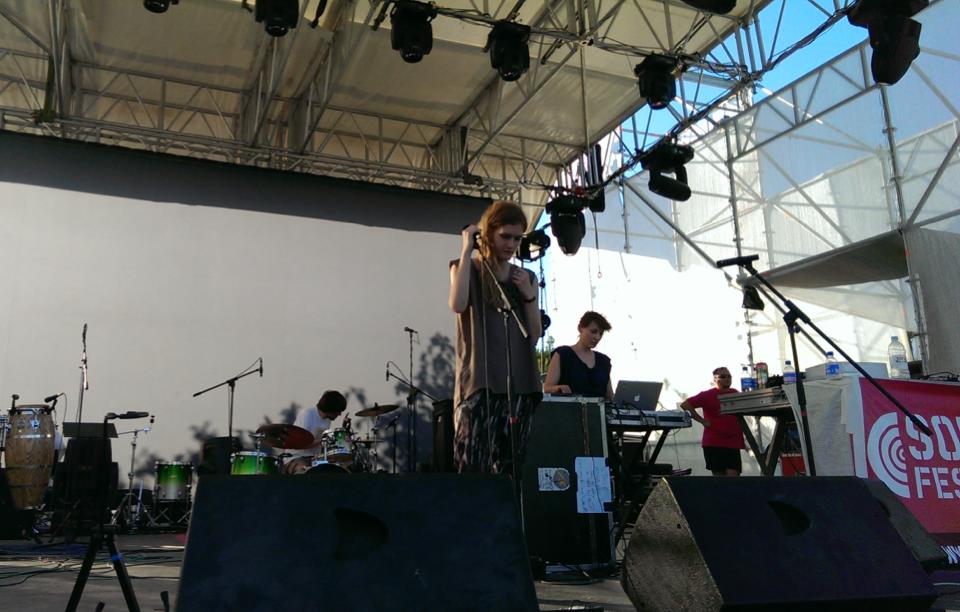 TOMISLAV is a Berlin-based electronic band that started off in Croatia, with members Ksenija Ladic (vocals, synthesizers, sound design), Matija Vojvodic (synthesizers, samplers) and Charlie Baldwin (drums, samplers). A former member of the group was singer Morana Krpan. TOMISLAV was created in early winter 2012 by Matija, Ksenija and Morana and in a short time period the band played at big events like Soundwave festival, Illectricity festival and at Goethe-Institut Kroatien 40th birthday celebration. They also had the pleasure to share the stage with major international artists such as Bonobo, Robert Glasper Experiment, Submotion Orchestra, Shigeto, Phoria, Riot Jazz, Salva, Icicle etc. TOMISLAV's music was featured on a Croatian National Radio Television documentary, and Berlin-based fashion company O'tark. In 2015. Morana retired from the band and Ksenija and Matija took a new path, introducing their friend musician and producer Charlie Baldwin as the new member.
Ksenija Ladic is engaged in sound art and music production. After school of jazz singing she turned more to electronic music and started to spread her areas of interest on field recordings and sound synthesis. Until now she collaborated on a wide range of multidisciplinary projects with theater, dancers, museums and galleries, among others, Croatian Association of Artists, Museum of Contemporary Art in Zagreb and Pergamon Museum Berlin. She produces solo under alias Ksen. In 2014 she obtained MA in Sound studies at Berlin University of the Arts and continues a schedule across music production for movies, video, live sound as well as recording and audio editing for other musicians.
Matija Vojvodic is born in Zagreb, Croatia. He is classically trained multi-instrumentalist who gradually made the jump to electronic music. With his solo musical project Matthew Von, Matija was featured on the online music magazine XLR8R after he was contacted directly on his Soundcloud by Pitchfork and XLR8R managing director and contributor Partic Fallon. Matthew Von's music was published on several compilations and his debut album "Floodlight" came out in March 2015. He is continuously writing music for film and TV, working on various artistic collaborations.
Charlie Baldwin is born in South London, England. As a son of world renowned jazz guitarist Ray Russell, Charlie grew up within the world of music. Cutting his teeth as performer from an early age, he played sessions and tours with notable musicians like Matt Berry and Geno Washington. At age 16, Charlie began translating to electronic music. His initial electronic album was released on Screwloose Records. 2012 saw a change in direction, shifting into combination of IDM and ambient with further excavating his talent for Jazz and Funk glazed with references to prog, psych and ambient, which quickly found its way into the hands of R&S sister-label Apollo on whom he released four EP`s. His latest EP for the label, 'Egal' was released in July, 2015. and it was featured by XLR8R and Boiler Room.
www.facebook.com/tomislav.official