Audioccult Vol. 91: Things I Learned From Not Watching The Grammys
Light a candle. Draw the required sigils. Now, raise your arms above your head and slowly, gently, exhale your soul. You won't need it here. This is Audioccult, and it's time to get low. Illustration: SHALTMIRA
"WHOA there, fucker—you didn't see the Grammys? But, Beyoncé." Yes, I know. Sorry. It's just not something I have an active opinion on. Most of the artists I listen to on the reg tend to not be the type who get nominated for awards (Sewn Leather in '15: WE CAN DO IT!), and the ones who do I know mainly from remixes—which really should have their own awards ceremony. So while the Grammys was happening, I was in my room getting very nice on wine and dancing to the stereo (although it was to the new Prurient, so it was more like shifting uneasily). The only reason it registered to me that the Grammys were happening was that I happened to check twitter, which is another fun thing to do on wine. It turns out you don't actually need to watch the show, because it's far more fun to read opinions with no particular context attached. This is what I learned:
✪ There were not very many boys at the Grammys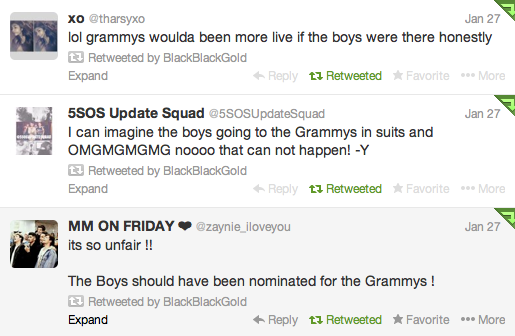 The votes are in: too many men, not enough boys. Clearly the Grammys are not tapping in to one of the most important youth demographics in television: the young. These rowdy she-teens demand more boys, roughhousing with bikes and raising hell with their clear complexions,  hopeful outlooks and general juiciness.

✪ The Fader likes that I want to smell Daft Punk's farts.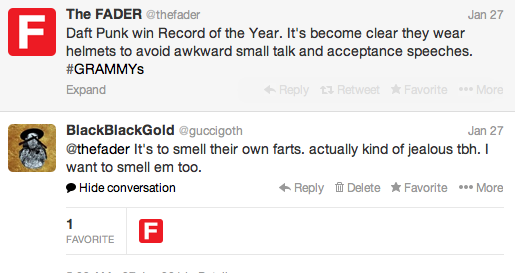 If you're reading this, Daft Punk, be told: I have supporters. The Fart Bandit is coming. Fear the night. *flicks light switch on and off*
✪ Pink Did Not Barf at the Grammys

Performing is often a high-stress situation, and it can be really difficult to go out there and sing instead of blowing hot gutcrud all over the place. What's worse is that probably some of the crowd would also yack from the smell of your stomach acid, even if you only coated the stage or just some of your clothing and chin in steaming hot catered dinner. Eventually the crowd would erupt in a puke panic, slipping and sliding in an effort to escape the chunks being released from award-winning mouths. No autotune to back you up here, the only escape is to bust a hole in the backdrop like a bile-filled Kool-Aid Man. Fortunately for herself and the fans and audience in attendance, Pink did not barf.
✪ Mass-marriage is legal if Madonna does it, which she did, because that's the kind of shit Madonna is doing now
Actually, however, it's now been revealed that the whole thing was a hoax. Apparently it was done in an ironic fashion, and the whole thing was actually a funeral for dignity. Pope Macklemore presided.
✪ People are still talking about "ghetto goth"

I guess Katy Perry wore a black skirt or something? It's not really fair for a guy who called his brand 'Gucci Goth' (until Gucci's reps told me to quit it, anyway) to bust on this but damn, it's not like Rihanna is feeding Bauhaus scraps under the table or anything. Still gotta give a shoutout to Lorde for trying to 'ooze to the stage', as Hintmags twitter posited. Slimepunk is finally avenged.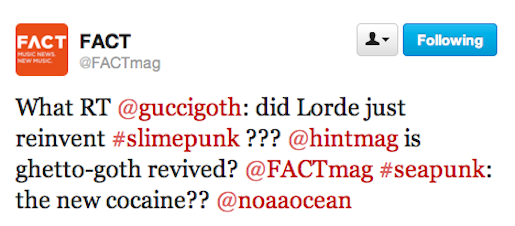 ✪ Pharrell is a Man who Exists
His mom made him a nice hat to wear for the show
I learned a lot that night. This Grammys changed everything. Many people were very happy to see their favorite artist nominated and receive the award. However, the Grammys is also bullshit, because many artists did not get nominated or win awards, and that made a lot of people upset. Some good performances. Some great acceptance speeches. All in all, it was definitely a fantastic night for money. But since I haven't been listening to anything recently besides Marissa Nadler, the aforementioned Prurient, the new Mykki Blanco and a ton of Pete Seeger videos, I'm afraid most of the context would have been lost on me anyway. Not that it matters; I've seen the future of music in my dreams. By 2016, cloning technology will be perfected and experience a two-month surge in popularity before becoming outlawed. One year later, Nirvana will reunite for the Grammys as featuring " All-Original Members." Everyone will be like OH SHIT, HERE WE GO.
Big day of the show, everyone's freaking out. Paul McCartney walks across the stage, causing momentary panic before he takes the mic and says, "Ladies and gentlemen: NIRVANA." House lights come up and it's sweet as hell! There's Kris, killin' that bass, yeahhh Dave Grohl put on a shirt that doesn't say Foo Fighters, this is so cool. Here he comes, taking the stage…it's Andy Kaufman in a blonde wig.
And he's nailing it. ~
Published January 31, 2014. Words by Daniel Jones.