Black Metal and Techno Collide at Doom Over Leipzig
All photos of Doom over Leipzig 2014 by Alexander Klich
Metal and techno have become pretty close pals. The constantly expanding list of artists and labels who blur genre distinctions with evil, heavy sounds includes teeth-gritting drone Contortionist Samuel Kerridge, brutal RVNG duo The Body, Australian experimentalist (and EB Magazine conversationalist) Ben Frost, black metal outfit Wolves in the Throne Room, and Dominick Fernow's Hospital Productions outpost. When exciting things grow, people flock to them, and in this fertile soup Doom Over Leipzig was born.
The four-day festival was conceived in 2010 as a more socially conscious metal platform, and it celebrates the genre's darker strains while rejecting the misanthropy, misogyny and racist attitudes that are parasitically associated with the genre. The event also introduce less traditional, yet aesthetically appropriate, elements in a way that exposes both techno and metal to a larger audience. This year the organizers booked a fantastic selection of doom, black, sludge and stoner metal names, some killer hardcore and punk bands, and arranged art exhibitions and lectures to do with culture and music.
Full disclosure: As I've mentioned before, I DJ'd at Doom Over Leipzig's official after party in 2013 to a club full of metal kids raging to hard trap. I'm a fan of small, grassroots festivals, and I much prefer the intimate vibe of festivals like CTM, Unsound or the extremely small and charming Creepy Teepee. I also like supporting people who—like myself—produce music events independently. So before going to DOL for the first time this year, I wanted to find out more about the ethos behind the doom by speaking with organizer Bjoern Blind.
It seems like you've made a more conscious attempt to blur genres this year, as there's a heavier emphasis on punk and heavy electronics rather than straight-up metal. 
Bjoern: This year we extended the festival area, so we were able to realize a concept we started a couple of years ago in a smaller frame: to spread more musical and artistic diversity. We still have classical doom-y acts like Amenra and Minsk on the bill, but we continued to open the fest to other, less traditional acts that are also known and loved for spreading a dark and heavy atmospheres with their music, like Mondkopf or WIFE. This year we're also providing a platform art and discussion, and so we invited some of the scene's established artists to curate an exhibition.
The exhibition is an aspect not really featured often in metal festivals. 
We decided to do this because we wanted to show a bit more of the people who are responsible for bringing a visualization of the music in addition to the pictures you generate in your thoughts while listening it.
The lecture on the crossover between techno and metal seems really interesting. Can you tell me more details about your view of the topic?
The idea for the lecture was to curate a selection of articles from over the last two years that documented our own observations, like the fact that techno and metal stand closer than ever before. One of those articles was written by Remo Bitzi of Zweikommasieben and Spex Mag. For me, his article about artists like Dominick Fernow, WIFE and Oneirogen was a bullseye.
I spoke with David Psutka from Egyptrixx about how the production in doom metal is the same as in techno in that in focuses on low end, concussion and tranquility. I think it's interesting to see how that emphasis affects both sides.
There's a lot of overlap between projects in both genres. More and more elements are transferred from one genre to the other, like industrial sounds and the heavy, atmospheric aspects. Godflesh realized the vision decades ago, so we know that metal isn't always conservative.
How do you see the response within the metal community? 
It ranges from those who reject us because of our interest in electronic music to total support. I really appreciate the more open-minded part of this community.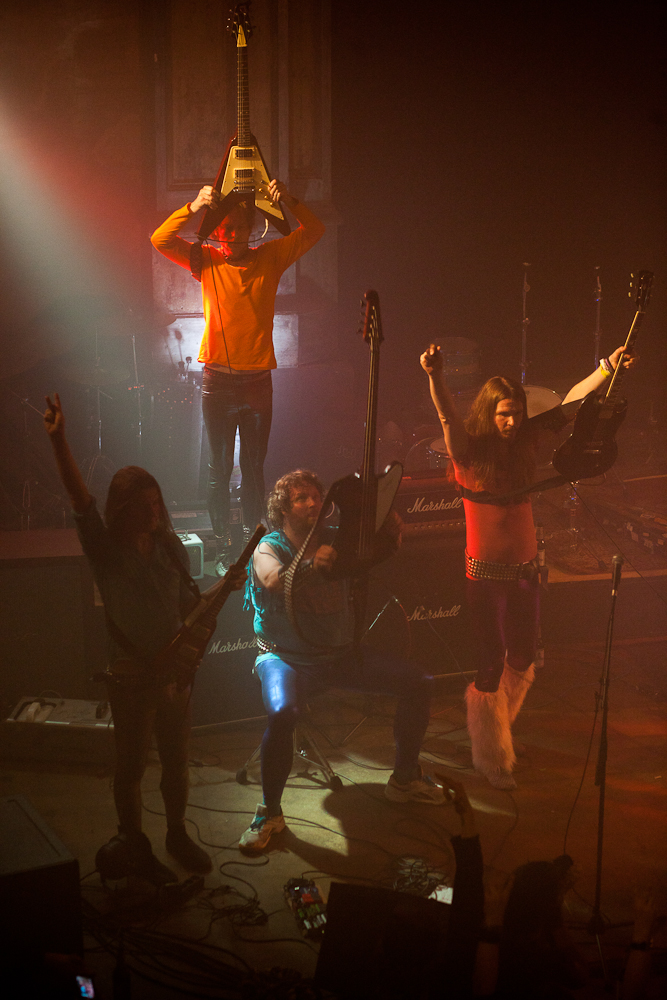 Have you seen similar festivals incite any change within satellite scenes?
Actually I haven't, due to the fact that this development reflects changes in music and culture as well as personal advancements.
This year you're also working with the production company Randfilm. Can you tell me about this collaboration?
Randfilm is a group of people who are passionate promoters of underground movie culture. For this year's Doom Over Leipzig, they collaborated with Downwards affiliate Grebenstein, who will create a live score for Shinya Tsukamoto's 1989 Japanese cyberpunk movie Tetsuo: The Iron Man. It's another platform for dark and spheric tunes to find a perfect place to unfold.
There are definitely elements of metals' heavy atmospheres present in this year's batch of electronic acts, but from an almost academic perspective. Do you see DOL as following a similar path as festivals like Unsound?
Yeah. It's almost like a phenomenology of the dark and heavy. Uunsound as a concept definitely inspired us, and I would agree that we're taking a similar path, albeit in different stadiums.
An interesting thing to note is that even progressive art/music festivals tend to book mostly men; one-woman acts like Machine Woman are sometimes pretty rare. As female artists like she, Myrkur and Pharmakon gain more visibility, have you seen more of an attitude change within the traditionally masculine metal scene?
Sadly, when it comes to this topic, the metal community hasn't changed remarkably. Even compared to the more progressive music genres you mentioned, it seems like a male-dominated field. I agree when you say that they don't get much exposure, even though there are a lot of massive and innovative performers. We're definitely looking for more acts who work with these overlapping and experimental ideas.
Doom Over Leipzig takes place April 8th-11th.
Published April 01, 2015.