From Ice Skating At Berghain To Balinese Gabber, This Is Your Guide To CTM Festival 2019
CTM Festival's 2019 edition also marks its 20th anniversary in Berlin.
Published on January 23, 2019 16:37 Berlin Time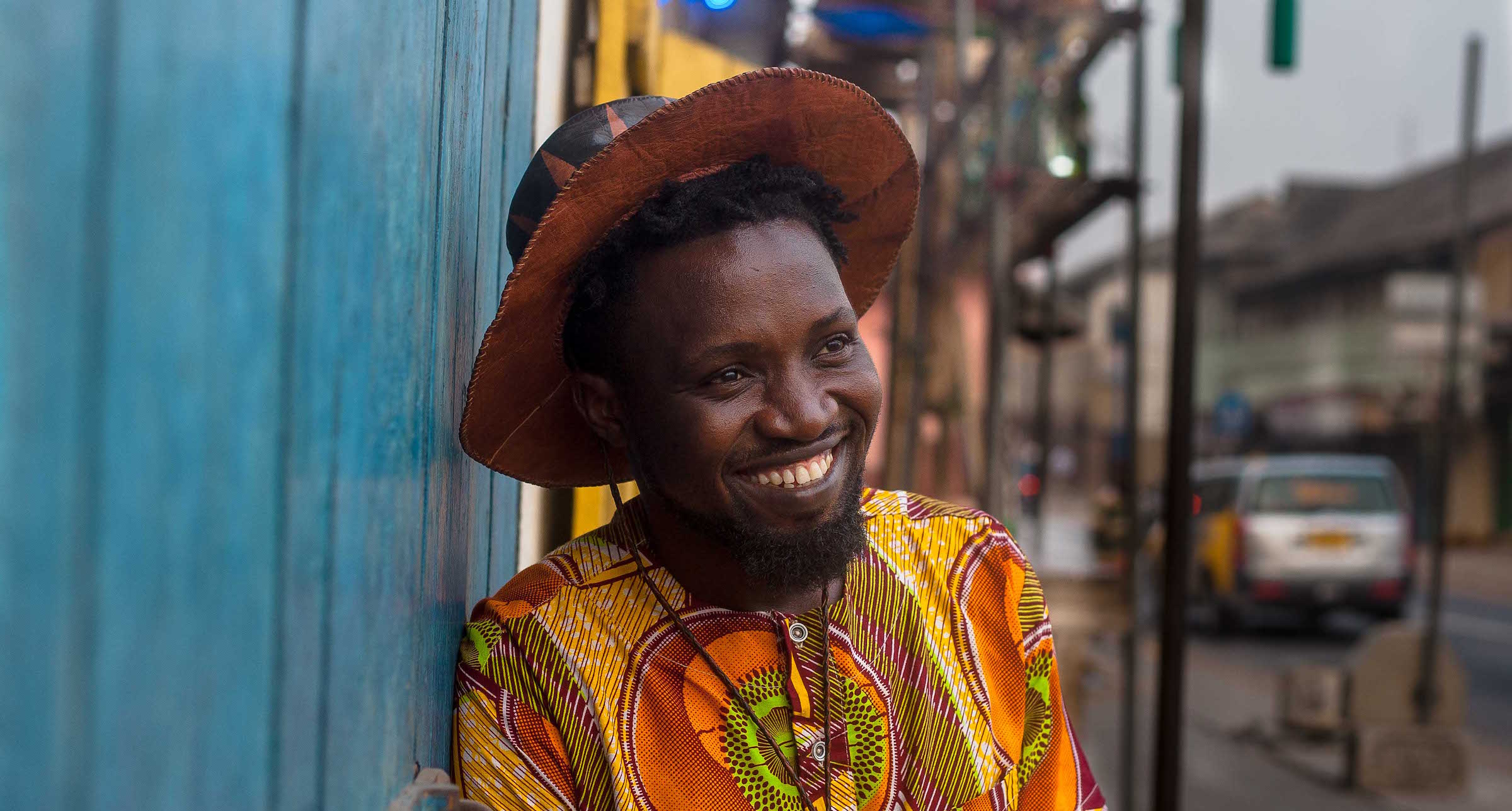 Berlin is a city with a seemingly limitless appetite for experimental music. And yet, even in a city like this, CTM Festival stands out. The annual event, which is celebrating its 20th anniversary this year, is eagerly awaited by fans all year. CTM Festival's events feature some of the most challenging (and rewarding) performances by artists from all around the world.
No matter whether you prefer immersive installations or gritty DJ sets, the sheer amount of multisensory quality packed into its 10-day program can be hard to keep track of. To help us navigate this year's edition, we asked CTM Festival curator Michail Stangl, who is also the director of Boiler Room Germany, to share some of his favorites.
"As with every year, CTM Festival operates under the umbrella of a curatorial theme. It's an overarching narrative that's both a framework for how we put the festival together and a kind of guide for our audience. The theme is the lens that they can use to contextualize the things we offer through the festivals 10 days.
This year's theme is PERSISTENCE. It's a fitting allegory for CTM festival's 20th anniversary, and it's also an attempt to think of collectiveness, community and subcultures as key forms of resistance that allow us to take on on the great global challenges of essentialism, unshakable identities and the corrosive powers of uncertainty worldwide.
CTM Festival's 20th anniversary edition, which was for a long time unimaginable to us, brings together many actors and initiatives across music, culture and technology to imagine, discuss and celebrate the open and pluralistic structures needed to take on this challenge. I hope you can participate in this experiment."
Kikelomo
"We carefully picked the DJ who would play the first party of CTM Festival's 20th anniversary. Kikelomo stands for the rich and promising state of the Berlin underground. She played every party that mattered in 2018 and afterwards she was the DJ most people spoke about. Holding up the flag of UK sounds in Berlin high, the No Shade resident will debut at Panorama Bar and set the mood for what is going to be our finest edition to date."
The Mantis
Friday, January 25 through Sunday, February 3 @ Halle am Berghain
"I consider Nik Nowak to be one of the most important political artists in Germany. His work uses sound and object installations to explore and challenge state and military power. He is one of the few artists to have ever performed in a public space in North Korea. He is also—and I'm having a hard time putting it another way— batshit crazy: He makes tank-mounted, custom-built sound systems that look like what would happen if Skynet would've chosen dubstep over world-domination. His latest creation is a four-meter-tall sound sculpture called 'The Mantis'. He will debut it at the festival with live performances by Hyperdub head Kode9 and experimental rapper Infinite Livez."
Slikback
"You've probably heard about Slikback by now, considering that he was one of the most talked about East African underground artists of last year. Part of the Nyege Nyege family, he's made beats for some of the best MCs in Kampala, his current home town. The trajectory of his career is even more impressive if you consider the fact that he only started producing music a little over a year ago. He's since amassed close to 400 tracks that span a variety of global bass genres from juke to afro trap. He'll be joining Sho Madjozi, South-Africa's brightest star, and the Through My Speakers crew for a bass-heavy take over of Neukölln's favorite rave warehouse."
Linn da Quebrada
Sunday, January 27 @ HAU1
"I'm particularly proud that we're kicking off CTM's 20th anniversary with Linn da Quebrada, one of the most important and uncompromising voices in the Brazilian black, queer and trans communities. She will be performing her afro-funk-vogue mix of carioca and hip-hop with a 10-piece ensemble of musicians and dancers for the very first time in Europe. Expect a performance that will be as much a commentary about the current political climate in post-election Brazil, and its consequences for femmes and queers, as it will be a showcase of radical self-expression through music (and one of the best live shows you have ever seen)."
John Bence
Tuesday, January 29 @ Berghain
"John Bence is one of the most unique artists I have come across recently. His music has both the brooding and dystopian edge of Scott Walker's later works, but it's also a juxtaposition of anger and frailty that I've rarely found in other music lately. This is an artist who reveals the layers of himself in his music. I expect his to be one of the most memorable performances of the festival, especially because I think that the gothic gloom of his voice will resonate perfectly in the cathedral-like architecture of Berghain."
Colin Self
Wednesday, January 30 @ HAU1
"Many might know Colin Self as one of Holly Herndon and Mat Dryhurst's closest collaborators. He is a part of the Holly Herndon Ensemble, which premiered at CTM last year. However, he is a highly fascinating artist on his own. His work can be described as a form of experimental opera that explores new forms of kinship and family. He asks one of the most important questions of our time: How can we collectively persist amidst environmental destruction? Communal practices are key to his creative process, which can be seen in his Xhoir group singing workshops. This is a choir he put together for his CTM performance that will join him on stage accompanied by a string ensemble."
700 Bliss (Moor Mother & DJ Haram)
Wednesday, January 30 @ Berghain
"Seeing Moor Mother live for the first time at CTM Festival in early 2017 hit me with an unexpected impact. Her unrelenting stage presence reminded me of the intensity of the late Jhonn Balance, the legendary vocalist of Coil. As 700 Bliss [pictured in the photo at the top of this article], she pairs her forceful noise poetry with club production by DJ Haram. The result is a mixture of rap delivered with the precision of a rattlesnake on top of Middle Eastern rhythms with roots in Jersey, Baltimore and Philly club music. Next to the riot grrl! punk of Cocaine Piss, who will play later that night, their performance will turn Berghain to a full-fledged mosh pit."
Miss Djax
Thursday, January 31 @ Berghain
"Dance music's harder and faster genre's have experienced a tremendous revival in recent years. Now many young artists are referencing and re-exploring some of the most creative years of the '90s in their productions and sets. Miss Djax is one of the key artists of that era. As a producer, DJ and label owner of Djax-Up-Beats, she contributed immensely to the European acid and hard techno scene. (She also contributed to the Dutch rap scene by releasing its first album). Her influence on two generations of artists can't be celebrated enough, and we're super proud to welcome her at CTM for a peak time DJ set at Berghain."
Mina & Bryte
"I don't think I played anybody's tunes in 2018 as much as Bryte's (pictured at the top of this article). Hearing Ben UFO drop his "Do Your Do" during his b2b with Objekt on a summer night at Present Perfect Festival in St. Petersburg was probably my favorite festival moment of 2018 as well. He hails from Accra, Ghana—which has one of the most exciting music scenes in West Africa right now—and his style mixes uptempo afrobeats with a unique flow. He produced his album Too Good For Your Liking with, among others, Mina, an extraordinary producer who co-runs Boko Boko, a London party that places global bass between dancehall and kuduro. Both will DJ Panorama Bar together for CTM."
Riobamba
"Outside of house and techno, if there was one sound that dominated clubs in 2018, it was reggaeton. Riobamba is a Ecuadorian-Lithuanian artist on Discwoman who has become an ambassador for the genre, and beyond delivering some of the most exciting club sets, she also uses her platform to raise awareness about the marginalized people suffering under the politics of the Trump government. We're excited to bring her to Germany for the first time!"
IC3PEAK
"IC3PEAK are a provocative duo from Moscow who have become one of the leading voices for a disenfranchised Russian youth. The band recently found itself at the center of a campaign by Russian authorities against 'undesirable music'. Every single concert of their recent Russia tour was shut down by the police. The band was even detained at one point (this attempt to prevent them from performing was unsuccessful, their fans waited until late into the night until they were released and could perform the concert). I consider their music video for "Смерти Больше Нет / Death No More" one of the most important middle fingers thrown at the face of Russian authoritarianism. Catch them supporting the world-premiere of Död Mark, Yung Lean's new punk band."
MCZO & Duke + Dancers
Friday, February 1 @ Berghain
"After Bamba Pana and MC Makaveli completely blew off the roof of Panorama Bar last year, we decided to bring MCZO & DJ Duke to town, who represent the next generation of Daressalam, Tanzania's bursting singeli scene. Best thing is: You'll get a full flavor of Nyege Nyege Festival at Berghain that night, because they come equipped not only with their 200+ BPM high-energy beats, but also with some of the finest dancers from their hometown. Seeing this in person in Uganda was one of my highlights last year, so make sure to dress lightly. It will be sweaty."
Gabber Modus Operandi
Friday, February 1 @ Berghain
"What Atari Teenage Riot were for my generation in the '90s, Gabber Modus Operandi will be for this generation from February 1 onwards. Hailing from Bali, this duo combines a punk aesthetic with the DIY spirit of the Indonesian experimental music community to express the friction caused by postcolonial resonances and growing religious conservatism. I had the (dis)pleasure of DJing after one of their performances—they are the kind of live act that you can't top in any way no matter what you do."
Deena Abdelwahed
Saturday, February 2 @ SchwuZ
"The beauty of a music festival like CTM is that you get to work with artists at various stages of their development. Our collaboration with Deena Abdelwahed started a few years ago when she won our Radio Lab and produced a wonderful piece called "All Hail Mother Internet", which was both a radio play and a club music performance. Now, a few years later, the tremendously talented composer and Room 4 Resistance resident will debut her live show at CTM based on her critically acclaimed debut album Khonnar."
Eishalle
Friday, January 25 through Sunday, February 3@ Halle am Berghain
"I'm not sure why, but CTM Festival is sometimes perceived as a bit highbrow and stiff. I admit that the depth and complexity of the program can be overwhelming, even to our own team, but after all it's a music festival—we want people to have as much fun listening to music with a beer in their hand as we want to question and shift their understanding of what the limits of sound as an art form can be. However, it's also our 20th anniversary, so we thought, "why not put up an ice skating rink at Halle am Berghain for two weeks?" So, if you've ever wanted to ice skate to 160 BPM ghetto tech, Norwegian space disco or the German minimalism of Raster(-Noton), then come down to Halle am Berghain and have some fun with some of the best DJs we know." [Note: This one has specific opening times and is not open on Mondays. Check the schedule here.]