DJ And Journalist Daniel Wang Explains The Appeal Of The Wild Cocktail D'Amore Parties
This is a flyer for Cocktail D'Amore, a Berlin party.
Saucy ads have become one of the staple features of the Cocktail D'Amore brand. The series' in-house artist, a visual artist called GoldNSour, has produced one witty flyer for every Cocktail party that has occurred since the Italian DJ duo Discodromo founded the monthly gay bash with Berghain resident Boris in 2009. That's about 60 suggestive promotional posters and GIFs of bondage bears (literally), peeing men, and kittens jumping around on a pair of turntables, plus about as many videos. One of the clips is embedded below, and you can see other clips he made for the party series here.
Additionally, there's a handful of somewhat less-sexy (yet still provocative) designs that have appeared as artwork on the records the trio has released on its spinoff Cocktail D'Amore label. My favorites are the sweaty mustache from the imprint's first sampler, and the deranged cartoon that Benedikt Rugar composed for its latest 12″, which is a compilation titled Nothing Matters When We're Dancing.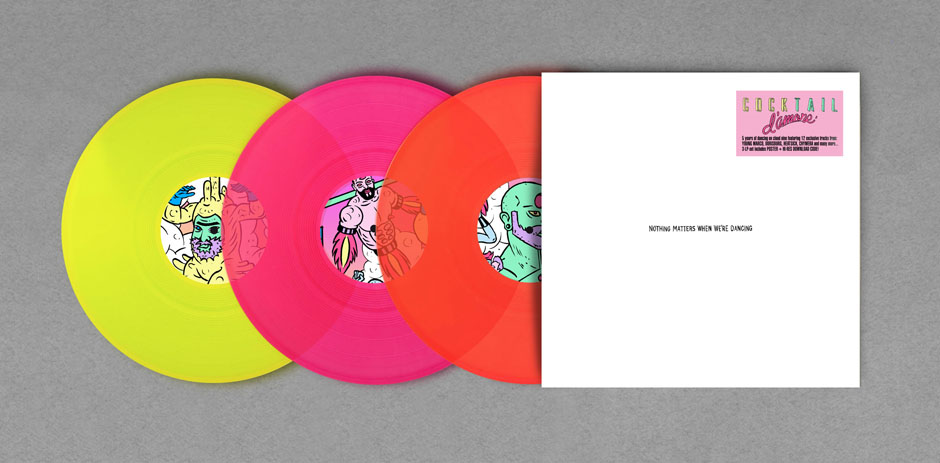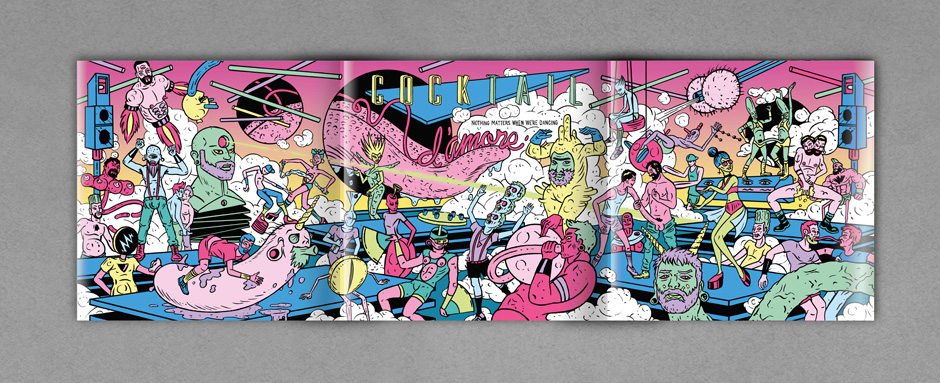 This most recent record features contributions from previous headliners, artists who have released on the label in the past, and a few new faces, including PAN signee (and frequent Electronic Beats contributor) Heatsick, Swedish beatmaker Dorisburg, and house/disco champion Massimiliano Pagliara.
"Cocktail is always a colourful party," Heatsick told us. "Be it when you turn around and see an acquaintance getting pissed on in front of the bar, and reclining their head back in full ecstasy, or when a random naked guy runs around at 6 a.m." But he's quick to point out that overt displays of sexual activity aren't the most important or exciting aspects about the gathering—Cocktail D'Amore stands out on the strength of its music selections. In addition to stellar appearances from some of the artists featured on the compilation, the party series has hosted marathon sets from New York legend Joe Clausell and many memorable mixes from its resident DJs.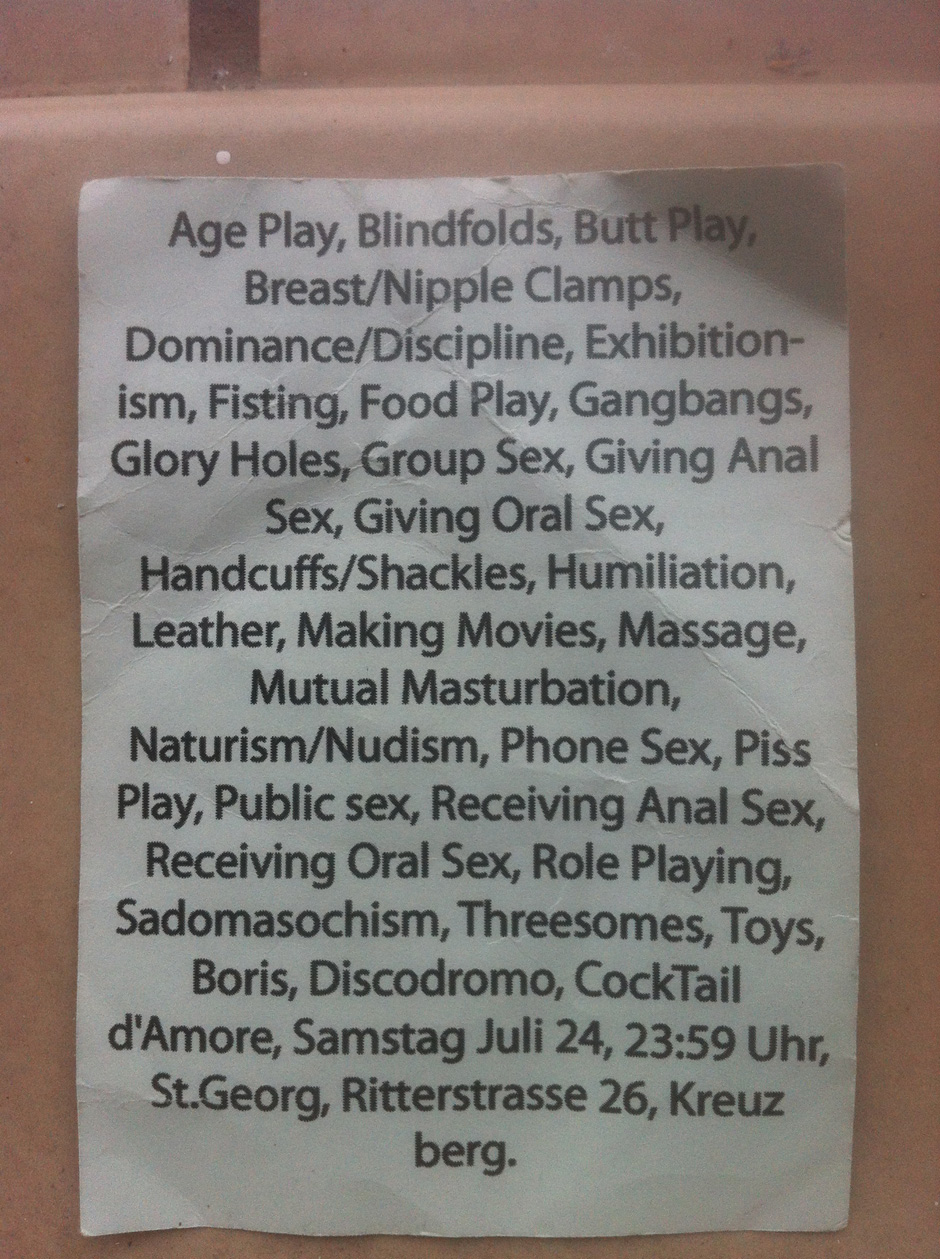 Longtime DJ, producer, and label owner Daniel Wang also captured the party series' special magic in an essay he wrote for Nothing Matters When We're Dancing, which will be included as fold-out liner notes with the physical release.
Wang wrote one of the first and most poignant pieces about Berghain and its predecessor, Ostgut, back in 2004, when he covered the club's opening night at its new location. His keen ability to recreate a party's particular vibe and environment makes his text about Cocktail D'Amore incredibly powerful and compelling, and Discodromo has vested us with the honor of hosting it, unedited and in full, below. Mind the (sic)s.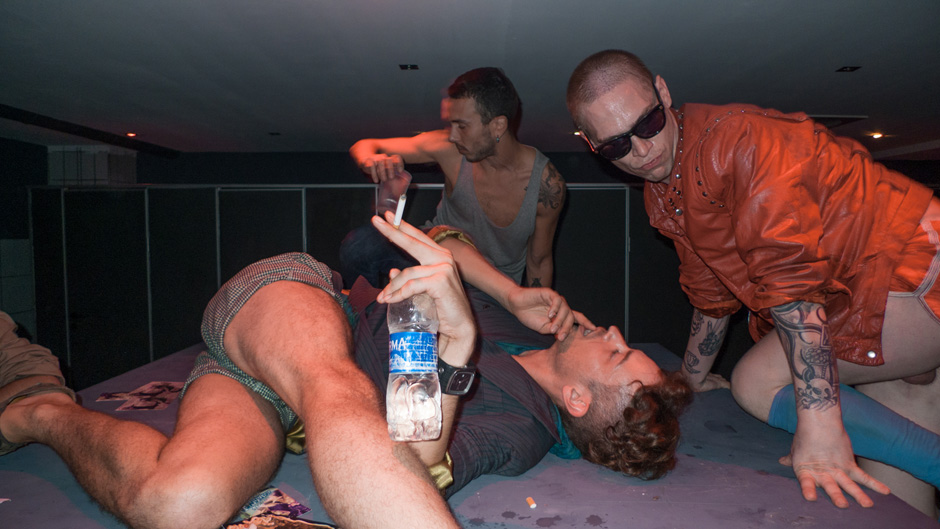 "For the past 7 years or so, I promised myself not to write 'that novel about Berlin'.
Because when people say Berlin, they certainly don't mean 'Cabaret', or GDR, or Christiane F. anymore. When people say Berlin now, they mean the present reality: post-Wall, techno along the Spree, cool breezy uninhibited metropolis, kebabs and Vietnamese noodles and ice cream on any corner for a few euros, if only you could move here too and have it so easy and go dancing every weekend at some crazy party until the sun rises and sets again. Or is Berlin 'eine Wolke', merely a cloud, as the old melody goes? Clouds look like different things in different people's eyes.
Four or five gay boys whom i know might be preparing their own version of the Novel About Berlin which would, of course, be a guaranteed hit. There's an Italian famous for his literary translations, and another less famous one who lives next-door to me; there are a few well-qualified Brits who just can't seem to get it together, probably because they drink too much; there's a handsome lanky boy from Sao Paulo studying philosophy at Humboldt. But i, both the Asian and the American, the outsider-insider, haven't cashed in my chips yet.
I didn't want to write about this so-called hedonistic utopian Berlin club scene any more because i didn't want another person between the ages of 18 and 45 reading all this hype and moving here, only to get lost in the masses which have already swelled out of control, making it impossible for my friends to find a really cheap apartment ever again. Oops, that happened already.. e non é stata colpa mia.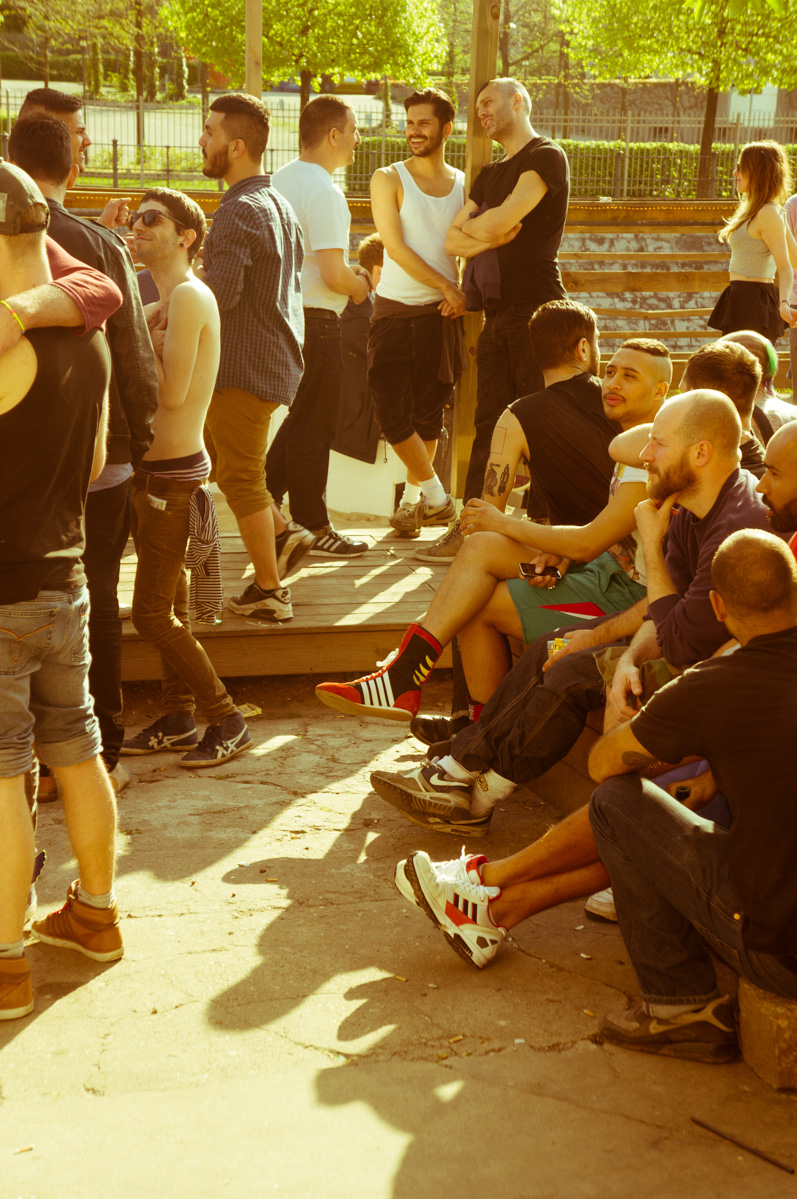 Only if Giovanni hadn't asked me to put a footnote inside the lining of this CD compilation for Cocktail d'Amore.
Gio with that beard and beautifully symmetrical cranium, with his voice of a California pot-head, although he actually comes from a little town in northern Italy. And Giacomo and Boris, his DJ partners in crime, whose collective past lives in Milan, Bologna, New York and some other strange places are surely the source of karma of their present disco reincarnation.
I've often asked myself why i miss Berlin whenever i have to fly away. Before my grandmother died last year at the age of 96, i'd go spend 8 or 9 days with her pent up inside a bland apartment for seniors, surrounded by the clean, sterile streets and shopping centers of suburban California. It was not a duty; it was out of pure affection. But i remember most clearly that urge each time i came home from SFO via LHR or FRA to TXL—running back into the smoky, sweaty, neon-lit bars and discos just to feel alive again—just to know that it will be a while yet until physical desire and rhythm are extinguished in my own body.
Whenever i'm not in Berlin (which is where you yourself, reading this text, probably are right now), the one party I miss attending most of all is Cocktail d'Amore. Some natives will surely protest: what about those afternoons in the garden at Homopatik, or Berghain's never-ending Sundays, or that sleazy basement in Ficken 3000? They can all be sexy, i don't disagree. Each person finds his own garden in this city.
But as the name so appropriately suggests, mixing up a proper drink to last you through these long nights is a delicate and peculiar task indeed.
How Cocktail d'Amore has managed to sustain its demographics so well and for so long is a mystery, but perhaps the answer is Love.
As Andrew Holleran (who surely would not rank below Isherwood among the Literary Saints of the Urban Homosexual) once wrote, to go the disco in 1975 was to enter a Democracy of Desire. And so it still is, here. Our friend Pindar, who designs visuals for the party, even projected excerpts from Holleran onto the walls all night when Cocktail briefly took place in a gigantic abandoned brewery deep in the middle of Neukölln.
The US-American paradigm of pornographic bodily conformity, perhaps the basis of mainstream gay life there and on the international 'circuit' at large, serves the curious function of obliterating the immigrant past of a nation whose grandparents had humbler European origins pre-dating the era of the tacky, self-hating WASP-wannabe fascism of Ralph Lauren and Abercrombie and Fitch. I think it is the genuineness of people in Berlin who are still in touch with their European roots which touches me. Perhaps being at Cocktail feels like joining the United Lovers' League of Europe – that is what keeps pulling me back. Women are present too, the boys certainly welcome their presence. Not politely dressed female hipsters, i mean those fierce girls with tattoos wearing thread-bare leotards and Carneval beads, that handsome lesbian grrl with her chest as bare as any boy's dancing up a storm in the month of March—i was applauding! But if you've ever read 'Dancer From The Dance', you know the hardcore tit-shakers. Those boys who live not merely for the party, but inside of it.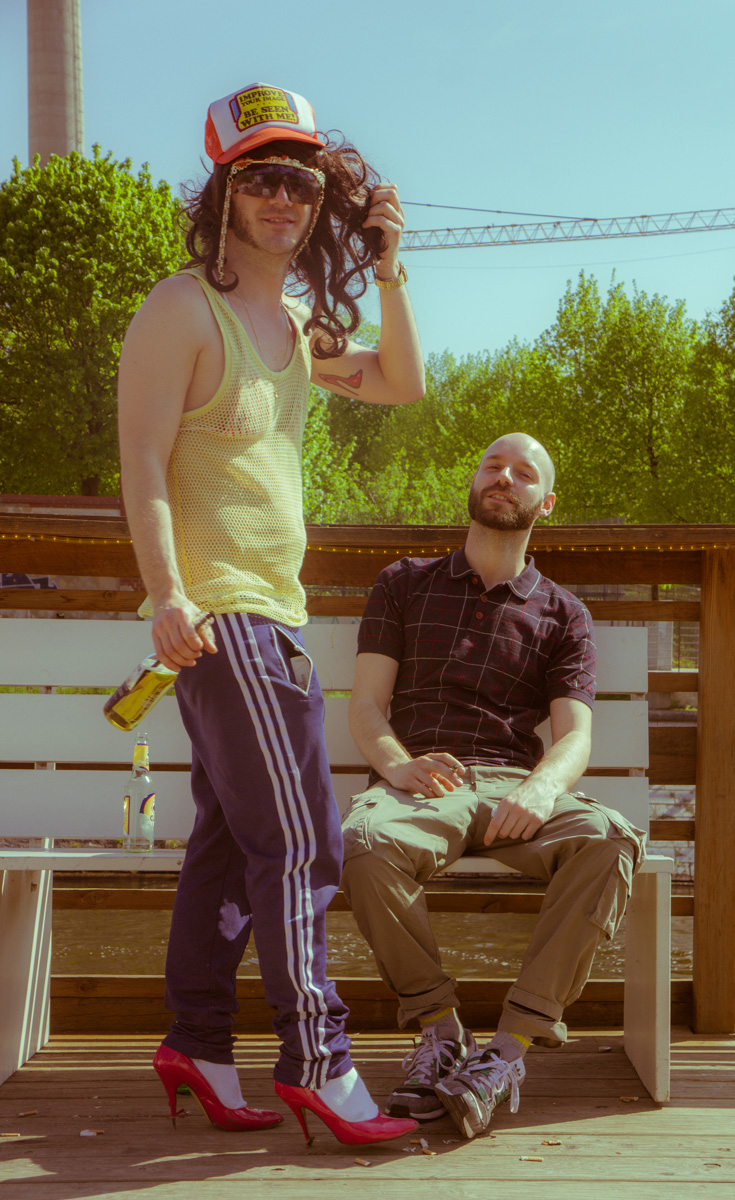 I am speaking far too generally. Every club in Berlin is United Nations now, and that is also what makes this city feel like a Beacon of Hope. Shouldn't we humans all be dancing and sleeping together in one big endless happy orgy? But i don't actually want to sleep with EVERY body. I am selfish, but i am also honest. Every time i enter the darkness of Cocktail d'Amore, I do look for certain eyes which will greet mine in return. I look forward to that moody German boy at the door, for when he smiles briefly, his blue-hazel eyes light up like sunshine in the Berlin winters. Those two lanky French boys in whose laughter i never fail to smell the joy of wine, cheese, and a pair of sweaty worn-out sneakers. That Italian who was still so young when he first arrived here, his Greek-statue brows and lips adorned by eyes like aquamarine jewels—he could only escape to a city like this one, for we know that, in the conservative province in which he grewup, he stuck out like a swan among sparrows. I want to see those two bearded boys who married last spring and who always hold each other while grinding their hips in synchronicity. If only all married people could keep on dancing like they do! I want to see certain scruffy Spaniards with their dark hair and bright eyes and nonsensical tattoos, and certain slightly vain German boys displaying their pale hard muscles fed on so much meat and beer. I've hardly ever spoken to some of them. We only acknowledge each other's presence, but there is no need to seek more than that.
After kissing hello with any 4 or 5 or 10 of these compatriots, my neck and arms are smeared with their scents—musk, smoke, sandalwood, ambergris, pure sex secreted without intention. I am unspeakably happy every time i see these friends in their natural state of movement and desire, in their beauty and most of all in their imperfection, just as they are pleased to see me, imperfect, delighted by their presence. It is more like a family living room than any other environment i can think of, because there is a sense of familiarity and communality which has somehow remained undiluted by tourism, hipster-ism, or the need to earn money. It is held together by an unspoken passion, not merely by sex. Sure, you see an occasional blowjob in the basement or even on the dancefloor at 10 am, and we try not to look on—there are enough other distractions, luckily, such as the rainbow-like LED constellations installed by Emil and his loyal 50% German, 50% French team of 100% heterosexual technicians. Their comfortable co-existence with this nocturnal tribe would be a miracle of symbiosis in other countries; here, it is simply a natural condition.
But most of all, a public blow job means nothing here because the pleasure of motion is so much greater.
I love the way the music flows at Cocktail, without too much drama and personal statement, leaving so much aural space for the bodies on the dancefloor to do what they will. That sounds like Alistair Crowley: pagan rituals, worshipping the Beast, all that. No gospel choirs, no gimmicky digital noises, but rather a continuous stream of rhythm and bass—and this is no accident, because the Discodromo duo plays so much from physical instinct, with their fingers always on the pitch control, never too fast or too slow. Thus the clock stands still—and thus day remains night, and no one ever notices. Too much expression can end up turning into a chaotic soup; simplicity in aural and visual stimuli are an underrated virtue, one which is always respected here. I stay on the dancefloor at Cocktail, simply floating on these rhythms and this soft emotion, and stop wondering or worrying when it is ever supposed to end. It doesn't end. So here is a love letter to my favourite Cocktail: grazie, ragazzi. Cincin—Prost—and Kampai! Let's dance and enjoy the music. E tutta quella gente fuori di testa…"
– Daniel Wang, May 2014
You can pre-order the vinyl version of Nothing Matters When We're Dancing on Cocktail D'Amore's Bandcamp page. The next Cocktail D'Amore party takes place on Decmeber 6.
Published December 01, 2014. Words by EB Team.