EB Festival Poznań: A-Trak performance canceled due to illness
Update: Telekom Electronic Beats Festival Poznan: "A-Trak" performance canceled due to illness

Unfortunately, Electronic Beats and the management of DJ A-Track have to cancel today's performance at the Electronic Beats Festival by Deutsche Telekom. The management announced that A-Track aka Alain Macklovitch has to cancel due to illness. Alain himself is very sorry and apologizes to all the fans.
Nevertheless, the line-up still guarantees for a great show and festival experience today. Legendary British producer and MC Dizzee Rascal presents exclusive new material, Berlin DJs Modeselektor will play a set of 90 minutes and the electro duo Hundreds from Hamburg will bring more life to the historic Old Town with their sounds.
As compensation, Electronic Beats offers two free drinks to each visitor. Of course, there is a possibility to return the tickets that have already been purchased at all ticket agencies.
For further information, fans can send an email to community@electronicbeats.net.
—
We can finally reveal that the special guest for our Poznań festival on April 26th is the legendary British MC and producer Dizzee Rascal. Dizzee's debut album Boy In Da Corner—which beat out both Radiohead and Coldplay for the Mercury Prize the year it was released—has just turned ten years old, signifying that the UK phenomenon of grime has become a concern outside of that country for ten year. Since that seminal release, we've watched Dizzee top the charts with no less than four UK number one singles to his name.
Dizzee completes our line-up with Berlin's premier techno act Modeselektor, performing live; Kanye West's tour DJ and longtime turntablist A-Trak; and Hundreds, the sibling duo who combine the clean electronic aesthetic of Raster-Noton with the intimate songwriting of Low.
Buy your Electronic Beats Festival Poznań 2013 tickets on Ntry, EBilet and TicketPro. Feeling social? RSVP to our Facebook and Google+ events, or tweet using our EB festival hashtag #EBF13.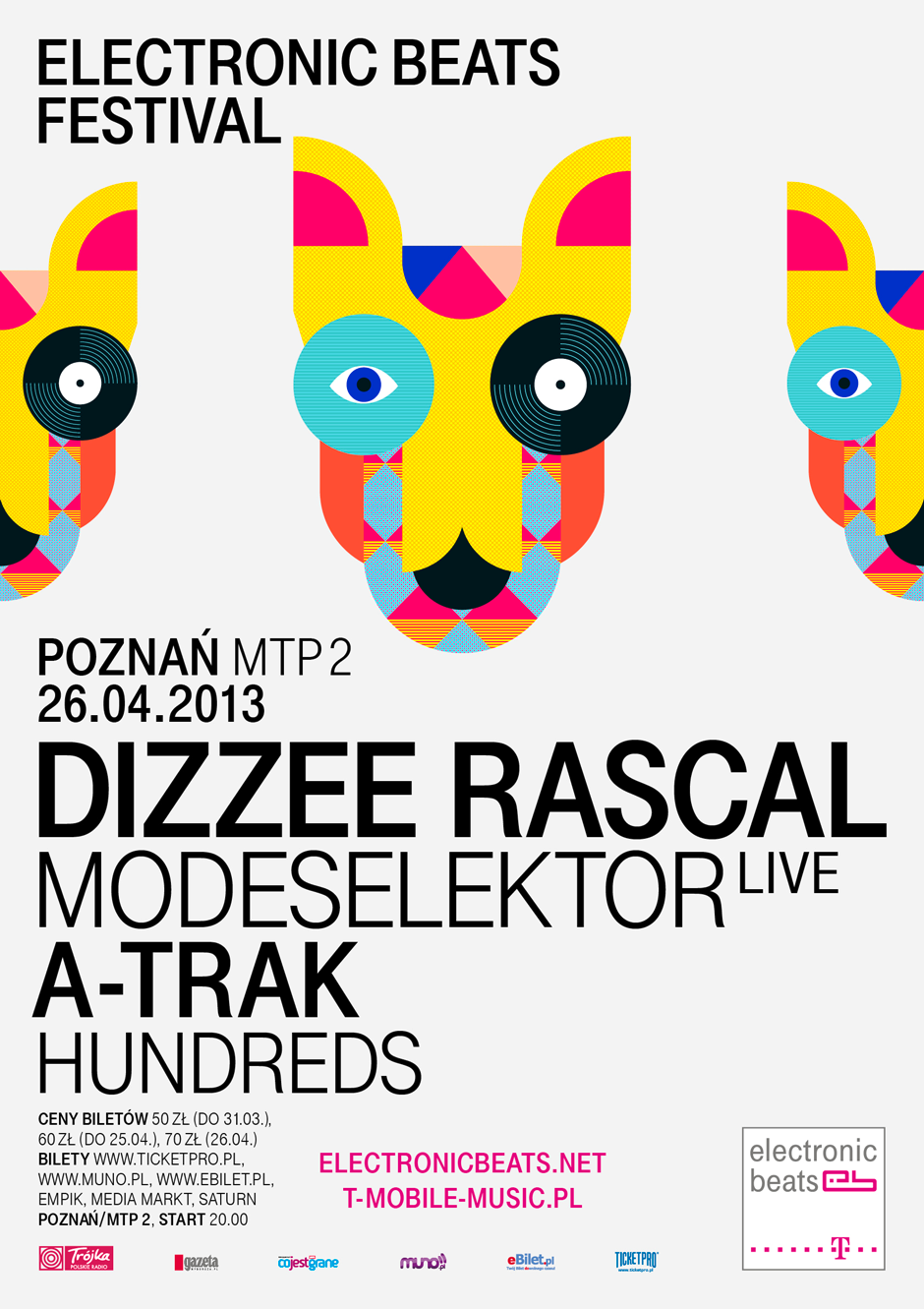 Published March 22, 2013.