DJ Richard's 16 Underrated Tracks Released By '90s Dutch Techno Label Djax-Up-Beats
Published on September 19, 2018 11:29 Berlin Time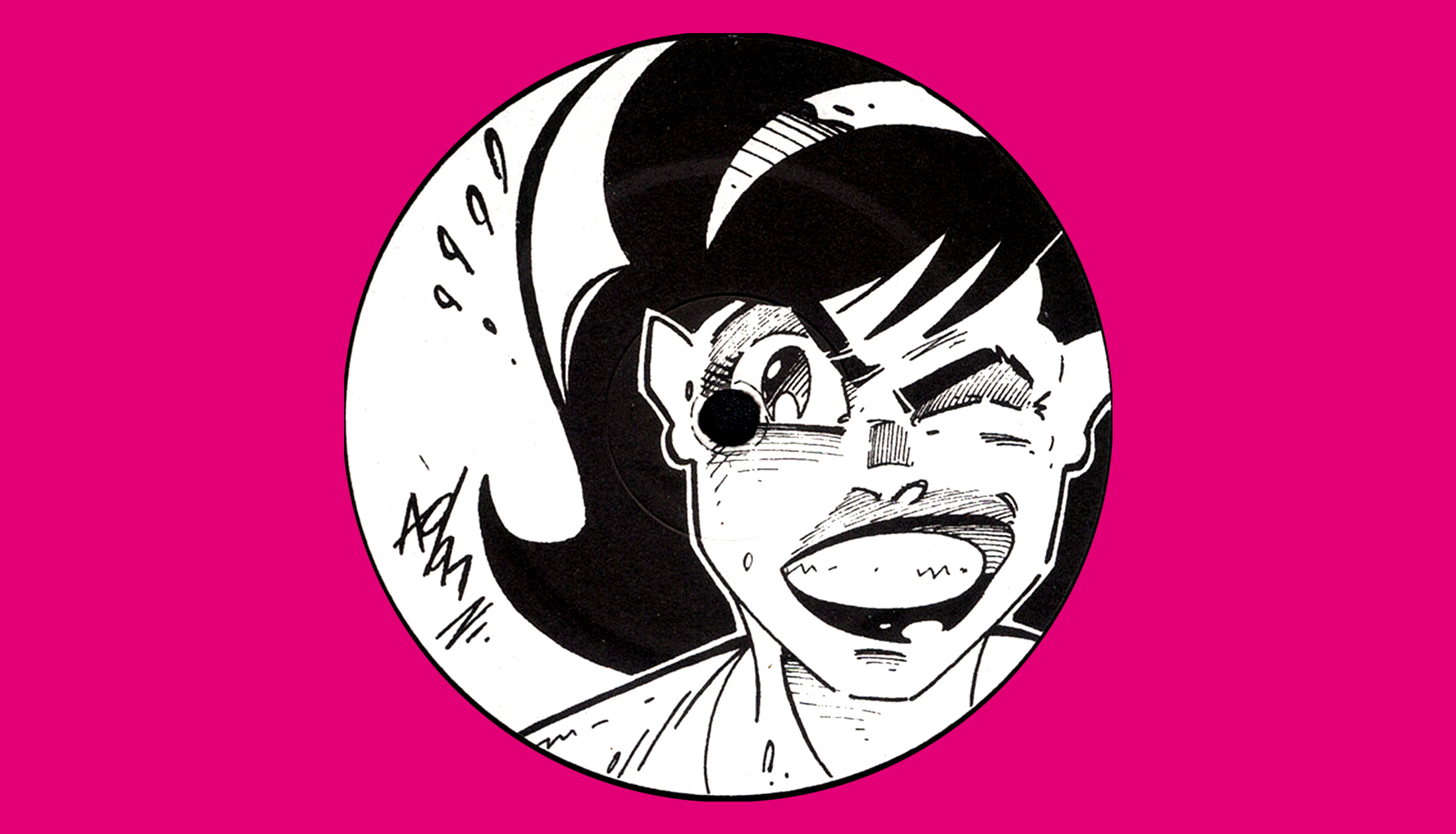 Djax-Up-Beats is techno royalty. Founded in 1988 by Miss Djax, the Dutch label helped shape the sound of techno up until the early '00s, thanks to the funky and rough approach it championed. Simply put, you couldn't go to a techno rave in the '90s without hearing at least one of the many classics released by the label.
This was largely due to the imprint's impressive roster of artists, which included a fresh group of young Dutch techno producers, as well as a whole bunch of Chicago-based artists, who're now considered some of the greatest to have ever touched a drum machine: Mike Dearborn, DJ Skull, Robert Armani, DJ Rush, Steve Poindexter, Boo Williams, Ron Trent, Glenn Underground and K-Alexi Shelby all released some of their most notorious records on Djax-Up-Beats. That American connection can also be seen in the label's iconic art, which was in many cases drawn by Alan Oldham (see the picture above).
Then again, the label's legacy runs a lot deeper than techno. Its discography includes acid, house, electro and even Schranz. To help us explore the label, we asked Dial-affiliated artist DJ Richard to provide us with a primer to some of the lesser-known cuts in the Djax-Up catalog.
Terrace, "Bewitched" (DJAX-UP-123 1991)
"It's impossible to talk about Djax-Up-Beats without starting with Terrace (a.k.a. Stefan Robbers). His take on dreamy, Detroit-style techno mixed with the harder rave elements of Northern Europe is the defining sound of the beginnings of the label. 'Bewitched' is probably my favorite track of this era, and it's probably one of the most Detroit-sounding records that came from Holland in 1991. There's also an NYC deep house vibe to the bass and pads that makes it a versatile track for DJs."
Random XS, "Give Your Body" (DJAX-UP-136 1992)
"For me, Random XS—the collaborative alias of DJ Zero One and Frank de Groodt—is the group that best exemplifies the ethos of Djax-Up-Beats. 1992 is the year that birthed the spaced-out, hard and experimental acid sound that would later define Djax as a label, and I think the catalyst for this shift can be traced back to this track.
There is a clear influence from the harder Chicago acid sounds of artists like Armando, Steve Poindexter and Bam Bam, but this track takes it in a different and distinctly European direction. The way this track progresses over its lengthy run time still amazes me; it's rare to find an 11-minute acid track that almost demands to be played in its entirety. The way the vocal loop is processed is some seriously trippy studio mastery. While I find some of the later Random XS records more experimental and risk-taking, this is perhaps their ultimate record."
Mike Dearborn, "Destruction (Fatal Mix)" (DJAX-UP-151 1992)
"Another defining artist for the label is Mike Dearborn from Chicago. I think Djax deserves more credit for creating an important link between Europe and the Chicago scene, specifically the network of artists orbiting Steve Poindexter and Armando's Muzique label. Many of the early records from Muzique were re-released on Djax, allowing the tracks to reach a huge European audience. Other noteworthy Chicago artists such as Glenn Underground, K-Alexi, Gene Hunt, Felix Da Housecat and Boo Williams released records here early in their careers.
Here we have a peak-time techno bomb that is one of the most played-out Djax records in my collection, second probably only to another Dearborn track that I'll get to later. The way the ride cymbal hammers its way through this track is just too good!"
Suburban Hell, "Haze(L)" (DJAX-UP-159 1992)
"This is one of my absolute favorite tracks that Saskia released. Suburban Hell, an alias of Edge of Motion's, unleash a totally demented track that slots between acid, electro and breaks. It sounds like the missing link between 'I Care Because You Do' and 'I Do Because I Couldn't Care Less'. This track from 1992 could have easily been released this year—it's so ahead of its time. When I first started working at the Record Loft in Berlin, we had a ton of Djax-Up-Beats records in our inventory, and this one was definitely a classic among the staff."
Glenn Underground, "Madzone" (DJAX-UP-162 1993)
"This was Glenn Underground's first appearance on Djax, and it's probably my favorite. This is probably one of the first Djax-Up-Beats records I tracked down after hearing it played by Ben UFO on Rinse.FM. It has such an interesting cadence and uses somewhat airy samples and drum sounds to create quite a beatdown. In some ways it reminds me of DJ Qu and Joey Anderson."
K-Alexi, "Sex-N-R-001 (Vocal Mixx)" (DJAX-UP-171 1993)
"This is an extremely twisted and dark vocal track from K-Alexi. It's hard to choose between this and the B1 'All About Us (Bass Mixx)', but in the end I went with this track because it's just so damn weird. I love the way the track is recorded and mixed. Everything sounds slightly muffled and wooly, held together by a vocal that sounds like it was recorded right up against a hot microphone while running a vacuum cleaner. I usually avoid 'sexy' vocals on tracks, but this one is crazy enough to be playable. The way the synth line snakes its way through the mix is what really elevates the track to the next level for me. Also, this bassline really kicks on the right sound system."
Mike Dearborn, "Deviant Behavior (Instrumental Mix)" (DJAX-UP-174 1993)
"Speaking of dark and twisted, it really doesn't get more evil than this track. Some truly Freddy Krueger-style techno—I seriously hear those claps in my dreams. In my opinion, this is the peak of Mike Dearborn's quest for demonic perfection in techno. Like a lot of the records from 1993/1994, I prefer to play this at -6%, where it becomes an absolute monster on a big system. I've probably played this record out hundreds of times at this point. I'm on my second copy and ready for a third. For fans of all things sinister and gruesome."
Planet Gong, "Lunar 326" (DJAX-UP-179 1993)
"Another alias of Edge of Motion's, this time in mystical deep techno mode. While this carries a few tropes of Chicago deep house and Detroit techno, it has a certain distinct European sound to the drums and bass that I quite enjoy. Beneath the beautiful pads and flute patches is a snarling beast of a track."
Proteus Generation, "Waiting For You" (DJAX-UP-191 1993)
"Proto half-time drum & bass from 1993 Holland that samples Shostakovich? Sure, why not. This is such a cool wildcard record in the Djax-Up discography. I don't know anything about this artist outside of this 12", but that mystery adds to the appeal of this record. Music for sub-aquatic alien loners."
Greyhawk, "Flip Controller" (DJAX-UP-217 1995)
"This is such a perfect example of what I love about mid-period Djax-Up-Beats. 'Flip Controller' is fast, spaced-out acid with some pretty experimental and nuanced drum programming. I feel like there's a strong influence here from B12 records, especially in the cold and drifting pads. This whole 2×12" is very interesting and definitely worth picking up if this style is your cup of tea."
Stephen Brown, "Endless" (DJAX-UP-237 1995)
"This is one of those super deep '90s techno tracks that could go on for fifteen minutes and never overstay its welcome. Like the best productions of contemporaries Heiko Laux and Johannes Heil, Brown has an ear for compositions that slowly evolve over long track lengths while maintaining tension throughout. The kick drum here doesn't even come in until after the five-minute mark. Beautiful late night/early morning techno."
Kareem Smith, "Killer Beez" (DJAX-UP-249 1996)
"Absolutely mind-melting Chicago RZ-1 mayhem from the nephew of Steve Poindexter. Pummeling drum programming that sounds like its frying inside the amp. Love the doubled-up kick here!"
The Operator, "Target Lock" (DJAX-UP-267 1997)
"The Operator, Frank De Groodt of Random XS, is to me the defining artist of the 1996/1997 era of the label. At this point, the sound of Djax had begun to shift towards the sledgehammer-style techno that would continue into the 2000s, so De Groodt's skeletal electro tracks really stand out. This is my favorite of the bunch, although it's definitely worth checking out all the 12"s—and the Urban Electro records, too—which were made together with Arno Peeters. Stone cold '90s electro bomb."
Chicago Bad Boys, "Reston RO-100T" (DJAX-UP-271 1997)
"This is an all-star collaboration between Steve Poindexter, Kareem Smith and Jamal Moss! It pretty much doesn't get more far-out than this track. It has a very early Jamal Moss style of production that bears many of the striking and unique sonic characteristics that would become his undefinable trademark sound. It's the definition of psychedelic drum programming."
Justin Berkovi, "With You, I'm Me" (DJAX-UP-306 1999)
"This record always sounded to me as though it was made by DJ Duke's goth cousin. It has all the trademarks of the Power Music house sound, but completely flips it on its head with the creeping synth melodies that come and go at will. I also love the mix of slightly distorted analogue drums with the digital-sounding crystalline synth patches. Another Record Loft classic."