Eastern Haze: January 2014
Above: BNNT
In this special edition of our monthly column on the Central and Eastern European underground, Agata Pyzik—Polish cultural writer and author of the forthcoming book Poor But Sexy: Culture Clashes in Europe East and West—identifies some of the most intriguing artists currently operating in her home country.
There's no doubt the Polish experimental music scene has recently become increasingly recognizable in the West, something partly due to the profuse promotion on the side of our official cultural institutions. Between one festival and the other, it may be hard to get one's bearings. This edition of Eastern Haze is a personal choice of several contemporary acts that, despite being completely different in style, represent some of the most unique elements of what this scene has to offer. Also, on purpose, we'll avoid focusing wholly on the capital, Warsaw—each act comes from a different Polish city.
1. Synthpunk-pop cold-wave revival heroes: Super Girl & Romantic Boys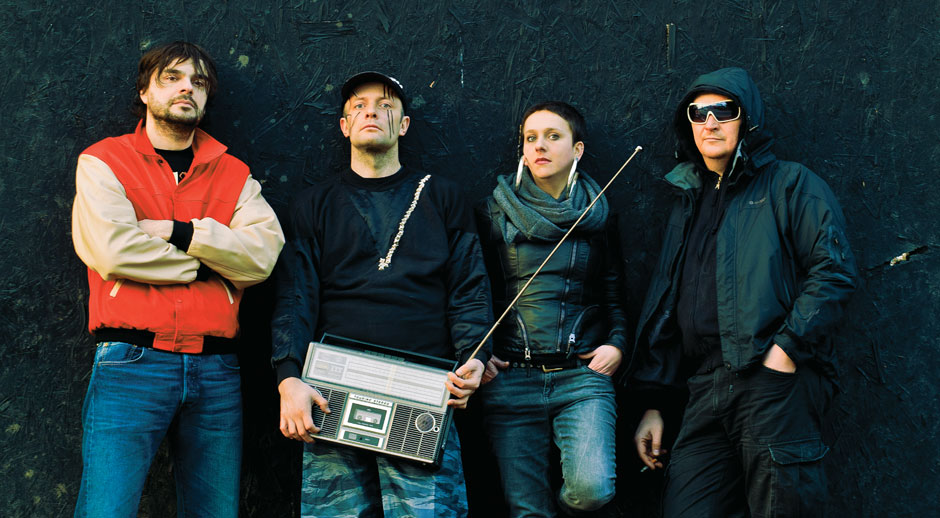 Super Girl & Romantic Boys can boldly claim to be the most unlucky Polish group of the last decade or more. Only last year did they finally release material which had been recording in late nineties/early 2000s, which had been shelved due to an unfair contract. They formed in 1998 after a few years of participating in various punks squats and groups around Poland. The leader and composer Kostek Usenko founded his first band, The Leszczers, at the age of eleven. Coming from an interesting three-quarters Russian background, but growing up in Poland, he always kept one leg in a different country, and is familiar with punk scenes of both Leningrad and Warsaw. Yet the music of SGRB, though showing the influences of Neue Deutsche Welle, anglophone synthpop and cold wave, is definitely Polish in spirit. Their sound is chiefly inspired by the heroes of Polish eighties electronic music—Marek Bilinski, Romuald Lipko, or Andrzej Korzynski—recently popular due to Finders Keepers re-releases.
While decidedly electronic in sound, their lyrics are less arch or obscure than the synthpop norm—usually a gritty, daily realism, more suitable for punk/post-punk bands like Magazine or even Prefab Sprout or the Smiths, full of stories about broken relationships or psychogeographic drifting through a misty, grey Warsaw. There's also a good deal of social critique of the still-fresh-to-capitalism Polish society: aspirational middle classes wanting only new kitchen devices or the propagandistic manipulations of the Polish right wing authorities over historical events. While cold wave/synthpop bands are nearly universally a male affair, where female members could be counted on one hand, SGRB have a gender and emotional balance—vocalist Ewik has equally strong presence as Kostek.
2. Is this music or is it war? BNNT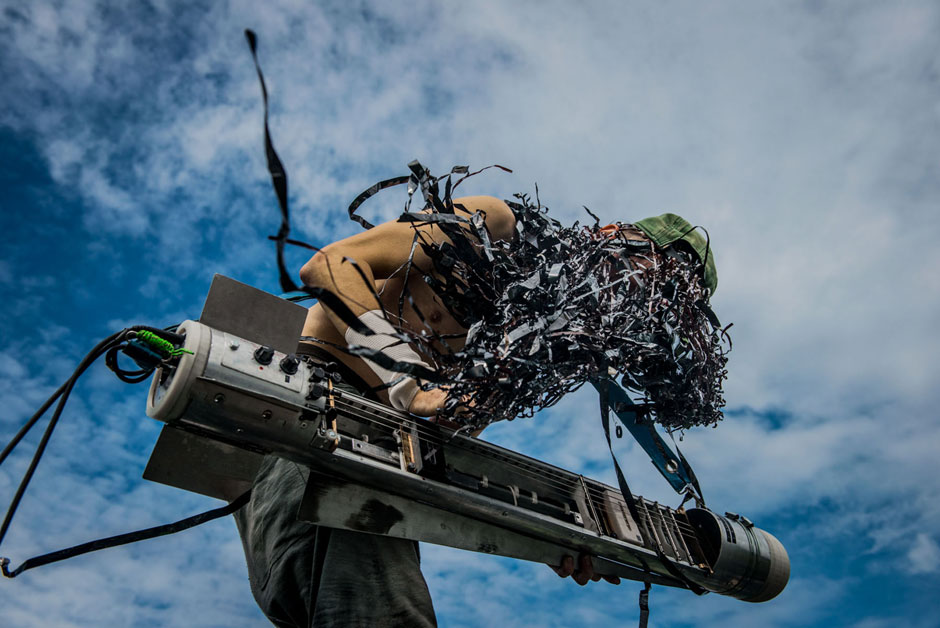 BNNT is the brainchild of Konrad Smolenski, a visual artist and performer from Poznan, known for his activity in experimental art-music group KOT, or in countless music projects (such as NGNP, Sixa, Radar, Kristen, or the hip-hop act Czykita). Here, he 'plays' his self-constructed instrument—a Gagarin era missile-shaped rocket with hidden strings, a home-cobbled guitar-machine. With his partner on drums, they create a curious mayhem—rarely do you see an audience so obviously ill at ease as during their concerts. Some music journalists dismiss it, as to them 'this is not really music anymore' – they see it as artistic curiosity, without proper knowledge of music. Yet BNNT obviously figured it out musically: the frantic drumming is structured and so is Konrad's missile-playing. Yet it's all about presence and performance. Their music may appear macho and hooligan on the surface (two menacing, half-naked men in a tribal get-up, wearing balaclavas), but the actual sound has more to do with punk/hardcore/mathrock DC bands, from Don Caballero to Shudder to Think. Some also draw comparisons to Lightning Bolt. Their apparent facelessness (Konrad wears a woven 'totem' of cassette tapes on his face) and anonymity holds a paradox—this increases their visibility. The gigs, hosted both in galleries and music venues last from fifteen minutes to over a hour, and in general, remain wildly unpredictable.
3. Slavonic forest's positive cliché: Stara Rzeka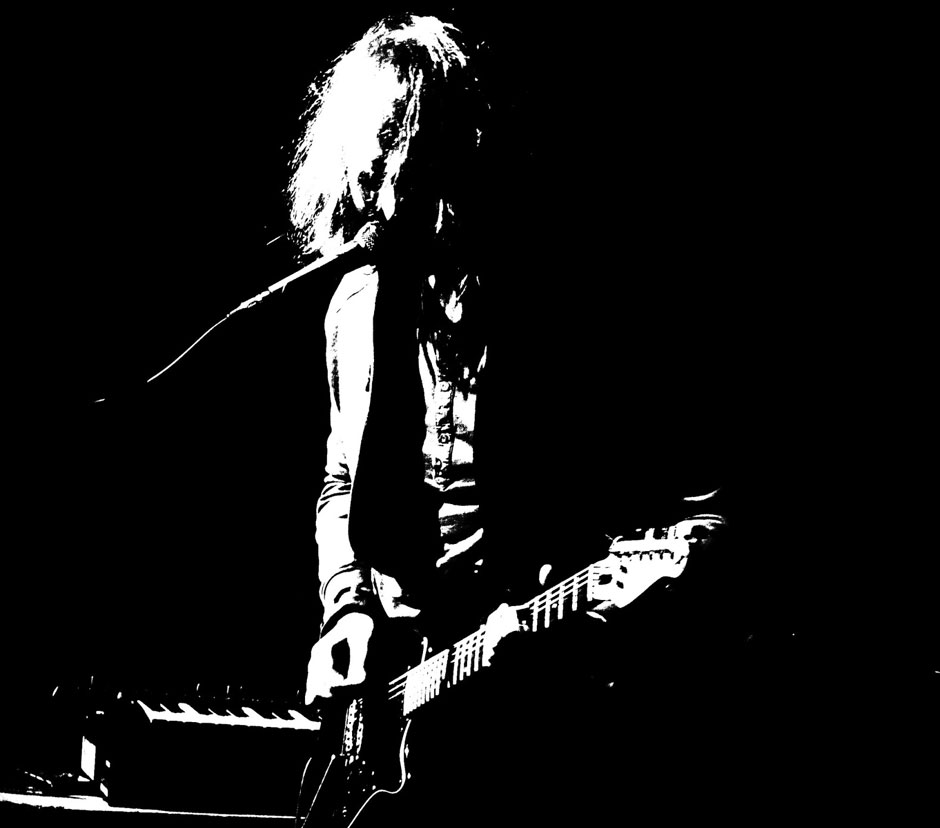 Photo by Marcin Szymczak
I'm in two minds about Stara Rzeka (translates as 'old river'). On one hand, he's the Polish musician to have caused the greatest furore on the anglophone portals in the last year. On the other, the usual comparisons he gets—to drone, to experimental metal—may indicate he owes this popularity to some misunderstanding.
Multi-instrumentalist Kuba Ziolek (he also appears in bands like Alameda, Hokei ad T'ien Lai), residing in the city of Bydgoszcz (and sometimes in a desolate village in Tuchola Forest, a vast national park in northern Poland) proves that with today's globalism, even the most geographically obscure music can become quite universal. Its appeal is its great intensity. Ziolek is extremely serious in what he's doing and doesn't really fit any of the clichés he's being put into. It's neither avant-metal, nor is it folk, even if the folksy cut-out on the tin box of his record has a skull in the middle, suggesting both. It's more a curious, noise-driven take on prog rock, akin to Robert Fripp's guitar-driven Frippertronics or the morbidity of Nico's solo albums. Intense guitar riffs suggest the vastness of nature, and in his lyrics Ziolek even quotes Heidegger and Nietzsche on the 'sublime'. Live performances prove the constructed nature of this music—Ziolek plays guitar and synth, splicing everything together in real time with the help of a heap of effects pedals. ~
For more editions of Eastern Haze, click here. For the Easterndaze blog, click here.
Published January 16, 2014. Words by agatapyzik.