EB Magazine Winter 2012: Out now
In today's post-categorical music landscape, drawing strict borders between genres doesn't make a whole lot of sense. Not that it was ever that fruitful a practice. Certainly, stylistic bleed has appeared inseparable from references to the avant-garde within pop and electronic music—detectable in sound or merely mentioned by artists in interviews. That said, swearing allegiance to the "less" pop is nothing new: Bob Dylan had Bertolt Brecht and Woody Guthrie, The Doors had John Coltrane, David Bowie had krautrock, and the list goes on. The difference today however is online accessibility. How does instant access to a broader, interhyperlinked avant-garde change the way artists and musicians process it?
In search of answers, Electronic Beats Magazine has put together perhaps its most varied issue of 2012, including interviews with reclusive Drexciyan Gerald Donald, Grimes, Laurel Halo, Gary Numan and photographer Armin Linke, as well as conversations between hip hop legend Madlib and Thomas Fehlmann, Alexis Taylor and producer Justus Köhncke, and !K7 Label chief Horst Weidenmüller with Native Instrument's Mate Galic and Mostly Robot's Tim Exile. Guest reviewers for this issue include Andy Butler, Heatsick, Arto Lindsay, Pantha du Prince and Matmos discussing new releases by Jessie Ware, Lee Gamble, To Rococo Rot, John Cage and Schneider TM, (amongst others).
Last but not least, we travelled across eastern Germany to find out why Depeche Mode are so popular amongst the pale and the Prussian. We think you'll find the results intriguing. You can subscribe to EB Magazine and our Slices DVD here. As usual, our special edition EB mag (4.50 EUR) includes a compilation CD with tracks by artists featured in the latest issue. You can pick one up at various news stands, train stations and museum shops across Europe. Here's the track list:
1 Gary Numan – "Resurrection"
2 Pantha du Prince & The Bell Laboratory – "Photon"
3 Thomas Fehlmann – "Prefab"
4 Madlib – "Gold Jungle (Tribe)"
5 The Brandt Brauer Frick Ensemble – "Teufelsreiter"
6 Dopplereffekt – "Scientist"
7 Silent Servant – "Moral Divide (Endless)"
8 Junior Boys – "You'll Improve Me"
9 To Rococo Rot – "Cars (Sunroof Remix by Daniel Miller & Gareth Jones)"
total time: 46:52 min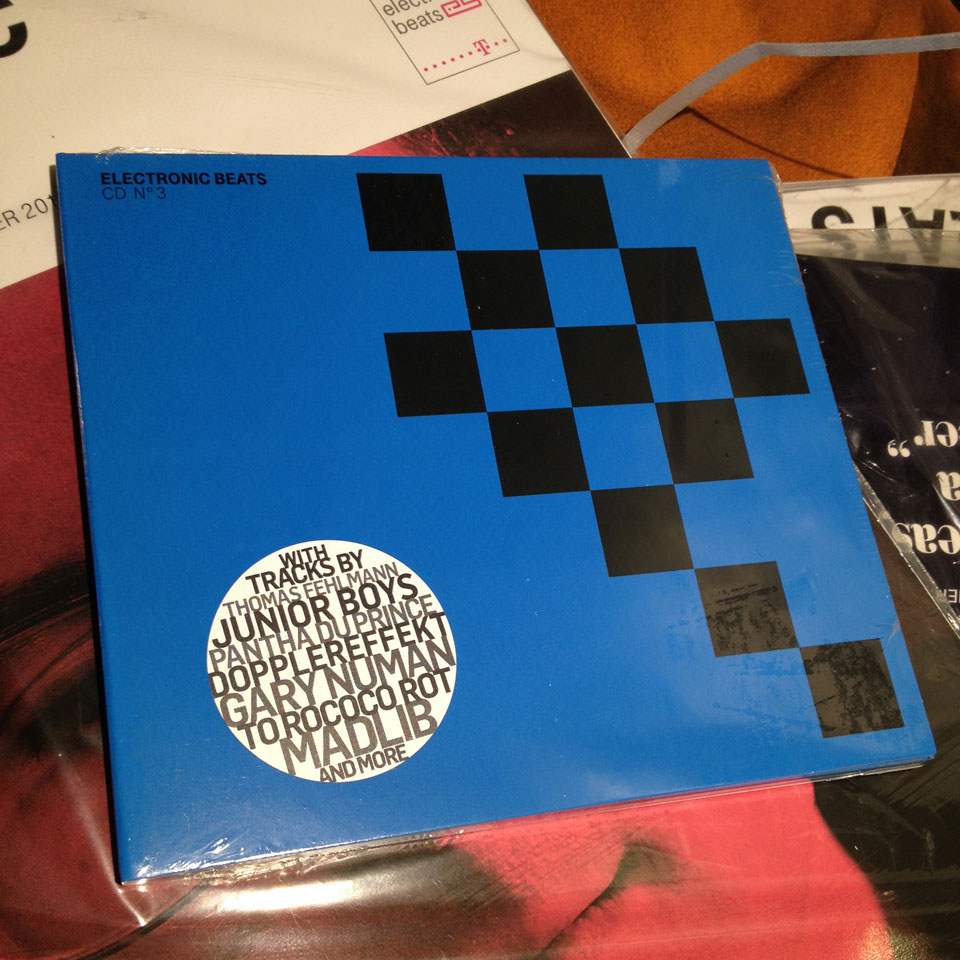 Published December 20, 2012.