EB Premiere: Naram's March of the Gremlins
Today's exclusive EB Premiere comes from Wellington, New Zealand producer Naram, the latest addition to the digital (and beyond) reggae label Jahtari. The foundations of his debut March of the Gremlins were built on a battered iPod picked up in Hanoi, it's provenance questionable, while on a bicycle trip across Eurasia. However much of the dust and grit accumulated on the road has been shed in the subsequent analog reworkings (it was recorded to tape and vintage gear features heavily). The result? A double album of warm-sounding hybrid reggae boasting an impressive line-up of UK veterans stepping up on vocal duties including eighties fast chat originators Asher Senator and Peter King alongside the ones like Jah Screechy, Sammy Gold and Speng Bond. There's new blood too, with phlegmatic Leipzig MC Jane Bee making a debut appearance on the stand-out "Conquer Me". The cover art, featured below, comes from King Midas' Kiki Hitomi.
Like what you hear? You can pick it up on double vinyl or digital direct from the Jahtari website from January 21st.
Tracklist
A1. Asia Minor
A2. Speng Bond – Big Brother
A3. March Of The Gremlins
A4. Peter King – Teach Dem Fi Read, Write & Spell
B1. Jane Bee – Conquer Me
B2. Conquer Dem
B3. Jah Screechy – MC Magic
B4. Gizmo Riddim
C1. Asher Senator – Mayhem
C2. Run Down The Dairy
C3. Sammy Gold – Government Are Suck The Sufferer
D1. Mogwai Riddim
D2. Sammy Gold – Money Can't Buy Life
D3. Money Can't Buy Dub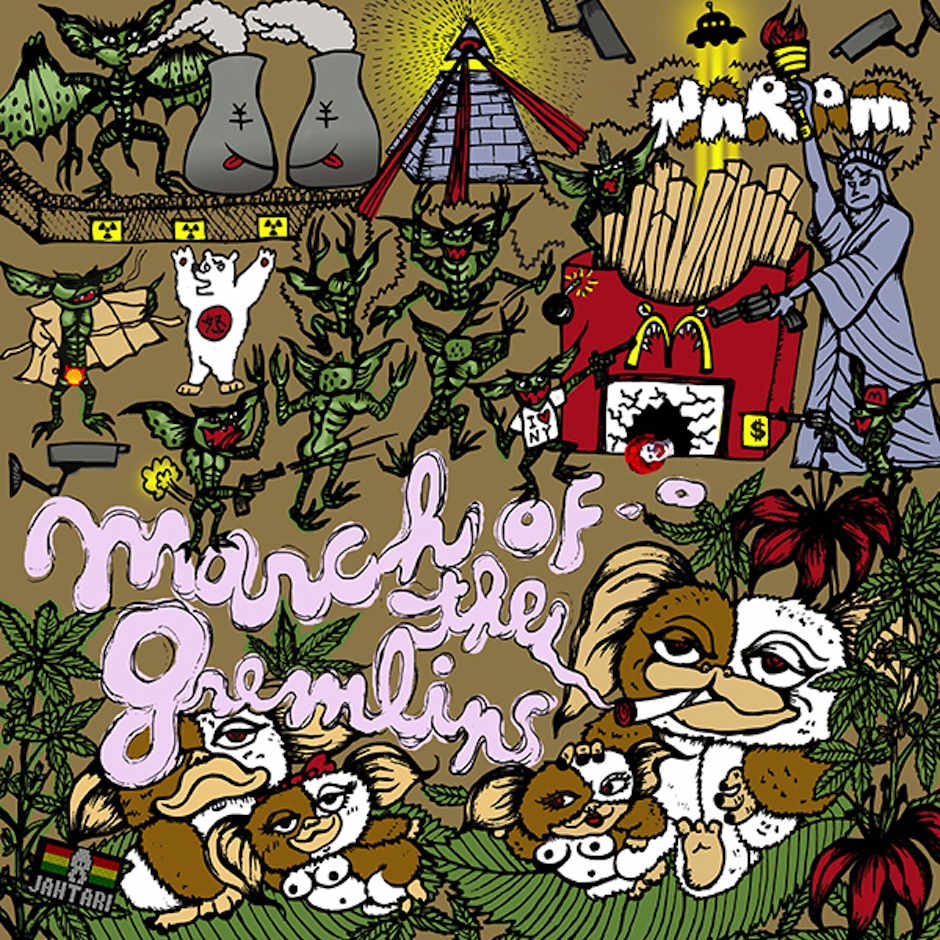 Naram's March of the Gremlins is out January 21st on Jahtari.
Published January 14, 2014.