Electronic Beats Festival Bratislava 2014: Today's the day!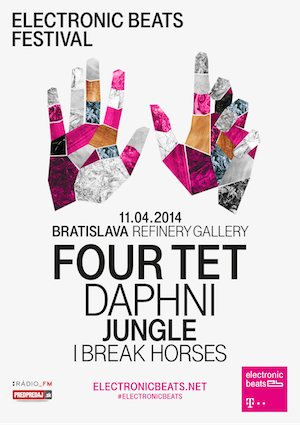 UPDATE: We're giving away 10 pairs of tickets to some very lucky people—check our Facebook page for details!  The giveaway is now closed—thanks for participating!
We've already given you a taster for what's to come in EB's Spring Festival season, and we're happy to indulge your appetite for great music with each new announcement. So start salivating, because here's what we're bringing to Slovakia!
Headlining the evening is none other than Four Tet, whose seventh album Beautiful Rewind charted many a year's best list in 2013. The UK musician's recent collaboration with Jamie XX, a beautifully angelic and compelling house cut, has been making even more waves and his psychedelia-tinged explorations into the roots of UK bass and dance music have really been on another level lately. Expect to be moved on the dancefloor, in both body and mind.
Caribou's Dan Snaith will be joining us as well under his musical alias Daphni, along with the modular synth that made his album Jiaolong so ear-grabbing. We're always excited when we see him play; it's like watching a conductor work weird magic, and there's always an element of surprise. "If tomorrow I gave up Caribou and started making death metal, I don't think anybody would say, 'Dan Snaith is going against his roots!'", he told us in our EB Magazine interview. "I definitely don't feel any allegiance to anything." Here's hoping he brings his bag of audio tricks along!
Our special guests for the evening will be Jungle, the secretive UK duo who rose to prominence last year with their pitch-perfect blend of musical influence. Evoking elements of disco, soul, and electrofunk, T and J (the only names they've released for public consumption) have a knack not only for infectious dance grooves, but also for showcasing unusual talent. They set eyes on fire with their videos for "The Heat", which featured rollerblading duo High Rollaz, and blew minds by introducing us to six-year old Bgirl Terra, whose dance skills dominate "Platoon". What will they bring to the stage at EB Fest? You'll just have to show up and see!
Sweden is well-known for loving clean, minimal looks; it's no wonder that even their shoegaze bands prefer electronics over guitars. Stockholm duo I Break Horses took their work to a new area of hauntological pop with their new record Chiaroscuro, which should be the perfect swoon-worthy opening note for the evening. Between bands, Slovakian musician and Gergaz label owner Jimmy Pe will be spinning all night to keep your ears vibrating.
Tickets can be purchased through our EB Radio and Video mobile apps, and locally through Predpedaj. See you there! ~
Published February 10, 2014.