Electronic Beats Festival Cologne 2014: Important Update!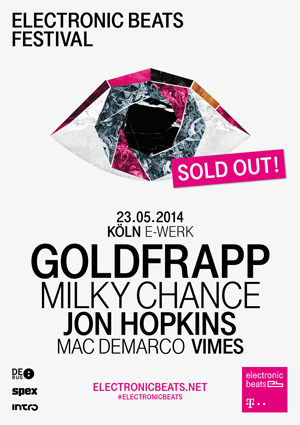 Important update: We are very sorry to announce that due to illness, Milky Chance have had to cancel their festival appearance. While there won't be another act to replace them (how could there be?), we will be offering vouchers for all EB Festival Cologne ticket holders to see the duo perform an exclusive show which we will try to set up sometime in the near future. For that date, vouchers can be picked up at the EB Festival in Cologne and will have to be presented together with your EB Festival ticket for free entry. Despite the setback, we do hope you all will attend but if you had your heart set on seeing only Milky Chance and would like a refund, we will be happy to give you your money back. Please note that the ticket refund is available up to May 30th and only where the tickets were originally purchased. For more info contact your ticket outlet: Költicket: 0221-2801; Eventim: 01806-533933; Getgo: 01806-570080; NTRY: support@ntry.at.
Headlining the event is Goldfrapp. The game changing electronic duo will be heading up the bill, joining Jon Hopkins, Milky Chance, Mac DeMarco and Vimes at Cologne's E-Werk on May 23rd. Always ahead of the curve, the English pop eccentrics' various permutations have seen them go from trashy-glamorous electroclash envoys, weirdo disco doyens and eldritch folk outliers in their fifteen year lifespan. Their most recent album, 2013's stunning Tales of Us was their most personal record yet, pulling together the intimate, stripped back songwriting they recently perfected and the sweeping beauty of their debut Felt Mountain. Live, they're always been an incendiary prospect—remember the theremin?—and we can't wait to see what they have in store for this most intriguing period of their career.
Jon Hopkins has worked with names ranging from Brian Eno and Coldplay to Four Tet and David Lynch. He's even chilled with our very own Slices team, which you can watch below. His recent album Immunity was nominated for the Mercury Prize, and one listen reveals why; with its haunting moments of beauty and emotional ambiance, it perfectly captures the resonance of a really good night out. We can't wait to see him bring that kind of power to the stage!
Coming all the way from Canada, Mac DeMarco's particular blend of glammy, woozy jams have been described as "slacker rock" and "jizz jazz", and should go down quite well for fans of the inimitable Ariel Pink and other outsider weirdos. And opening the night is local electro-pop duo Vimes. Support is offered by the Cologne Sessions DJ Team, Hugo Hoppmann and Mitch. They are co-founders of event series the Cologne Sessions, championing artists like Funkineven and Lone, and Mitch is the co-founder of Ki Records.
Where do you get tickets to such an event, you ask? Through our EB Radio and Video mobile apps or via the embed below. If you're a resident of Germany, you can get a discount of 2 euros off of your ticket and pay through your mobile phone bill. Simply use either of our apps or use the embed and select, "2 Euro günstiger über die Mobilfunkrechnung / Prepaidguthaben" when you choose to pay, instead of credit card or Paypal. Keep track of updates via our Facebook event page. ~
Published February 03, 2014.