Tonight: Electronic Beats Festival Prague 2014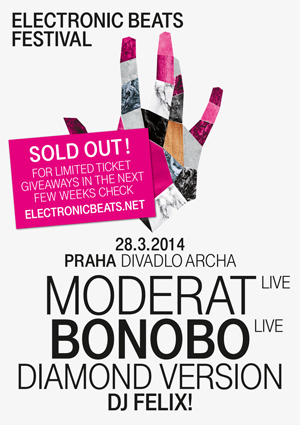 *UPDATE* Pre-sale tickets for this event are entirely sold out. Stay tuned for your chance to win tickets on our site!
We recently announced the dates for the Spring editions of this year's EB Festivals; now we're pleased to bring you details of the first full line-up!
Today, we return once more to the beautiful and mysterious city of Prague, once again filling the stage of the lovely theater Divadlo Archa with three excellent acts. Headlining the evening will be the trio who swept our 2013 Reader's Poll: that's right, it's Moderat! The Apparat/Modeselektor collaboration clearly featured heavily in your thoughts, so the climax of the festival will find them blasting your faces with their white hot sounds. Following last year's album The North Borders, British producer Bonobo will bring his trademark groove to the procession with his arsenal of densely-layered downtempo in a special live set. Rounding out the night are two more special guests: Diamond Version, the collaborative project of Raster-Noton founders Carsten Nicolai and Olaf Bender, whose slogan-heavy experimental electronics will give your ears something to salivate over. Finally, support comes from local act DJ Felix.
Published January 20, 2014.