Electronic Beats Festival Warsaw 2014: Last tickets available now!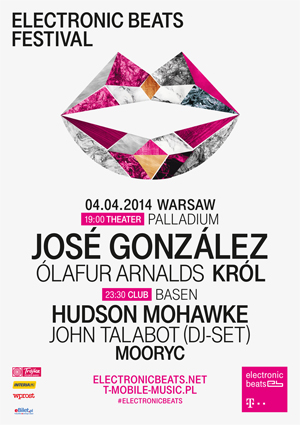 IMPORTANT UPDATE #4: Here's the running order for tonight: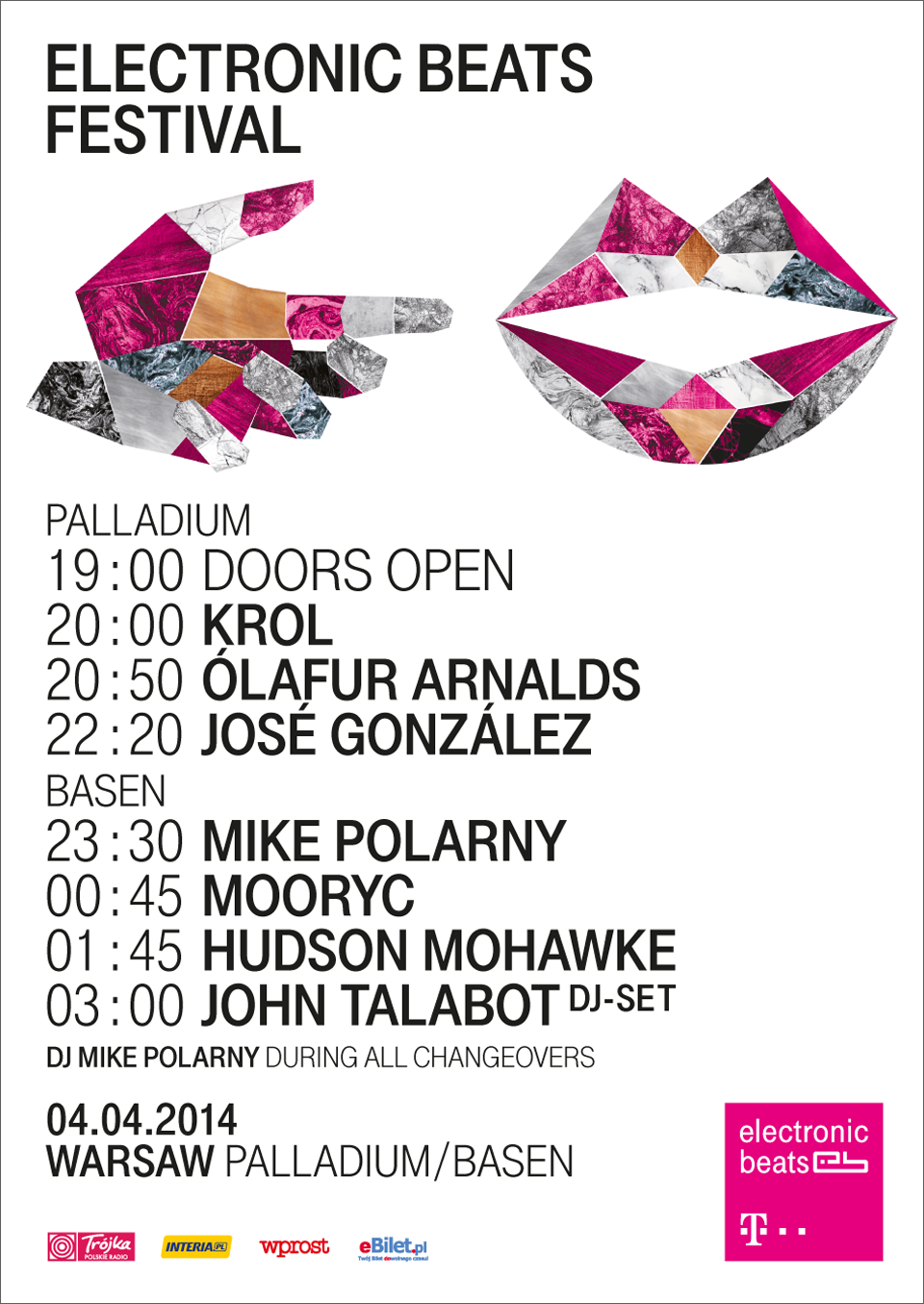 IMPORTANT UPDATE #3: Due to overwhelming demand, we're giving away 10 more tickets to the Club Basen party! Once more, see our Facebook page for details.
IMPORTANT UPDATE #2: We have 10 tickets to give away for the sold-out Palladium Theater event, and 10 for the Club Basen party (tickets still available for sale as well). Please see our Facebook page for details.
IMPORTANT UPDATE #1: Julio Bashmore has had to cancel his DJ set at Electronic Beats Festival next weekend due to personal reasons. We are happy to announce John Talabot will DJ instead.
You all know Glaswegian producer Hudson Mohawke as LuckyMe's maximalist rave trailblazer, his multicolored and hybridized strain of bass music always staying firmly on a psychedelic and hip-hop tip. His debut album Butter and, later, the Satin Panthers EP noisily redefined electronic music in the oughts and landed the young talent spots manning the desks for global stars Kanye West, Chris Brown and Azealia Banks. He also has form with EB festivals, having stepped up in Vienna 2012 (watch the video here).
Maurycy Zimmermann, aka Mooryc, will be making his EB festival debut. The Poznan musician creates melodic electro pop that is driven by mood and texture. It's a natural fit for the forward thinking Freude Am Tanzen label. With debut Roofs released recently, we're looking forward to seeing how that translates to the live setting.
Our Warsaw festival will be split in to two event locations: the Palladium Theater, and Club Basen. As well as Hudson Mohawke and Mooryc, the previously announced Julio Bashmore will be in charge of bringing the party. (Bashmore has since had to pull out, see above).
Over at the Palladium we've got three more acts to get your blood boiling. Swedish singer-songwriter José González may have cut his musical chops in the world of hardcore punk, but these days he's more known for his distinctively minimalistic indie-folk songs, comprised primarily of his beautiful singing voice and guitar work. Ólafur Arnalds also started his musical career in hardcore groups—this time as a drummer— but the young Icelander has certainly proven he can balance pounding fury with throbbing beauty. His music feels immediate and rich, balancing a number of aesthetics—from soundtrack-esque orchestral ambience to post-rock pop—perfectly, and his recent album For Now I Am Winter is as morose as it is infectious.
Rounding out the theater night is KRÓL, who will be performing fresh off the release of his debut album Nielot. One listen to lead single "Szczenię" will prove why Błażej Król's work has consistently been considered some of the most important electronics to come out of Poland in recent memory. Be sure not to miss this intense blend of pop-fueled electronics! Warming up both locations is radio host, blogger and DJ Mike Polarny, who—as you might remember from his EB mixtape—knows just the right blend of new and classic electronics to keep dance floors jumping.
Separate tickets for each venue as well as combi-tickets for both are available to purchase via presales. Discounted tickets for T-Mobile clients are available to purchase here, and a very limited amount of discounted combi-tickets is available for Slovakian Telekom clients via Telekom Benefit. Don't forget to RSVP on Facebook. See you there! ⁓
John Talabot live in Budapest (2013) von electronicbeatstv
Published February 20, 2014.