Electronic Beats Night at the Waves Festival
Thank god it's over. After three days of Waves Vienna filled with all sorts of lectures and talks (including a very interesting one between EB editor Moritz and David Gedges from The Wedding Present which turned out to be a monologue, since Gedges didn't show up) I have to admit: it's been a great pleasure, but it's also been exhausting. As if the days weren't enough, the nights offered up an equally excellent program, filled with amazing events. Photos: Richard Taylor.
My personal highlight of day 1 was most definitely Shut up and play the hits. The documentary, which shines a spotlight on the hours before and after the final show of NY-based band LCD Soundsystem (whose members never set out to start a band, as was explained in the film) premiered at the famous Sundance Film Festival and was screened for the first time in Vienna.
Day 2 featured Wolfram (who you get the chance to see again next Friday ) as well as the UK artist Gold Panda, who proved, in a very loud and most impressive way, that he's more than just a hype. And then it was suddenly Saturday and time again to make the pilgrimage over to the Donaukanal. Electronic Beats was hosting its own club night, and it started so early you probably missed the great HVOB (don't worry – they have been added to the EB Festival Vienna line-up and will be back next week!).  Less than an hour later I was already faced with the agony of choice: Leaving the Café (and with it the Austrian newcomers Friedrich & Ludwig) to see all of Dena's performance, or staying and maybe missing "Cash, Diamond Rings, Swimming Pools". My decision was to go to the big hall and it turned out to be the right one. Dena started as planed, and her quirky electro/hiphop set did more than compensate for everything I missed out on at the Café. After the set you kinda understood what she meant by "I'd be totally in the cyber punk hackers gang" the last time we mentioned her.
What followed was the undisputed headliner of the night: Pantha du Prince. Even though most of his gear got lost on the way to Vienna, his set was as deep and moving as you'd expect – a great last show for this year's Waves Festival. At least for me, as I walked home in high spirits while elsewhere people were still partying well into the morning hours.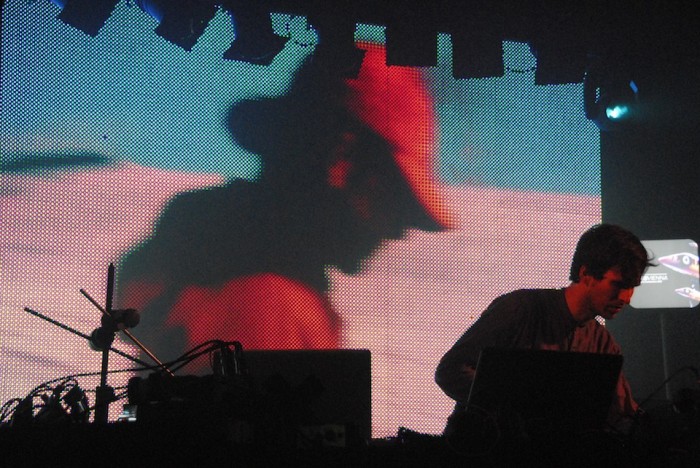 Published October 07, 2012.