Electronic Beats Readers' Poll 2013
*UPDATE: This poll is now closed. Thank you for your entries!*
There's a pretty high hyperbole level that starts to hit music publications once the end of the year rolls around and the lists start popping up. That's to be expected; after all, we in the music journalism field are inundated with releases every month, and when we find real treasure amongst all of that, it's a reason to celebrate. There are certainly a lot of musical pleasures to be thankful for this year, as the lists from contributors will eventually show. However, this isn't about us. It's about you, the reader. Hello, you. We hope you've found a lot to love and discover via Electronic Beats and in the music world in general over the course of 2013. In fact, why don't you tell us all about it?
After last year's successful Readers' Poll, we're once again putting the power back in your hands to determine what the best release of the year was. What album has moved your heart to soar and feet to dance? Which label has depleted your bank account? What festivals have you been to that left you screaming ecstatically for more? We want to hear all this and more, and we're making it very easy for you. Just fill out the form below. Over the course of the next few weeks, we'll sort through your submissions and find out who, what and where has provided you with the best aural sex.
Prizes? We got 'em. Just check out this selection of goodies:
First prize: Two free tickets to any Electronic Beats Festival of 2014, plus flights and hotel for one night
Second, third, fourth, and fifth prize: A package of autographed records and CDs by artists that have performed at EB Festivals in 2013 (artists this year included Lana Del Rey, Disclosure, Dizzee Rascal, Hurts, Mount Kimbie, Giorgio Moroder, and more), plus earphones from UrbanEars (as well as the Slussen hardware accompaniment for their app of the same name), editions one and two of Kompakt's 20 year anniversary compilation, Electronic Beats' compilations, tote bags, and more.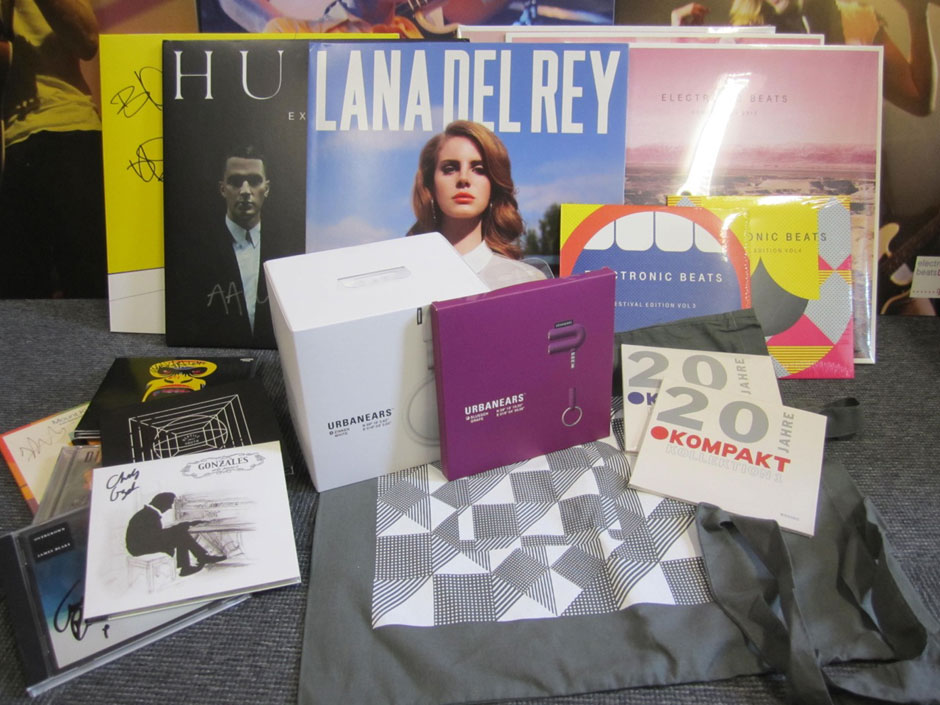 (items may differ from shown)
Not too shabby, right? So get writing and tell us who's topping your list! The poll closes at 11:59pm CET on Sunday, December 8th. Winners will be selected by our editors and notified by email in the week commencing December 15th.
UPDATE: The poll is closed, thanks for your support.
Published November 21, 2013.