Electronic Beats Readers' Poll: Your Favorite Non-Musical Happening of 2013
2013 heralded some of the most significant news stories in recent years, including mass tragedies and remarkable leaps forward in technology and science. The 3D printing of a human ear led to scientists working toward making it possible to print just about any organ imaginable, leading to a rise in hope for maimed victims and people tired of pretending that peeled grapes are "the dead man's eyes" on Halloween. Former CIA employee and NSA contractor Edward Snowden released around two hundred thousand classified reports documenting the mass surveillance programs carried out by the NSA, and a new pope with a much better PR agent was elected after everyone decided the old one was too creepy. War, as always, marches on. Oh yes, and the universe might be a holographic simulation. May Holo-Tupac help us all.
On that cheery note, let's see a few of the events that captured the attention of our readers over the course of a year!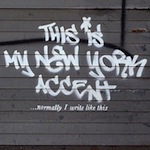 1. Banksy's New York residency
The world's most infamous graffiti marketeer broadcasted a cloud of mystery around his month-long NYC residency, which included a slaughterhouse truck full of stuffed animals and in-disguise artwork sales in Central Park. The real mystery, though, is how long his murals will last before someone adds funny mustaches and boners to all of them.
"Miley Cyrus must have done something really offensive this time because the media who stand to profit from our interest in her are talking about her again." Illustration by Miguel Martin.

Anti-government dissent is something growing worldwide (though sadly less so from the US or the UK, both of which could use it). Currently many eyes are turned toward Kiev as more and more Ukrainian citizens and international supporters gather, police violence escalates, and government officials seek loans from Russia to temporarily alleviate the country's crippling economic crisis. Since it doesn't involve a celebrity doing a sexy dance move with arbitrary racial restrictions placed upon it, however, it's number three material.
Both a showcase for social/political commentary, visual beauty and sheer intellectual indulgence, the Biennale consistently delivers one thing well: spectacle. For our money, we loved (among others) Ai Wei Wie's "Sacred"—a grim reconstruction of his time in a Chinese prison—and the occult-tinged somberness of Manfred Kielnhofer's "Guardians of Time" (pictured).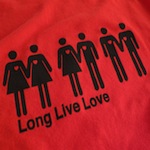 5. Gay marriage bill passed in the UK
In a year of great change, the slow shift toward equal marriage laws is gaining speed, even as LGBT rights continue to face opposition and backlash. It took decades for many lawmakers to realize that making a union of love between two people illegal was morally hideous. If only they'd make the same conclusion about reality TV. ~
Click here for more results from our 2013 Readers' Poll.
Published January 02, 2014.