Fatboy Slim Explains Why Emojis Aren't Smileys
Fatboy Slim (aka Norman Cook) is without a doubt one of the happiest DJs in the game. And that's with good reason: The British selector made his first mark on the world in the '90s via chart-topping big beat tunes like "The Rockafeller Skank", "Praise You" and "Right Here Right Now". Those tracks made him a pop sensation—he's one of the first bonafide global DJ celebrities. Naturally, Cook still tours, and he still knows how to rock a party, too. What perhaps is less clear to the general public, though, is that Cook is also a dedicated follower of the "smiley" icon. In fact, we got a hot tip that he has one of the largest collections of smiley face ephemera in the world. We figured that a person with such a deep knowledge of smileys might also know a thing or two about emojis. So, in a 10 minute blitz before he took the stage at our bash in Tirana, Albania last weekend, we asked him to give us the lowdown on some of the most popular emojis in use today.
Electronic Beats: We heard that you have one of the largest—or maybe the largest—collections of smiley face memorabilia in the world. Is that true?
Fatboy Slim: I'm not sure about the largest. I haven't seen a larger collection, but I've seen the smiley museum, and I've got more than that. I don't know, it's not exactly a competitive sport.
EB: Are you sure?
FBS: I'm not motivated enough to go online to forums or to meet other international collectors. I don't hang out in that world. I am in touch with the family of the guy who invented it, Harvey Bell. I've talked to his son about the legacy of the smiley. If there are other collectors out there, they should get in touch.
EB: Well, we think it's super cool that you have such a deep knowledge of smileys. We've prepared something for you—we were wondering if you could tell us what this sequence of emojis means to you.
FBS: Oh…no no. Not emojis. I don't do emojis. No, you see, smileys have a very specific look, and if it doesn't look like that then it's not a smiley to me. In my collection every single smiley is always smiling. And there's not an emoji that looks like that original smiley to me. Emojis aren't just not smileys, they're a completely different language. I'm also quite shortsighted, so people send me emojis and I'm like, "Is that smiling? Is that crying?"
EB: Uh, well. Would you still give us your opinion? It's like a Rorschach test. Just riff and let us know what you think they mean.
FBS: [Thinks about it] Okay, I need to get some glasses though.
?Happy.
? Unhappy.
? Happy, but in the sunshine.
? Happy but at night.
EB: Emotionally it doesn't do anything for you?
FBS: Emotionally, no. Also, I'm kind of colorblind. I know it's the wrong color, but I don't know what color.
? Crying, but smiling at the same time. It's giving off mixed messages. Are those happy tears? See, people send that to me, and I'm like, "What does that mean? Is it that you're so happy you're crying? Or you're crying, but you're happy underneath?"
? That is either fruit, a love heart or an anus. A bum. Again the color blind thing, I don't know what color. Is that a peach?
? What does that mean? I'm looking at you? Is that surprised? I don't know if that's surprised. No, not surprised. Just looking off to the right.
? Uh that's some kind of monster. What does that signify? I don't speak this language. I have a 15 year old son, and he can write messages with no words at all. It's just like…it's like a code.
? That means you're a saint or a hero or an angel.
? No idea what that is. Is that a building? Is that a hotel? I'd say that's a hotel. What does that mean in emoji?
EB: It's the Berghain emoji. Kids use it for Berghain.
FBS: It's slightly different, but it kind of resembles Berghain.
? Death. [Laughing]
? Um. We're going dancing or we're going to a strip club, I don't know.
? You're out of this world.
? Ok. That's a happy turd.
? That's the scream. That's the psychedelic scream. What does it mean? I like that one. I kind of like that one. That's really high brow.
? That means it's good. Or in some countries…
FBS: Actually, what if I showed you my most used emojis?
EB: Whats the penguin?
FBS: Um, I don't know. That might be my daughter. But those five are the ones I use.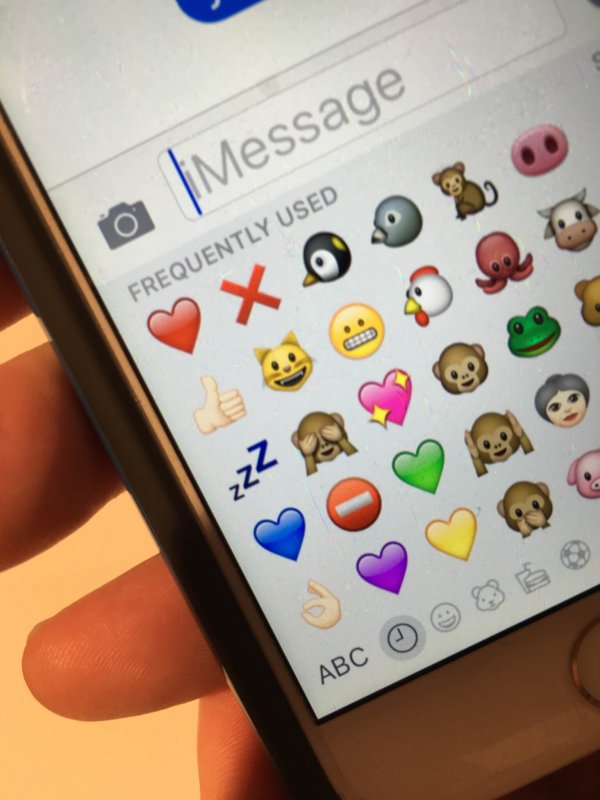 Published September 17, 2016.