A 16 Track Guide To The Outrageously Hardcore Sound Of Berlin's Fuckparade Street Party
Explore the visceral world of Berlin's most notorious street party with this guide by one The Fuckparade's longtime organizers.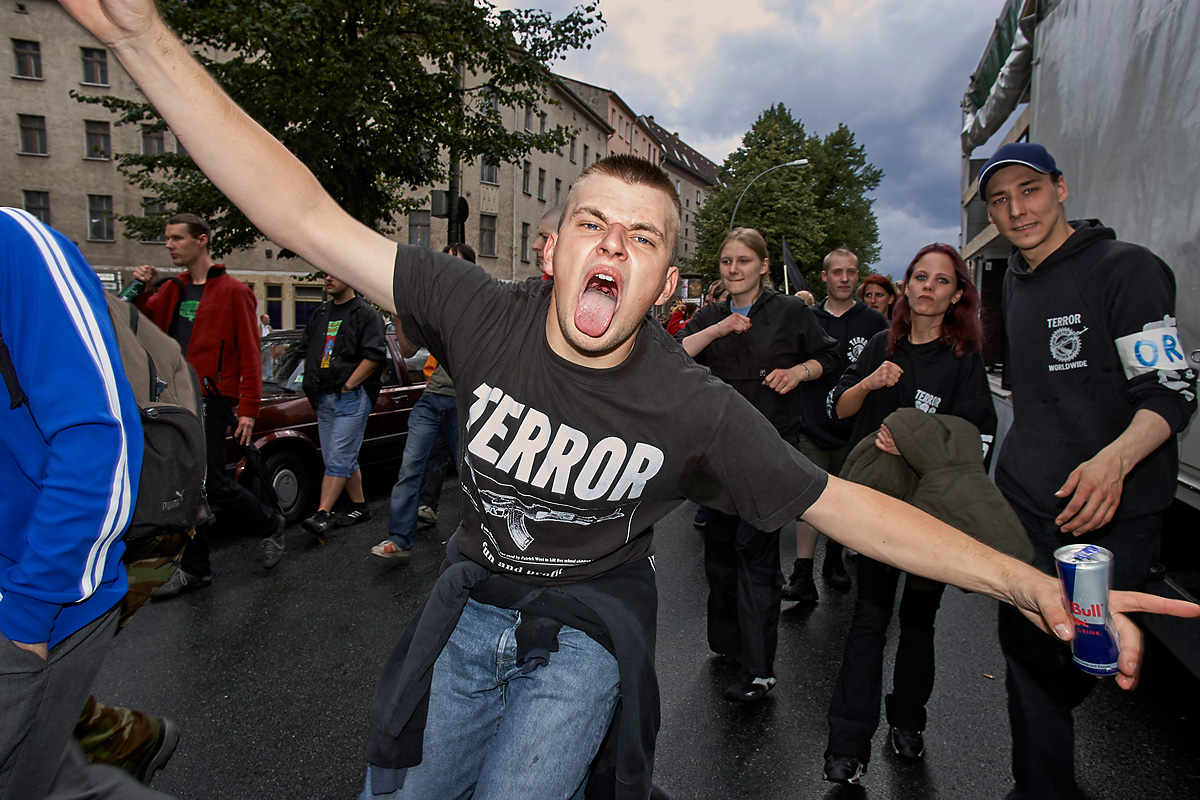 For the past 21 years, every summer, the streets of Berlin erupt with the hammering sound of gabber. The Fuckparade is the city's long-running street party dedicated to all things hardcore.
The full story of this unique Berlin event was traced in TEB senior editor Sven von Thülen's definitive oral history, published earlier this week. As was explained in that story, the Fuckparade was born from the Bunker, an infamous '90s Berlin club that was considered the beating heart of the city's hardcore and gabber communities.
For this week's sonic guide, we asked DJ Fater—a gabber DJ who was a regular at the Bunker and also served as one of the Fuckparade's organizers—to share some of the tracks that have come to define the notorious street party over the years. Scroll on for 16 sped-up classics from one of dance music's most extreme scenes.
Bodylotion, "Ik Wil Hakke!" (Terror Traxx 1993)
"A seminal classic from gabber's early history. Paired with the battle cry 'Hakke!' and a sample of someone puking, the track ticked all the boxes necessary to become one of the scene's defining musical pieces. When it was played during the Fuckparade in the streets of Berlin, it worked its magic even better."
R.Wagner, "Final Revolution" (Dom Records 1994)
"You could hear this track on any given weekend at Bunker. It had everything that made gabber exciting in the early '90s: a high BPM, nasty hoover sounds, ravey synths, breakbeats and brash vocals. A true classic."
Chosen Few, "Name Of The DJ" (Mokum 1995)
"Together with 'I Wanna Be A Hippy' by Technohead, this was arguably the most successful record on Amsterdam's trailblazing hardcore and gabber label Mokum. It became a worldwide hit even beyond the gabber scene. And despite being from 1995, it still sounds remarkably fresh."
DJ Skinhead, "Extreme Terror (N.Y. HardCore Mix)" (Industrial Strength Records 1994)
"A track that has someone aggressively shouting 'extreme terror' in it is just top-drawer stuff for a political demonstration. Add a heavily distorted kickdrum and more screaming ('Motherfucking New York hardcore!' and 'This is real hardcore!') and you have a track that combines all of gabber's sonic stereotypes perfectly. Brilliant!"
Cut-X, Krieg (Gabba Nation Records 1997)
"This was one of the biggest hits of Berlin Gabba Nation's own Cut-X. Sampling Goebbels' infamous 'Wollt ihr den totalen Krieg?' speech might feel a bit out of place in a left-leaning demonstration, but things like that have always been part of the humor in the gabber scene, just as much as themes like war, terror or destruction are recurring topics in gabber's sonic world. Also: if you know Cut-X, you know that he doesn't sympathize with right-wing propaganda."
DJ Lancinhouse vs. DJ Jappo, "Industrial Strength 'The Track'" (Industrial Strength Limited 1997)
"This is one of the tracks I always associate with the Fuckparade. I am sure it didn't get half as much play time in clubs, but for a demonstration where you'd walk kilometers on end, constantly exposed to gabber's sonic onslaught, you'd be happy to hear a track that has a long quiet and serene break. And when the kick drum drops again, it's just as joyfully banging. Goosebumps!"
Nasenbluten, "Dermal Plating" (Industrial Strength Records 1996)
"Quite the task to choose just one of the many amazing tracks of Australia's hardcore and breakcore legends Nasenbluten. I am going for 'Dermal Plating', the 'clap-along-track.' Gabbers usually have to focus enough of their attention on their footwork, so this is a welcome exception. The track features a sample of Germany's ingenious hardcore and gabber producer E-De-Cologne (a.k.a. Patric Catani) and it's properly banging. You could see pedestrians bop up and down when this was played during the Fuckparade. And of course, some clapped along, too (rolleye)."
Xol Dog 400, "Der Strafer" (Hartplastik Records 1997)
"This list wouldn't be complete without at least one of Xol Dog's tracks. He's been around since day one and he was instrumental in organizing the Fuckparade in the early years. According to recent comments of his, he is about to retire his life as a purveyor of hardcore music. Be this as it may, his tracks have always stood out and he has developed his own unique sound."
Rage Reset, "Bunker" (Bloody Fist 1996)
"Rage Reset is Sydney's finest gabber outfit, and this is their ode to Bunker. Or maybe it was just a coincidence. In any case, the track symbolizes everything that made Bunker so special—and thus it became one of its unofficial hymns. Since the closing of Bunker was the catalyst to start Fuckparade, this track is as relevant now as it was back in 1997."
D.O.A., "N.Y.C. Speedcore" (Industrial Strength Records 1996)
"Thrashing drums, shredding guitar riffs and a guy screaming 'Fuck New York City speedcore!' Cheap thrills? Maybe. Functional? Most definitely! To this day, 23 years after this track's official release, you can still see the fear in the faces of tourists and pedestrians alike when the Terror Hoody-wearing mob is walking down the streets to this track. Well done!"
Qualkommando, "Fuckparade '99" (United Speedcore Nation 1999)
"'Dies ist die Fuckparade. Hier läuft die Musik, die wir hören wollen—und die ist verdammt hart und verdammt schnell!' (This is the Fuckparade, where the music we wanna hear is being played—and this music is damned hard and damned fast). Enough said! Haaaaaakkkkkken!"
Vojeet, Willkommen bei den Gabbers
"Using samples from a TV documentary about gabber and the Fuckparade from 2000, this track manages to explain the scene's motives and history surprisingly well over the course of a few minutes. All the info is combined with intricately pummeling beats for the experienced hardcore lover. This track was produced with the Modplug tracker. It's hard to dance to but full of useful gabber background knowledge to make up for it."
Trasher & Martin Chaos, "Xol Dog On Dope???" (Fuckparade 2007)
"This is Xol Dog's legendary 'speech' in front of Berlin's Volksbühne at the end of the 2001's Fuckparade paired with a cute terror track."
Gabba Front Berlin, "Lacrima Mosa Est" (Doomsday Records 2003)
"Any list of top speedcore tracks worth its salt has to feature this one by Gabba Front Berlin. The vocal ('Bis hierher liefs ja ganz gut/to herein, it went quite well') is sampled from the German version of Mathieu Kassovitz's classic banlieue drama La Haine. The sentiment especially rings true when the track and its gloomy melody is hammering with 480 bpm from a Fuckparade float in the streets of Berlin straight in your face. Just the way it should be."
Esc, "Scum" (Braindestruction Recordz 2003)
"This is a melodic speedcore track that gets its unique touch by sampling and being built around the well-known Loveparade classic 'Meet Her At The Love Parade' by Da Hool. 'Scum' is a bit like the Fuckparade: it uses the same idea (as the Loveparade), but instead of cheerfully waving with sun flowers, it takes the uncommercial path and hits you over the head with pure aggression."
Beavyz, "Die Spitze des Eisbergs (Sacrifice Remix)" (Free Track 2014)
"One of the more contemporary Berlin hardcore tracks. Originally produced as a theme song for rapper Beavyz from Berlin-based crew Flash Fingarz for the 2014 edition of the Fuckparade, the remix by Sacrifice turns up the heat even more. 'Die Spitze des Eisbergs' proves to be a worthy theme song. Sampling an old interview with Cut-X about, it even has lyrics that deal with the Fuckparade's return to its roots back then (which also meant to limit the permitted number of floats)."
N.W.A., "F**k tha police" (Ruthless Records, 1988)
"Not a gabber track but one of the big hip-hop classics with a clear message. Since we regularly ran into a lot of trouble with different authorities and cops, especially during the first 10 years of the Fuckparade's existence, N.W.A.'s biggest hit was played quite frequently."
Here are the corresponding playlists on Spotify and Apple Music: