The Full Program For The 2019 Edition Of Telekom Electronic Beats' Festival In Budapest
Take an in-depth look at the performances, discussions, film premieres and club nights that will happen during our festival in Budapest from September 19-22.
This Thursday, September 19, Telekom Electronic Beats will return to Hungary for the latest edition of its much-loved festival in Budapest. As with previous editions—check out our reportage from last year's festival—there's a lot to do, so to help you, we've assembled this in-depth guide. No matter whether you're into cutting-edge dance music, tasteful cinema, thrilling discussions, unforgettable parties or just perusing the interesting wares of our lifestyle market, we've got something for you.
SEPTEMBER 19 // THURSDAY:
The festivities begin on top of Gellert Mountain. There we'll throw a high-altitude warmup party to launch the festival. Meet us there to hear sets by German artist Parra for Cuvá as well as DJ Suhaid and the guys from Pure Lust.
5pm – Daniel Santiago b2b Daniel Ban (Pure Lust)
7pm – Parra for Cuva LIVE
8pm – DJ Suhaid
SEPTEMBER 20 // FRIDAY:
@TOLDI: THE POTENTIAL OF BUDAPEST'S UNDERGROUND DAY 1
During the day on Friday, we'll focus on Budapest's local scene. A part of that will involve screenings. We'll debut the third episode of BP Underground as well as Mark Reeder's classic film about '80s Berlin, B-Movie. Entrance to both films is free, first come first served, so hurry to get your place.
6pm – Movie Show: B-Movie (Great Hall)
7:45 pm – Panel Discussion: Berlin-Budapest Story (Great Hall)
Dimitiri Hegemann (founder of Berlin's Tresor club), Mark Reeder (recording specialist and founder of MFS Berlin), István Isu Kántor (founder of Minimalheadz, Aktrecords and Technokunst), Eshter Turan (founder of Moviebar Productions and producer and director
of BP Underground), Anna Koltay (director of BP Underground).
21:00 – Film premier: BP Underground Electronic Music (Great Hall)
21:15 – Film premier: BP Underground Electronic Music (Small Hall)
11pm – BP Underground Premier Afterparty
Chi Recordings Reunion: Fine Cut Bodies, Naga / Shuriken /
VJ: Bernathy Zsiga, Fabricius
@AKVÁRIUM: CLUBNIGHT, DAY 1
House, disco and similar sounds will dominate the first club night of the festival. Join us at Akvárium for night featuring sets by such figures as Paramida, Motor City Drum Ensemble, Marcus Worgul, Trik and more. Get your tickets here!
GREAT HALL:
22:00 Route 8 b2b Soundbank
00:00 Paramida  
02:00 Motor City Drum Ensemble
KIS HALL:
23:00 Jaffa Surfa
00:45 Sobek
02:00 Marcus Worgull
04:00 Trick
FORMER LOCAL:
Dalmatian Daniel label showcase
23:00 CT Bouncer
00:00 New Ball Live
01:00 Norwell Live
02:00 J. Mono Live
03:00 Imre Kiss
04:00 Max Sinclair
SEPTEMBER 21 // SATURDAY:
@TOLDI: THE POTENTIAL OF BUDAPEST UNDERGROUND DAY 2
Wake up, get over your hangover and join us at Toldi for another exploration of Budapest's underground club culture. This time around, we'll explore it via a panel discussion featuring some of the biggest figures in nightlife from cities as diverse as Berlin, Tbilisi and Prague. Along the way, we'll talk about independent publishing, mental health in music, inclusiveness in the creative industries and how electronic music shapes urban culture.
12:30 pm – Panel discussion: How do you do it? Domestic record companies: disc manufacturing, domestic and international distribution and marketing (Small Hall – Hungarian Language)
Bánki Nikoletta (GrapefruitMoon Records) (EN)
Danko Greg (This is Our Time Records) (EN)
Hussar Christopher (Pluto Sound ) (HU)
Tamás Kovács (Budapest Vinyl) (HU)
Moderator: Ákos Fonyódi (Budabeats Records) (HU)
13:45 – Panel Discussion: Opportunities for domestic independent record publishers abroad, digital distribution (Kisterem – Hungarian language)
Enikő Gallasz, CEO of WM Music Distribution (HU)
Csaba Nász, Vice President of the Hungarian Independent Labels Association (HU)
Moderator: Eszter Décsy, journalist (HU)
2:45 pm – Panel discussion: Learned helplessness – DJs, crises, mental health (Small Hall – Hungarian language)
Gabriella Mravik (Avika aka DSH) (HU)
Reni Tóth (Dj Ren) (HU)
Moderator : András Hargitai (Banyek) (HU)
15:00 – Film screening: Berlin Bouncer (Great Hall)
4:45 pm – Panel discussion: How does the electronic music world shape urban culture. What's the value in it? (Great Hall)
Dimitiri Hegemann (Space Pioneer – Tresor (GER)
Lutz Leichsenring (Vibelab Founder, Berlin Clubcommission Executive Chairman (GER)
Robbe Van Bogeart (Eventsure, Meatpack, Human Power (BEL)
Csete Manek Gabor (Toldi, Larm, Colorado Festival ( HU)
Naja Orashvili (Bassiani, Horoom Nights (GRU)
Moderator: Daniel G. Nemet (Night Embassy of Budapest (HU)
18:00 – Panel discussion: Global nighttime organization. What does Budapest need? (Great Hall)
Lutz Leichsenring, Vibelab Founder, Berlin Clubcommission Executive Chairman (GER)
Jan Stern (Night Mayor of Prague) CZ)
Martina Brunner (Project Lead – Nachburgenmaister Wien) (AT)
Daniel G. Nemet (Night Embassy of Budapest) (HU)
8:30 pm – Panel discussion: Female potential: Sexism and gender in the night (Great Hall)
Hanna Baecher (Writer, Producer, Storyteller (GER)
Bettina No (GURLBO $$$ Promoter, Designer, DJ (HU)
Naja Orasvhili (Bassiani, Horoom Nights (GRU)
Johanna Kolumna (Taka Tuka, SisterRiot Collective (GER / HU)
Esther Turan (Founder Moviebar Productions (HU / US)
Laurin Hager (Founder Night Hero (GER)
@EIFFEL SQUARE: LIFESTYLE MARKET + INDEPENDENT LABEL FAIR (2:00 pm – 9:00 pm)
Looking for something special? You'll certainly find it at our Lifestyle Market. An always popular addition to our festival, this year's edition will showcase a vibrant portfolio of Hungarian designers, clothing shops and creative projects. No matter whether you need some nature-inspired jewelry or a hand-drawn linen bag, we've got you covered—and more! Also on deck: a record fair with over 40 Hungarian independent record labels. Drop by, it's free, and it runs from 14:00 through 21:00.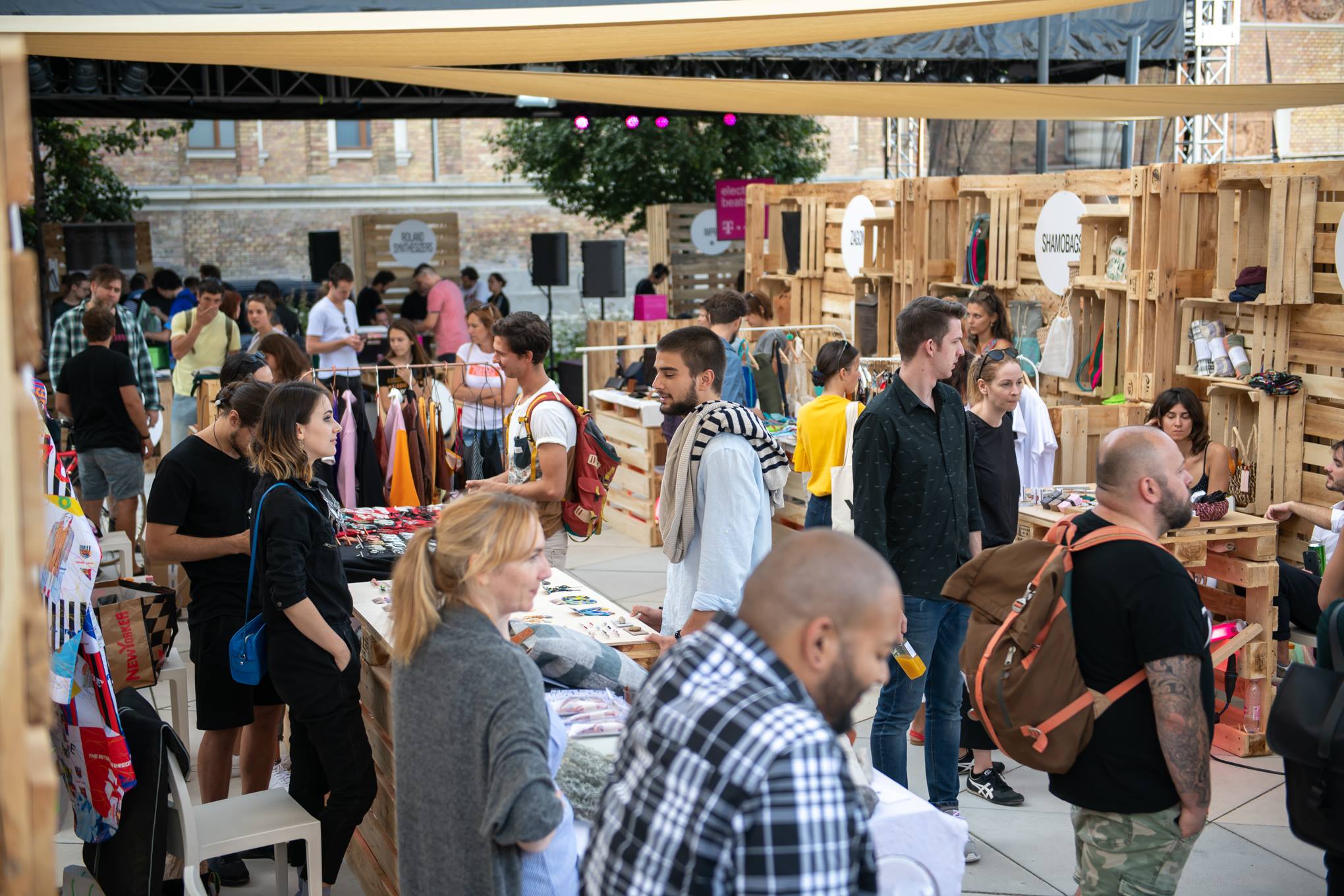 Lifestyle Market Contributors :  Antifactory Vintage Shop, Blow, FANKAPANKA, The Garden Studio, JUDAS, Margot Budapest, Anna Amélie, dorivisy, Vecsei Millinery, NASHA, NOS, Ludovica Shop, REDHEADS design, Retrock, Ringu Boutique, RisoPlant, clothes, SISKO Studio, At Müskinn, flowers, nandi, SAPI, Stilshop and ZUN Store
Record Fair Contributors: 4mg, B4ck6roundno1se, Baba Vanga, Black Hoe, Blackrod, Blunt Shelter, Brave Rabbit, Budabeats, Budapest Vinyl, Concorde Nation, Crossroads, Daddypower, Dalmatians Daniel, kernels, Drazen, Drinkin 'Beer in Bandana, Earth Plates, Elevated, Exiles, Farbwechsel, GrapefruitMoon, Clinic, Kryptonit!, LV, Launchin' Gagarin, Legend, Mana Mana, Moira Audio, Moiras, NOW Books & Music, On The Low Inc., Panel Trax, Para Hobo, Pluto Sound, Pongo Pongo Collective, PrePost, Selected Sounds, Tapes Sublimating, Techno Vinyls, Theque, Tipton, Trottel, Unsigned, XLNT
The record labels will also be DJing at the Lifestyle Market, so you can hear some of the tunes as you browse.
14:00 Shaibo LIVE
14:30 ImiAFan
15:00 Christopher Waver LIVE
16:00 LIVE Spock & Casual
16:30 Bete
17:30 Talayapa LIVE
18:00 Imre Kiss
18:45 Tobias Thomas (Kompact)
@AKVÁRIUM: CLUBNIGHT DAY 2
Meet us back at Akvárium for another evening of fun. This time around we'll feature an audiovisual live performance by Berlin favorites Modeselektor. Be sure to also catch what promises to be an unforgettable electronic pop performance by Sevdaliza. Then we'll have DJ sets by Jennifer Cardini, Nathan Micay, Robert Dietz and Claudia Anderson. We'll also have another room featuring Persephone, a local collective that focuses on making safe spaces for LGBTQ+ folk and other underrepresented people in Hungary. Get your tickets here!
GREAT HALL:
22:30 DJ Crimson
23:45 Sevdaliza
00:45 Subotage
01:30 Modeselektor live
02:45 Claudia Anderson (Tresor Berlin)
SMALL HALL:
00:00 Nathan Micay
02:00 Robert Dietz
04:00 Jennifer Cardini 
VOLT LOKAL:
Persephone Showcase

23:00 Manu Schipper
01:00 Alexandr 
03:00 Boxing
For more information, go to the Facebook event.
Buy tickets here. 
Published September 17, 2019. Words by EB Team.