Hans Ulrich Obrist recommends the David Bowie is exhibit and catalogue
Union Jack coat designed by Bowie and Alexander McQueen for 1997's Earthling. © The David Bowie Archive
Hans Ulrich Obrist is Co-director of Exhibitions and Programmes and Director of International Projects at the Serpentine Gallery and a regular contributor to Electronic Beats Magazine. In anticipation of an extended version of the V&A curated David Bowie retrospective Is, opening tomorrow at Berlin's Martin-Gropius-Bau and entitled David Bowie, we're publishing his recommendation of the original exhibition and catalogue. Taken from the forthcoming Summer issue of Electronic Beats Magazine.
"I am another." This phrase by the French poet Arthur Rimbaud is key to understanding David Bowie not just as a person, but as a persona. Alternately, as the great Lebanese poet Etel Adnan has emphasized: "Identity is shifty. Identity is a choice." Indeed, Bowie's play with identity has been a bridge to his relationship with fashion, which is why the recent Bowie exhibition in the Victoria and Albert Museum in London and accompanying catalogue has made an effort to include numerous outfits and costumes that underscore his permanently mutable façade, such as the artistically tattered Union Jack frock he designed together with Alexander McQueen. Of course, this also draws a connection to his various identities in films, such as the reptilian-humanoid alien with telepathic abilities and superhuman intelligence in Nicolas Roeg's The Man Who Fell to Earth. There, Bowie's character founds a billion dollar tech company in order to build a spaceship to return to his planet, but can't get it done because of the superficiality and brutality of human civilization. All in all, a complex commentary on human identity on a more abstract level.
Bowie famously studied music and design and accordingly can be considered a kind of Renaissance man with his multiple talents, which is reflected also in his variety of interests and which he treats as kind of parallel realities. This enables him to cover high and low culture, from pop to avant-garde—a kind of approach of cultural innovation reminiscent of early Godard as well as the experimental literature of nouveau roman—or even the famous MAYA principle—"most advanced, yet acceptable"—which promotes aesthetic innovation only to the point that it doesn't interfere with solving the problem at hand. Because ultimately, he changed the rules of the game, starting in 1969 with his entrance into the charts "Space Oddity" and eventual glam transition with Ziggy Stardust. Things turned more experimental with his Berlin years and trilogy of albums Low, Lodger and Heroes before becoming a new romantic disco icon in a shiny blue suit and bleached blonde hair singing "Let's Dance". This chronology is also marked by long periods of alternating visibility and invisibility, unpredictability and erratic changes in appearance and presentation. Apparently he also didn't visit his own exhibit, but he did come out with a new album last year. As Cocteau und Djagilew said: étonne moi, surprise me.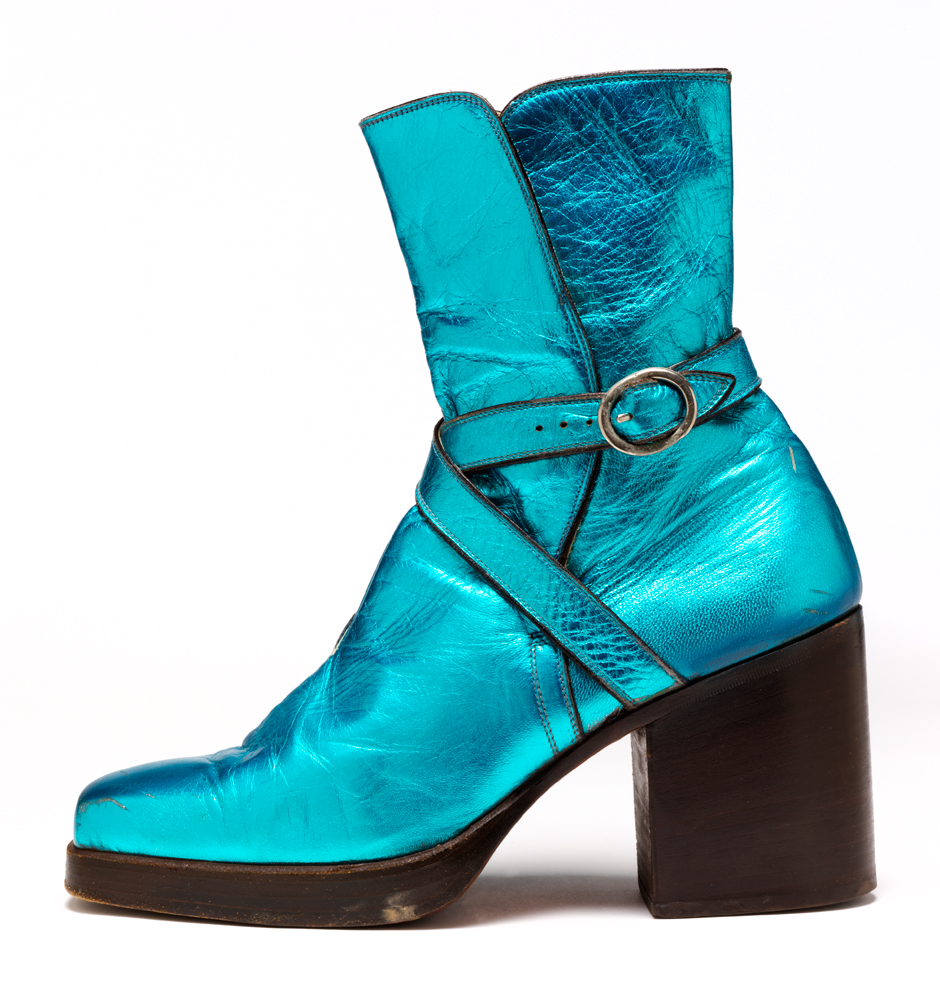 Above: Standing tall. Bowie's beloved turquoise boots from 1973. © The David Bowie Archive
There are museums for architecture, science, literature and art, but there are almost no museums for sound. And yet it's interesting to apply the medium of the exhibit to phenomena that lie outside of the art world. This especially applies to the life and work of David Bowie, who, despite being primarily a musician has a relevance that was nothing less than culturally transformative. The Bowie exhibit does an excellent job in showing the different dimensions of someone who was not just a songwriter, but also a producer, fashion icon, actor, painter and inventor of rituals and cults. I occasionally think of him as someone who emerged from the eleven dimensions of string theory and whose behavior cannot be predicted. No one knows what his next step will be. ~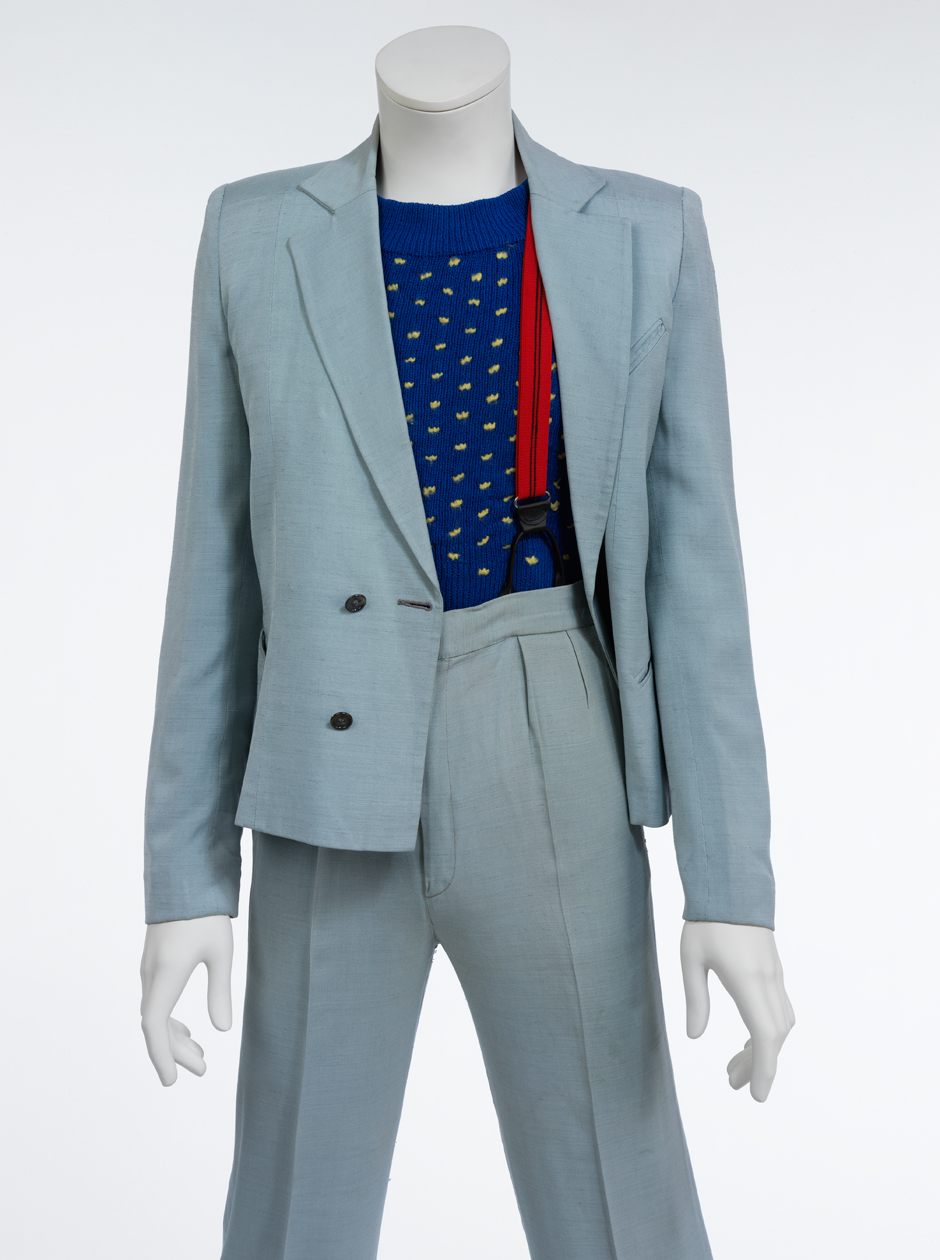 Above: Bowie's blue-grey suit worn on his Diamond Dogs tour in 1974. Design by Fred Burretti. © The David Bowie Archive
David Bowie opens to the public May 20th at Martin-Gropius-Bau. This text appears in the forthcoming Electronic Beats Magazine N° 38 (2, 2014), out June 1st. You can purchase the new issue, and back issues, in the EB Shop.
Published May 19, 2014. Words by Hans-Ulrich Obrist.