How Glastonbury's First "Homo Disco" Became A Phenomenon
The first Glastonbury Festival took place on a dairy farm in pastoral England in 1970, when entry cost £1 and attendees were treated to rock 'n roll and a free pint of milk.
Over the years, the festival expanded to the size of a city and became more of an everything-goes affair: Kanye West helicoptered in for a headlining set at the latest edition in June, and punk icon Patti Smith presented a birthday cake to the Dalai Lama onstage. But despite the festival's enduring mandate of free love and radical openness, no visibly LGBTQ spaces existed on-site until 2007, when the Block9 creative team of Gideon Berger and Stephen Gallagher planted one of the festival's most notorious nightlife spots—the NYC Downlow—in an empty plot of field.
"I'd been heavily involved with the illegal encampment outside the festival, the park-up for New Age raves and free parties from back in the day, but I really wanted to bring some kind of underground, homo, music-oriented stuff to Glastonbury," said Gideon, who handles Block9's programming. He and Steve "begged, stole and borrowed as much money, materials, labor and goodwill as possible" to create Glastonbury's first and only gay club-cum-art installation. The NYC Downlow replicates a bombed-out New York City tenement in 1979, complete with a yellow taxi crashing through its upper floors and spotlit drag queens performing to waiting queues. Inside, barmen in leather bondage gear sling drinks and a cast of dancers led by cabaret revivalist Jonny Woo works the stage, soundtracked by "deep, dark, filthy, vintage" house, disco, gospel, funk and soul.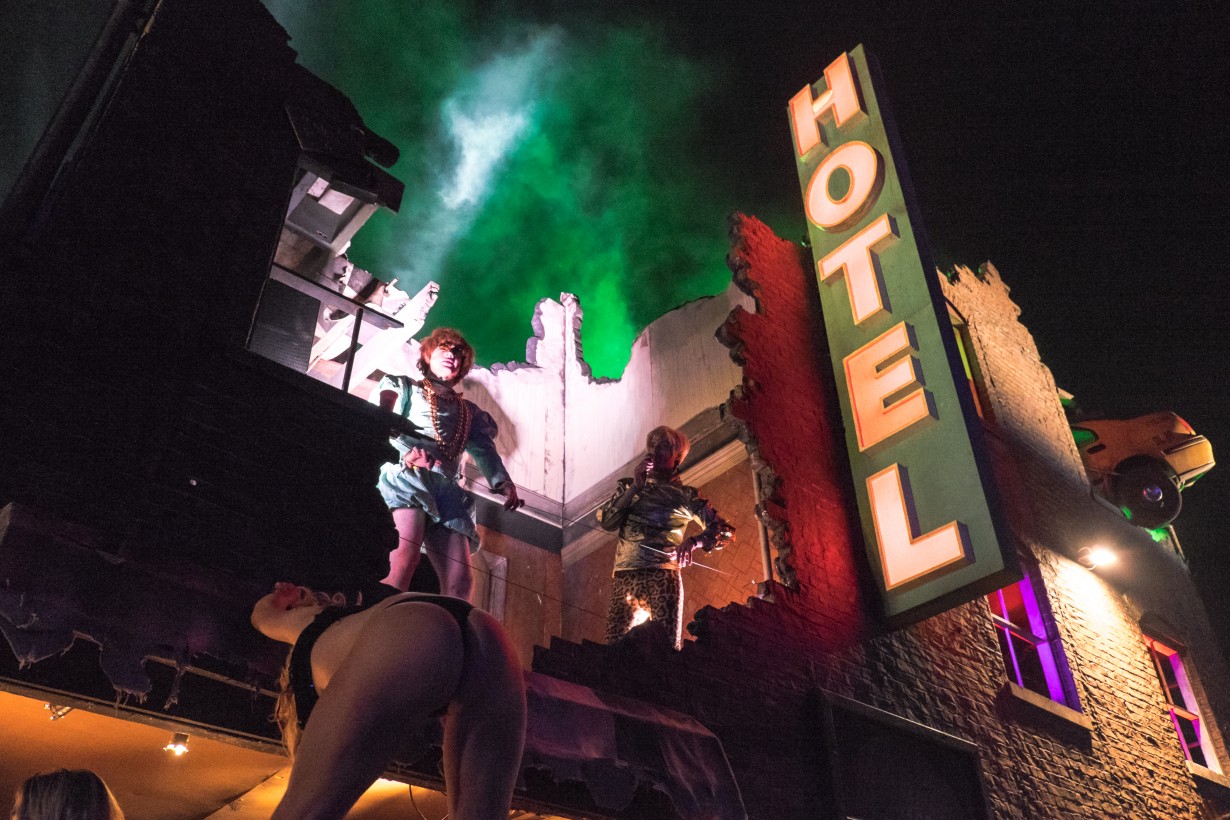 "I have absolutely zero tolerance for commercial pop trash," Gideon says emphatically. "There is none and there never will be in the NYC Downlow. The vibe is a hot, sweaty, testosterone-y black box with a fat sound system, and anything fucking goes."
His renegade attitude stands in sharp contrast to the overall UK clubbing landscape, which has seen a significant number of independent venues close in recent years. LGBTQ clubs in particular have taken a hit, with Madame Jojo's and The Joiners Arms in London left to myth. But Gideon cautions that "the day UK regulators bust their way through the doors of the Downlow and make us turn the records down, kick out half the people, and arrest others for lewd acts or substance abuse is the day that we stop doing it."
Although the Downlow invokes a powerful nostalgia for golden-era clubbing sleaze, it's also home to an extended family of high-caliber DJs, many of whom play for expenses or just a fraction of their usual booking fees. "Kerri Chandler told Robert Owens, Robert Owens told David Morales. People know about it now," Gideon says. "Achim [Prosumer] came last year. He played and he was like, 'What the fuck. I'm going to come super early next year. I'll work the bar, I'll clean the toilets, I'll do anything—I just want to get involved.'" (Without independent confirmation from Achim, this appears to be true, as we shared a flight from Berlin to Bristol the day Glastonbury opened this year.)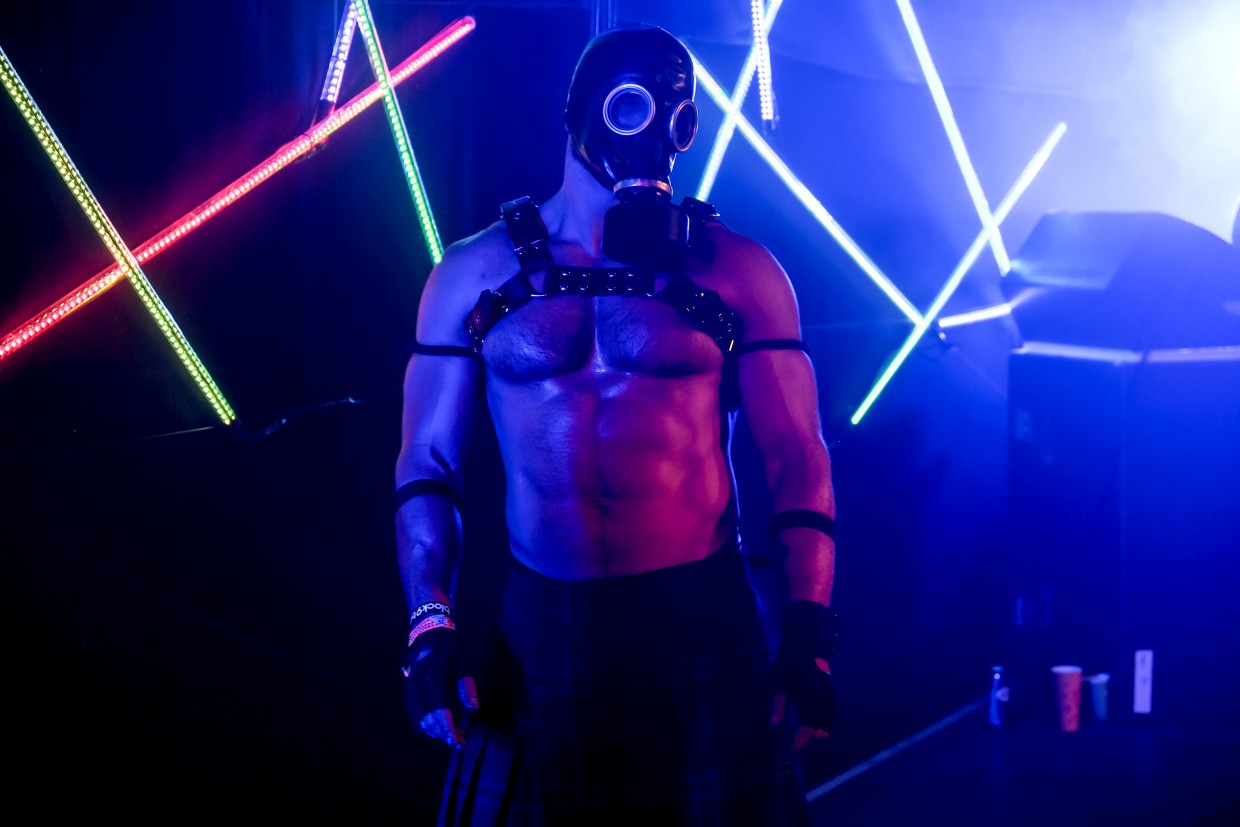 The designated Block9 area of the festival that houses NYC Downlow has grown to include London Underground, the Downlow's "older, more hetero big brother" that's dedicated to UK sound system culture, and a monstrous stage set for vintage electronic music called Genosys. Gideon and Steve have also hinted that another giant touring structure is in the works. But the success of the Downlow in particular points to a hunger for minimally policed spaces where the emphasis is on quality music and—true to Glastonbury's original ethos—money and status are shunted to the periphery. The Block9 team is currently fielding requests to bring the Downlow beyond Glastonbury but, as Gideon acknowledges, "It would kill it by trying to set up a permanent venue in London." With that in mind, we spoke to four DJs to hear, in their own words, what makes the temporary nightlife spot so unique.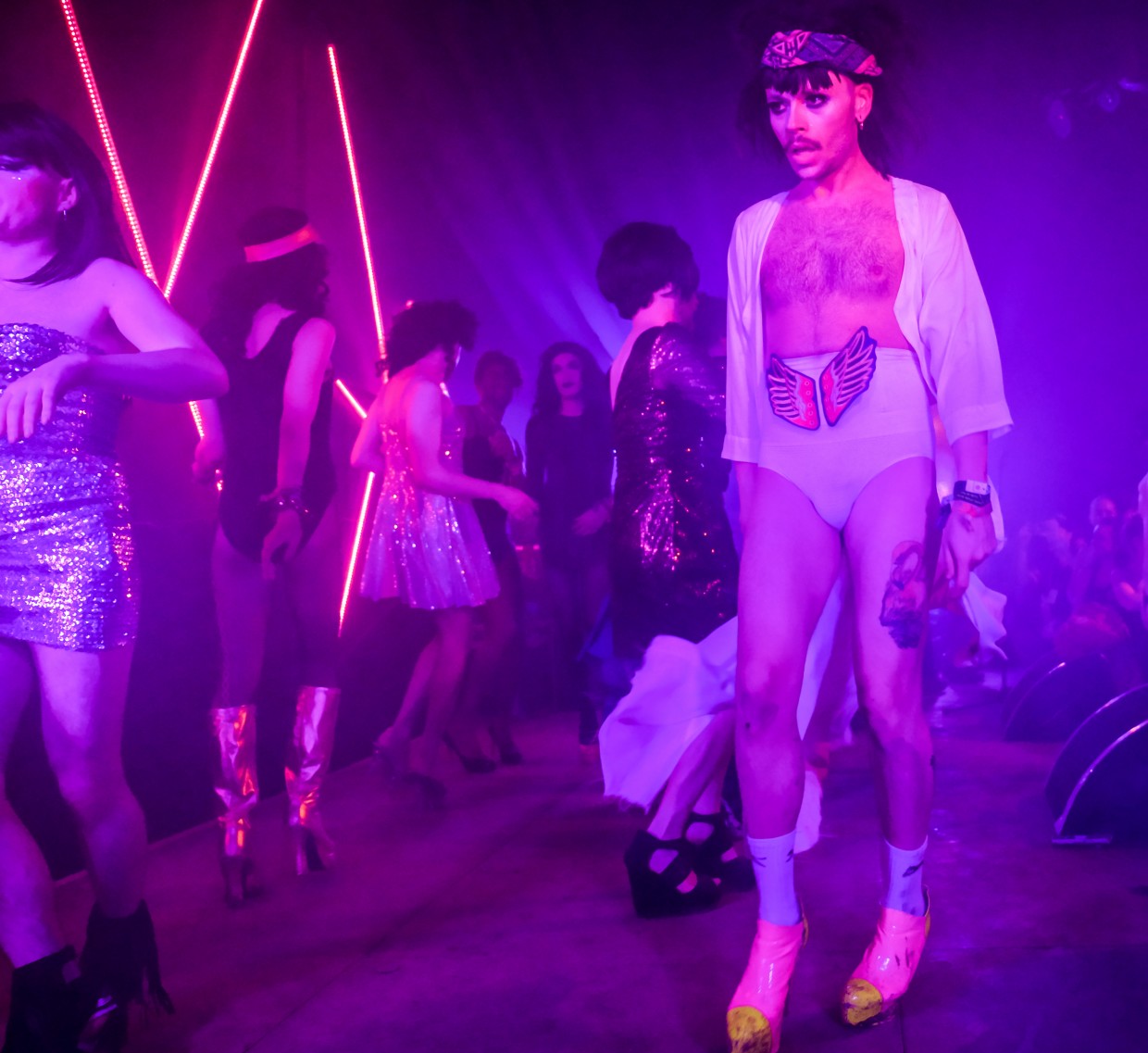 This was my first year, and I'll be back because it's a celebration of queer culture, musicians and their allies. It was totally heartwarming. I have been to festivals the world over and not seen even just a "safe space" or "visibly LGBTQ" section. What makes Downlow even more special is that it's still music-centric—maybe more so than other areas in Glastonbury. I went to many raves in natural surroundings in the '90s, and Genosys offers the closest thing to a real UK acid house renegade farmland takeover that I will ever get. The Downlow is a bit more of an anything-goes affair than '90s New York—probably more akin to what was happening in the late '70s and early '80s, with some proper East Village performance sprinkled throughout. It's got that right amount of "fuck you" that makes anything truly tasty. The artists do it for the love, the punters are there for the love. It's the real deal.
At Block9, DJs and crew members eat together and the DJs stay in trailers, which creates an atmosphere of mucking around together instead of being locked in your five-star hotel. It creates a weird and wonderful community. You get to hang out for a few days, as most people tend to stay the whole weekend at least. It has a family vibe in the truest sense. What I found totally refreshing was that there was not much business talk and self promotion. We were all just there to have a good time together and embrace this wonderful utopia. And those dancers are everything! What a unique experience to share the stage. Seeing one of the fab dancers doing a perfect Grace Jones impersonation was so good, James Hillard and Luke Howard from Horse Meat disco were the belles of the ball again with their fantastic costumes, and hearing Prosumer and Tama Sumo both play Armando's "Lesbian Luv" definitely captured the spirit of NYC Downlow for me. Overall, the diversity of the audience is breathtaking. Old people, young people, straight and queer all dancing and having a ball together. This is how it should be.
Before my first Block9/NYC Downlow experience last year, I had never experienced such a big queer visibility and a special LGBTIQ space in any festival. I was—and still am—fascinated by that. A few weeks after Glastonbury 2014, I was invited to play at Magic Mirror at the Hungarian Sziget festival, the queer hub that offers queer musicians, films, theatre, discussions and more. So far, Block9/NYC Downlow and Magic Mirror are the only two explicit districts with queer artistic programming I've found.
Musically, I'm still trippin' from lot of captivating and inspiring DJ sets. A completely new and stunning experience for me came from Awesome Tapes From Africa—I never experienced a whole DJ set specializing in the diverse music range that the African continent has to offer. Besides many many great musical moments, the NYC Downlow dancers made the festival special for me with their amazing performances and costumes as well as the energy they spread. The Grace Jones performance in particular will stay in my mind forever.
My friends HMD, The Carry Nation and Dungeon Meat have been playing NYC Downlow for a few years now, so I knew to expect a wicked party. You wouldn't know you were at a festival because there was such great energy—it felt like a really cool underground club. I wasn't prepared for the mud, though. People kept asking me if I had wellies and I was like, "No, I'll be OK," but it was next-level. As for the dancers, I've worked with many performers over the years, especially in New York City, where it's not unusual to have dancers or live acts, so I'm pretty well seasoned in how to incorporate those elements during my set. But it's the mixture of people at Downlow that really captures the essence of what a NYC club experience is. In my opinion, you don't have a great party unless there's a mixed and colorful crowd.
All images: Henry Knock