Celebrate International Women's Day At These 10 Berlin Events
2019 is the first year that International Women's Day will be an official public holiday in Berlin.
Tomorrow will make a historic occasion in Berlin. International Women's Day will now be an official public holiday, which means everyone in the German capital gets the day off. As you might imagine, there's plenty of great parties, talks and shows organized by some of the best crews in the city. We've round up a list that includes things like Stoscha x No Shade party at Zur Klappe (with Anna Hjalmarsson, pictured above) as well as talks at SchwuZ. Kick start your weekend by celebrating International Women's Day at one of these 10 events.
Show at 21:00 on Thursday, March 7 @ Acud Macht Neu
We're throwing this one in for good measure. On the day before International Women's Day, Amplify Berlin—a "creative development program" that helps new artists build their talents through mentorships with more established creators and performers—will present its fifth edition. At the show, Ziúr and her two mentees, BORA and Nancy Drone, will each present their live sets, which were developed over the last month. Come out to support new artists and a program that helps break down electronic music's barriers to entry.
Party at 21:00 on Thursday, March 7 @ Minimal Bar
If you're looking for a more laid back way to celebrate Berlin's first official Frauentag, head over to Minimal Bar, where Daniela Cast and Maida Rot will be spinning to the bar's intimate dance floor—which happens to be flanked by "cozy creative chill areas" and ping-pong, if that's your thing.
Film at 19:00 / Party at 23:00 Friday, March 8 @ ://about blank
One of international Women's Day's largest and most far-reaching offerings comes from the Disobedient Circumstance party crew. The night begins at 19:00 with a feature film screening of Female Pleasure—an indie film from Mons Veneris Films, Das Kollektiv für Audiovisuelle Werke and Indi Film—and music clips from The Allegorist & Anna Jordan Project before moving into an interview and discussion round about the progression of feminism in Germany and around the world.
At 23:00, the club opens up to a diverse offering from artists like lo-fi experimental pop up-and-comer Kedr Livanskiy and live techno powerhouse Lady Starlight.
Another massive party for International Women's Day comes courtesy of Frauengedeck. Founded four years ago, it's a collective for female DJs that was created to provide a space in the scene for female house and techno DJs to realize their ambitions. We'd argue a 12-hour, four-floor party with an all-female lineup sounds like they're succeeding.
Party at 11:59 Friday, March 8 @ Zur Klappe
No Shade—Berlin's forward-thinking event series and DJ workshop for female and non-binary identifying artists and DJs—is partnering with Stoscha—the independent label from Malmö and Frankfurt—for a party in beloved Kreuzberg small-venue-slash-former-toilet Zur Klappe. Celebrating "power in numbers" through its dense all female lineup, No Shade and Stoscha hope that the event promotes "common commitments across the boundaries of class, gender and race" that "serve as an important base for solidarity and cooperation." The mix above is from Stoscha's Anna Hjalmarsson.
Party at 23:59 on Friday, March 8 @ AVA Club
To commemorate International Women's Day, characteristically un-fussy and all-inclusive club AVA will be hosting a special edition of its weekly Hainmat party. WOMEN on DECKS features a full female lineup playing across the dance music spectrum. On a day about breaking down barriers and changing norms, AVA Club, which is vehemently against "hype and excessive door policies", may be the perfect place to celebrate the new holiday.
https://soundcloud.com/djdianamay/autopoiesis-podcast-by-diana-may
Party at 12:00 on Friday, March 8 @ Anomalie Art Club
Berlin has been uncharacteristically sunny lately. It almost makes us wish there was an open air party to celebrate Frauentag during our day off. Anomalie Art Club—which is conveniently nestled between Prenzlauer Berg and Friedrichshain—is answering our prayers. The mostly outdoor space will have DJs—like Diana May and Rosa Luxemburg—spinning from 12:00-20:00. The best part? The only cost listed is "A SMILE ;-)"
Party at 23:55 on Friday, March 8 @ OHM
If you need a break from the city's constant barrage of house and techno, head on over to OHM for BERRIES's first party of 2019. It's a queer-fem club night focused on bringing people "from different backgrounds and with different identities in terms of race, gender and sexual orientation" together. The night's soundtrack promises to be equally as diverse, with a focus on hip-hop, trap, afro, grime and bass.
One Mother, the feminist collective from Hamburg, will be taking over Kulturbrauerei this Friday with an event that includes texts, songs, performances and DJ sets. Over the course of the night, Rambazamba Theater will host a mix of hip-hop, pop and experimental music punctuated by spoken word and drag performances. The night will be full of connections across different art forms and disciplines. We highly recommend reading the entire program in the link above.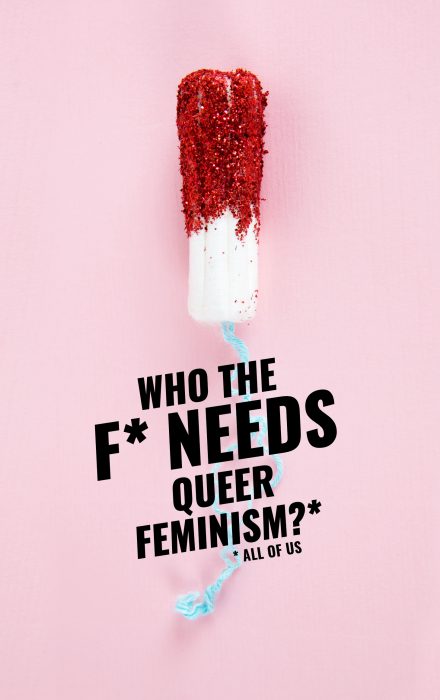 Talk at 20:00 on Friday, March 8 at SchwuZ
Starting at 20:00, Neukölln club SchwuZ will open up to a panel discussion centered on queer-feminism—in which audience members are encouraged to participate—with its key topics being: "What does the word mean in 2019? Why do we all need it? How can we live a daily queerfeminist life that is filled with love, solidarity and strength?" Make note that the discussion will be in German, but the questions and answers can be translated into English. Entry to the talk will also earn you a ticket to the night's edition of Tasty, the club's "pop, hip-hop, r&b and middle eastern beats" party, which begins at 23:00.
Published March 07, 2019. Words by EB Team.