Journey into the Heart of Darkness: Scooter live at Uebel & Gefährlich, Hamburg
As Hurricane Xaver raged outside, Scooter—Germany's most polarizing band—were busy raising their own hell within the concrete walls of Hamburg's Uebel & Gefährlich club. But, as Electronic Beats' editor-in-chief Max Dax found out firsthand, there's more to the band than just thunderous volume. Photos by Luci Lux and Elena Panouli (to view more photos click here).
A serious storm warning overshadowed last night's Scooter twentieth anniversary show at Hamburg's tiny Uebel & Gefährlich club. The strongest typhoon in over fifty years, Xaver, hit north Germany's port metropolis with full effect. Large parts of the city were shut down, roads and bridges were closed. Lucky were those who found refuge at the Electronic Beats presents 20 Years of Hardcore anniversary concert as the club is located behind shellproof concrete walls on the fourth floor of a huge old Nazi air-raid shelter in St. Pauli.
As one can imagine, the overall vibe prior to the event was loaded. No tickets had gone on sale; the 750-plus audience consisted of friends, family and the winners of various ticket raffles. In the days before Scooter's smallest ever club gig, fierce discussions on Facebook and other social media sites documented very well how the band is still one of Germany's most polarizing groups. The discussion was fueled by yesterday's release of the Winter issue of Electronic Beats Magazine that features a conversation between acclaimed contemporary painter Albert Oehlen and Scooter's singer H.P. Baxxter as its cover story. In the conversation, Oehlen asks Baxxter if "volume" was "an archaic tool", equal to Damien Hirst's shark, "which impresses thanks to its sheer loudness".
"But volume, unlike gold, is free. It's nothing classist or dividing", Baxxter answers. "Volume can't disguise a bad performance". Scooter prove the accuracy of his statement soon after 9.30 p.m.. The trio blew the audience to kingdom come by diving into a twenty-four-song tour de force hit list, featuring all of the band's twenty-three top ten hits plus their current smash hit in Russia, "4 a.m.". Ignoring all rules of dramaturgy, they kicked the show off with their signature hit "Hyper Hyper". As a matter of fact, even the hardest sceptics in the audience had to accept that it's not at all about volume or overpowering the spectators with sound. Jens Balzer, staff writer of Berliner Zeitung, recently wrote about Baxxter: "Among the avant-gardists of the newest music, Leer-born Hans Peter Geerdes (aka H.P. Baxxter) is one of the most forceful and radical. In his music he commits himself to answering the pestering questions of the post-electronic age: What is there to follow after minimalism? How can the artist re-inject subjectivism back into the repetitive patterns of late modern art of composing?"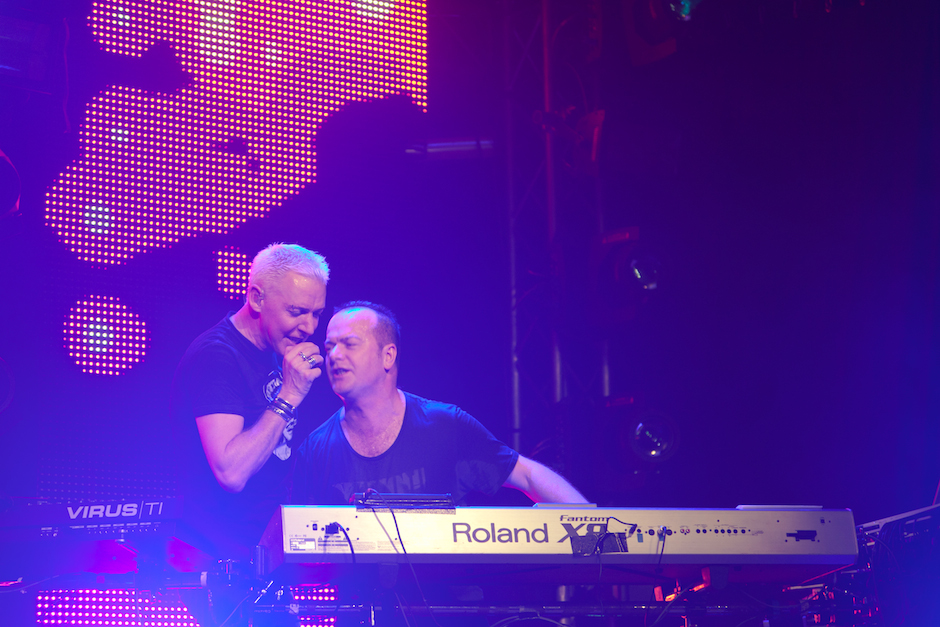 Well, Scooter basically answered the question by offering collective exhaustion. "We never played this setlist before, and we'll never play it again", H.P. Baxxter shouted into the audience early on, and one can easily imagine why: even though Scooter's live shows are known for their simple-minded relentlessness, the lack of a single ballad or breather within the setlist basically pushed the audience into higher spheres.
Meeting Baxxter, Rick J. Jordan and Michael Simon backstage prior and after the gig was tale-telling. In the book Always Hardcore, the band describes their re-occuring rituals of pre-emptive partying (before the show) and forced partying (after the show). While the former means getting high on Vodka Red Bull and listening to insanely loud Skrillex tunes before hitting the stage loaded, the latter is basically the continuation of that, only that the dozens of guests of Scooter's after-show party at the Turmzimmer club can watch the band doing so.
Somewhere in between signing books, another long drink and patiently allowing fans to take their photos with him, H.P. Baxxter must have realized that this frenzy will probably never end. In the meantime Hamburg survived the typhoon. ~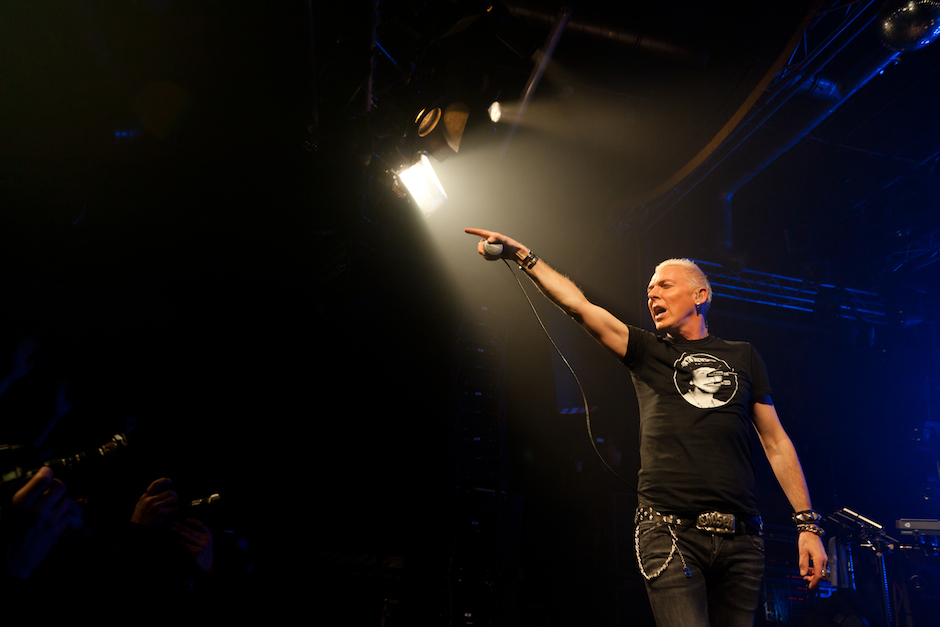 Published December 06, 2013. Words by Max Dax.