Live Report: Electronic Beats presents 20 Years of Kompakt at Sónar
The world-renowned Kompakt label celebrated its 20th year anniversary with its annual beach party following the 20th Sónar Festival.
Following his own performance at Sónar, Nick Wilson—aka Mr Beatnick—reports from the shores of Barcelona. All photos by Richard Luerzer.
Sunday post-Sónar is traditionally a day to reflect on the events of the weekend, a good time to unwind on the beach and take stock of a hectic few days of music, food, and 24/7 partying. This year was filled with firsts for the 20 year old festival—a new day time venue, which despite initial concerns proved a winning, and much larger space to enjoy the likes of Fatima Al Qadiri and Matthew Herbert under the beating sunshine. Similarly, the lineup boasted a score of debuts, and for the first time embraced the dominance of EDM in the form of Skrillex and Diplo, as much as the era-defining sound of Kraftwerk and the London bass weight of Oneman and Skream.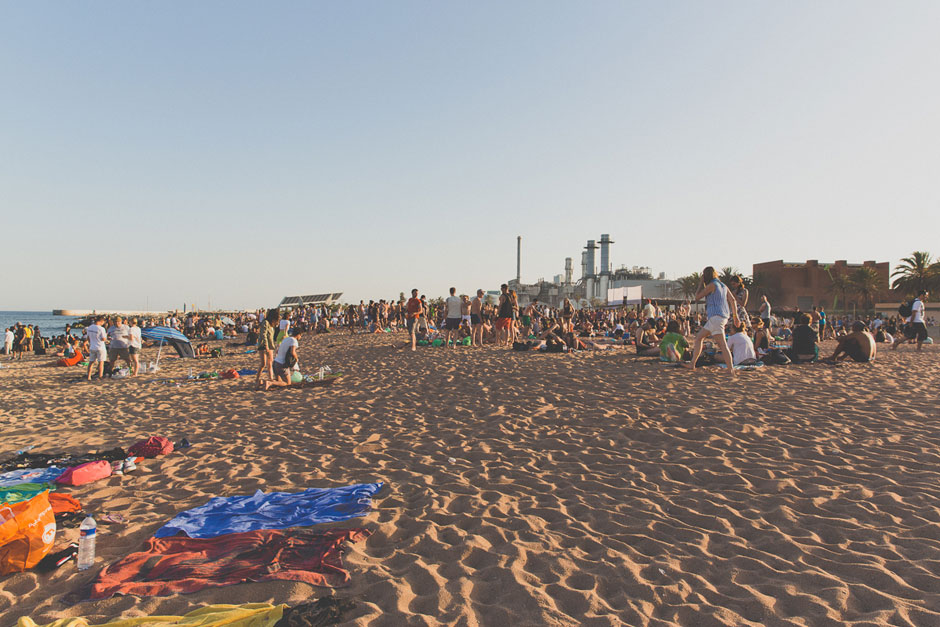 The Kompakt party has existed off-Sónar for a decade—and off-Sónar is just as important to the Sónar experience as the official event itself—but this year also embraced a change for these Cologne stalwarts, with a beautiful setting in the form of Mochima Bar on a secluded beach far from the city center. Framed by two enormous industrial towers and flanked with rows of palm trees, it proved the perfect setting for this family of producers to celebrate 20 years of their uniquely earthy, home-grown take on techno.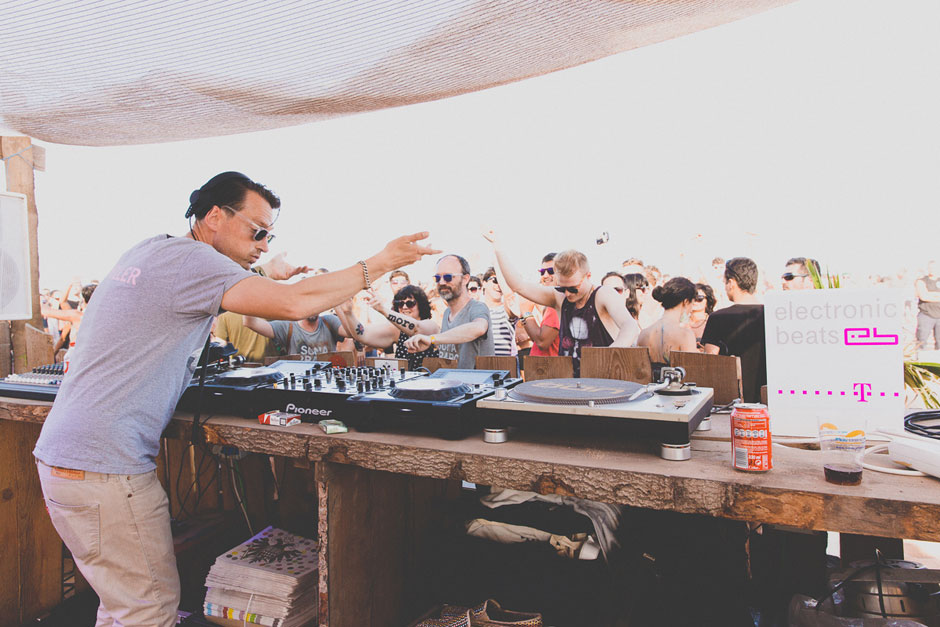 Terranova
Without getting too salacious, clothing was pretty much optional at this point in the weekend, and the majority of revellers were as stripped down and free flowing as the sounds! Opening DJ Terranova set the tone early on with Inner City's inimitable "Ahnongay", and as the crowds began to swell from hundreds of horizontal sun-worshippers to a thousand dancing ravers, the baton passed seamlessly to dancefloor favorites the Pachango Boys, who began with a selection of suitably Balearic, Italo disco favorites, and peaked the proceedings with a minimal, stop-start take on Micheal Jackson's "Billie Jean".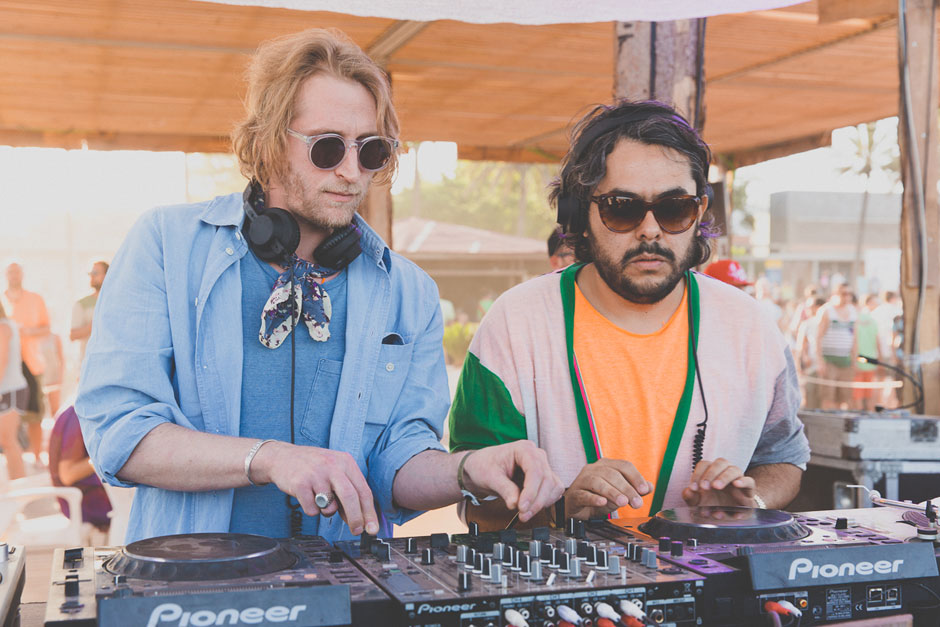 Pachanga Boys
As the sun began to set, the sky gradually turned turquoise, and slowly darkened, soundtracked to Kompakt classics by the likes of , Justus Köhncke, Jürgen Paape, and Superpitcher. Under the cover of darkness, headliners Micheal Mayer and DJ Koze brought the party to a thunderous conclusion, with a pounding selection of favorites that had ravers stage diving headfirst off each others shoulders into the densely packed crowd. As one young man remarked to me in the early hours of the morning, "This party shows you why Sónar is the best festival in the world—it's about the state of mind." ~
You can view more photos here.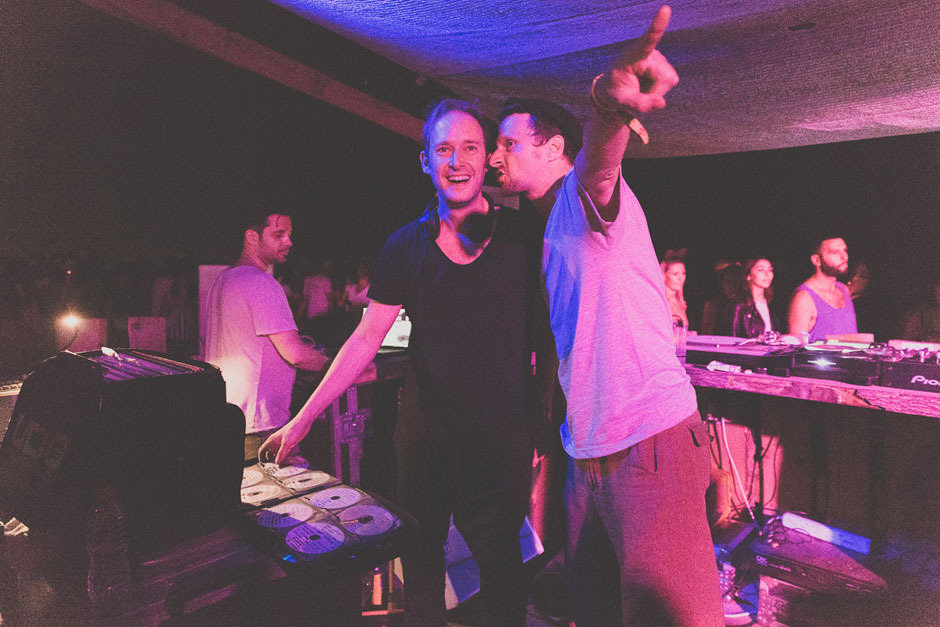 Michael Mayer (left) and DJ Koze (right)