Live Report: Depeche Mode Delta Machine launch in Vienna, March 24, 2013
We attended the exclusive Delta Machine launch event in Vienna in the MuseumsQuartier. Electronic Beats' online editor Lisa Blanning reports.
I have something to admit: I'm a Depeche Mode virgin. I'd never seen them live before tonight, even though their career is already over 30 years old. Here in Vienna, for the launch concert for Delta Machine, their 13th album, the circumstances are highly unusual, however. The capacity of the refined MuseumsQuartier is a mere 1500 people—I'm told they've only done such small scale shows four times before in their career—which is more akin to the size of crowd they might have played to in 1981, if you caught them at the right time at the earliest stage of their career. Compare that to the nearly 80,000 capacity Olympiastadion, where they will play this summer in Berlin, which sold out alarmingly quickly.
It's a sustained celebrity enhanced to timelessness—or at least that's how they appear from the rear of the room. Martin Gore, especially—wearing a white vest, black shorts that fall below the knee and black socks pulled up to his calves—could be mistaken (from a distance) for a teenaged skate punk. But aside from the flailing of drummer Christian Eigner's arms, the only movement on stage, really, is provided by Dave Gahan. Dressed in a sharp black suit with a striking bright yellow lining, he removes his jacket after the first song—"Angel", from Delta Machine—to reveal a waistcoat backed in the same yellow and no shirt. His commanding presence I expected; the playful campness, evidenced in his near-constant dancing, was a surprise.
And although I've been familiar with this group since I was an underaged teenager dancing to "Enjoy The Silence" at school discos, I'm also surprised at the force of it. At a guess, the live drums are layered over programmed drums, and three banks of synths (although Gore plays mostly guitar) provide a lot of different sounds. But the use of space and smart arrangements give room for the punch—like when the slowed down, twangy intro to "Personal Jesus" dissolves, erupting into what some electronic music fans might even call a 'drop', or in the pulse driving the ballad "Heaven".
Small, clean, and polished electronic sounds punctuate the modular swirl of "Should Be Higher", and the sleek synth lines throughout the set remind me of how unusual Depeche Mode were as one of the first electronic acts to reach the levels of guitar-band success. But it's in the irresistibly dancey groove of "Walking In My Shoes", only three tracks in, that I realize what staunch DM fans have known all along: while this is definitely pop music, it has an existential edge somehow conveyed beyond the lyrics alone, touching a nerve beyond mere pleasure centers. Call it 'goth', if you like—they might even agree with you: in a tongue-in-cheek move, Timothy Saccenti's (director of the "Heaven" video) visuals for the concert even feature the vaulted ceilings of some gothic cathedral—but it's a darkness that goes well with everything: the synths that made their name, the blues and country themes they would explore later in their career (including on Delta Machine, although this band have already shown that synths and blues make a surprisingly good mix, especially on tonight's rendition of "Barrel Of A Gun"). Depeche Mode's popularity and longevity prove the darkness is within us all.~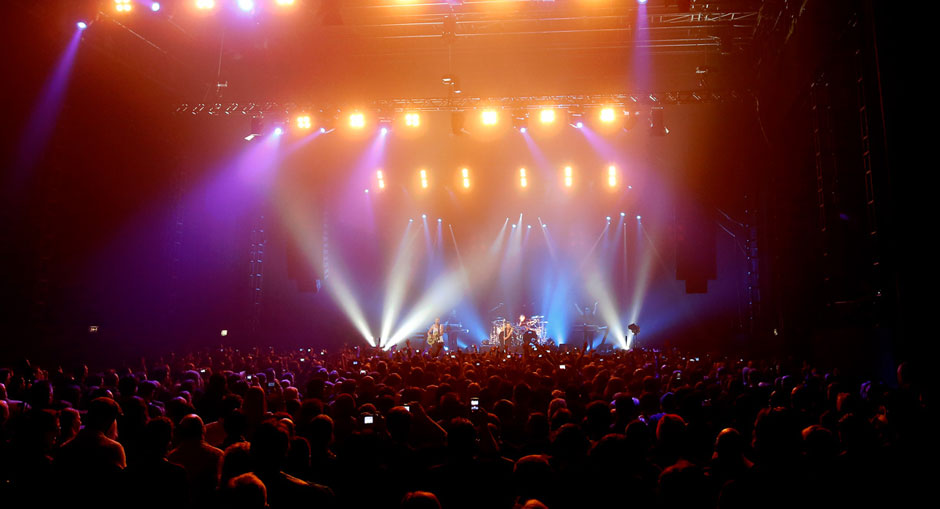 Depeche Mode's Delta Machine album is out now. Find more photos at our Facebook page. The album launch event will be streamed via www.fan4fan.com on April 10th. Deutsche Telekom also partners with Depeche Mode for their upcoming tour. All photos © Markus Nass / Electronic Beats.
Published March 25, 2013. Words by Lisa Blanning.