Live Report: EB Festival Prague 2013
Last night, we kicked off our 2013 Electronic Beats Festival season in Prague with Lana Del Rey, Karin Park, and Roosevelt. Online deputy editor Louise Brailey reports.
When tickets for the Prague 2013 edition of Electronic Beats Festival were released back in February, they were sold out within hours. It's not a great surprise to note a similar strain of enthusiasm when, at barely 7pm, the cobbled pavement outside Prague's Divadlo Archa is jammed with eager ticket holders. Anticipation courses through the venue like the disarmingly inexpensive lager the city does so well, and Karin Park—the first act on tonight—capitalizes on the crowd's spirited expectation with her power-dressed synth pop. Her hair teased into an Elnetted quiff that possibly hasn't moved since Linda Evangelista sported it in an '80s Vogue, Park struts about the stage, keytar (keytar!) strapped on like a bullet belt, ready to take out anyone who mentions Fever Ray in a five mile radius. Rich in texture—she intermittently takes to a Korg MS-20 to add searing analogue flourishes—and fiercely angular, the tracks are anchored by the percussive heft provided by her brother, David, in a Slayer t-shirt. Tracks like "Restless", with its shocks of John Foxx synths, or the sublimated rave of "Tension" find a receptive, responsive crowd.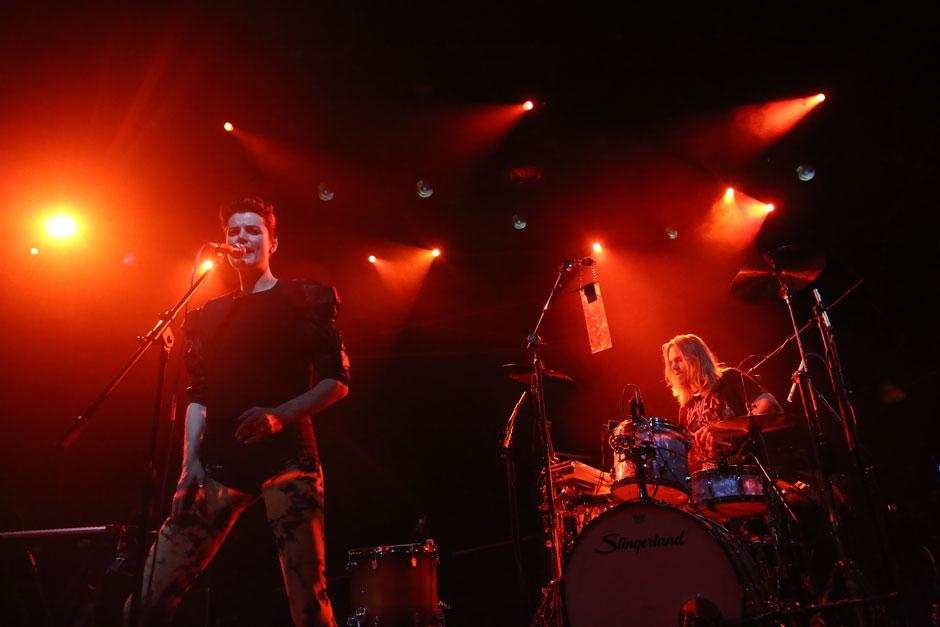 Karin Park
Thus primed, we're rendered meekly susceptible the intriguing power of Lana Del Rey. She is, of course, the reason why the gig sold out so quickly, but who is she, really? Gangster Nancy Sinatra. Living meme. Poet of an America that can throw up JonBenet Ramsey or Lindsey Lohan. Well, what did you expect? Elvis is her daddy, Marilyn her mother. Yet every think piece claiming to deconstruct her is reduced to meaningless pixels on a screen when faced with the effect she has on the audience, in the flesh. Grown women (and some men) in floral headbands shed tears or sing themselves hoarse when their idol proffers a microphone, graciously, towards them. She seems genuinely moved, and a little surprised by the level of fervour, "I can't get over you!" she laughs between songs. There's mastery of performance, too. Transitioning effortlessly between rich chest voice and a pure, bird-like soprano, the shaky, pathos-laden early performances are a distant memory; now manicured fingers hover over her temple like a gun when she sings "I'm tired of thinking that I'm fucking crazy", only to flitter into a semblance of a salute during "American". A song she asks to add to the setlist part way through.
Fascinatingly, there are moments where the brazen emotion strays into a kind of perversely straight camp, not performative enough to be Other, yet monstrously vulnerable, a totem of a tragic femininity. As she takes her place in a single spotlight for the smoky jazz joint number "Million Dollar Man" she's reminiscent of nobody so much as a kind of 21st century Judy Garland. She even stakes a claim for authenticity, thanking the audience for allowing her to tell her "true life stories" after booze-and-prostitution torch song "Carmen". When she descends into the photo pit for the extended instrumental during "National Anthem" people rush forward to hand her messages in sealed envelopes and, inevitably, long stemmed roses. In turn, she signs autographs, a performer whose chosen medium of pop music is somehow not quite tragic nor (un)real enough, leaving her to appeal—like she so often does—to the language of the big screen. Who is Lana Del Rey? We're left, where she wants us most, out there in the dark.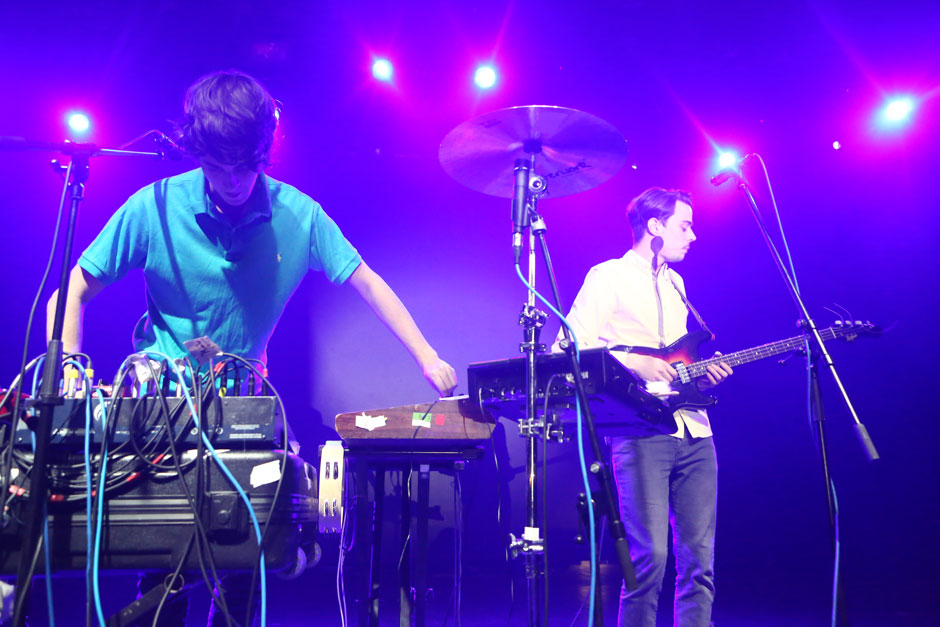 Roosevelt
From LDR to Roosevelt, it falls on Marius Lauber, accompanied by a live bassist, to usher the night to a raucous close. From behind his set-up, which includes the usual MacBook, samplers, drum machines and guitars, he fashions a stylistically tasteful collagist pop. Flitting nimbly from Friendly Fires-esque thriftstore funk, to a kind of homespun techno, the loose-locked rhythms offer a chance to decompress from the emotional intensity of Lana Del Rey's set. The Greco-Roman endorsed "Sea" is clearly the highlight, its planes of sun-bleached synths a neat coda to a night defined by pop romanticism of wildly divergent kinds. A wise person once said that, "all he wants to do is party with his pretty baby." On a night like this, who could possibly argue?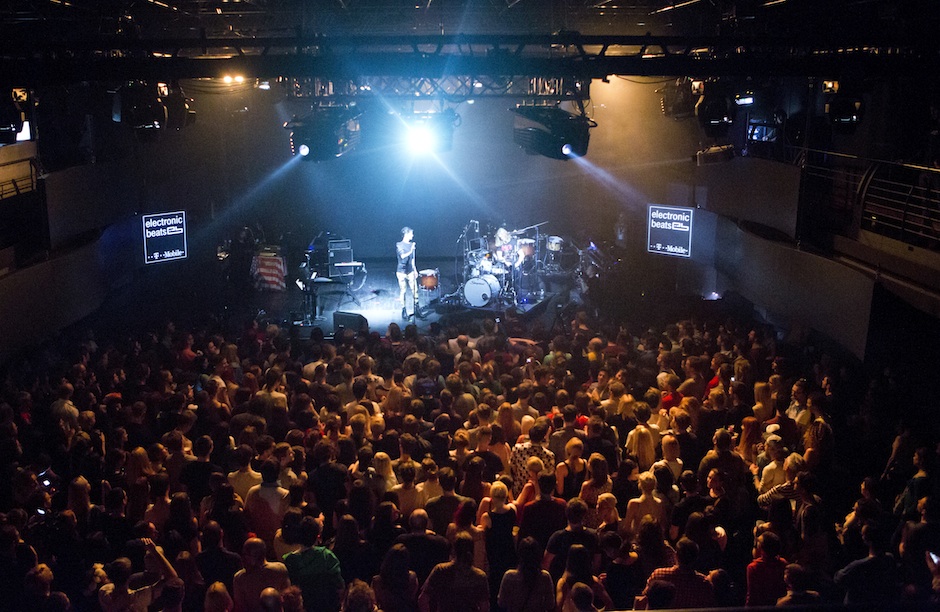 Me and Lana Del Ray on stage at Electronic Beats, in Prague tonight.campl.us/oCjh

— Karin Park (@karinpark) April 13, 2013
All photos by Tomas Martinek (except Karin Park's tweet)
Published April 14, 2013. Words by Louise Brailey.