Last night Electronic Beats Festival took to Cologne for its latest, and arguably biggest, date this season. We sent Daniel Jones to report from the front row. All photos taken by Peyman Azhari.
Cologne. A metropolis on the edge of oblivion, where the sewer grates ooze steam and on whose night-shrouded streets criminals perform their troublesome tasks… Actually wait, that's Gotham. Cologne is the rich, very clean German city where each year one of the Electronic Beats Festivals takes place, and I've just entered her. No time for sightseeing, however, as I find myself rushing to meet up with two friends who run the essential CLUB KID store in nearby Dusseldorf. I find it far more satisfying to roll up to an unfamiliar location with a crew; it takes the edge off, and nothing says "professional music journalist" like a trio of black-clad, platform-shoed weirdos. In a flurry of hugs, kisses and a gifted LONG beanie it's time to head to E-Werk, the location for tonight's festivities.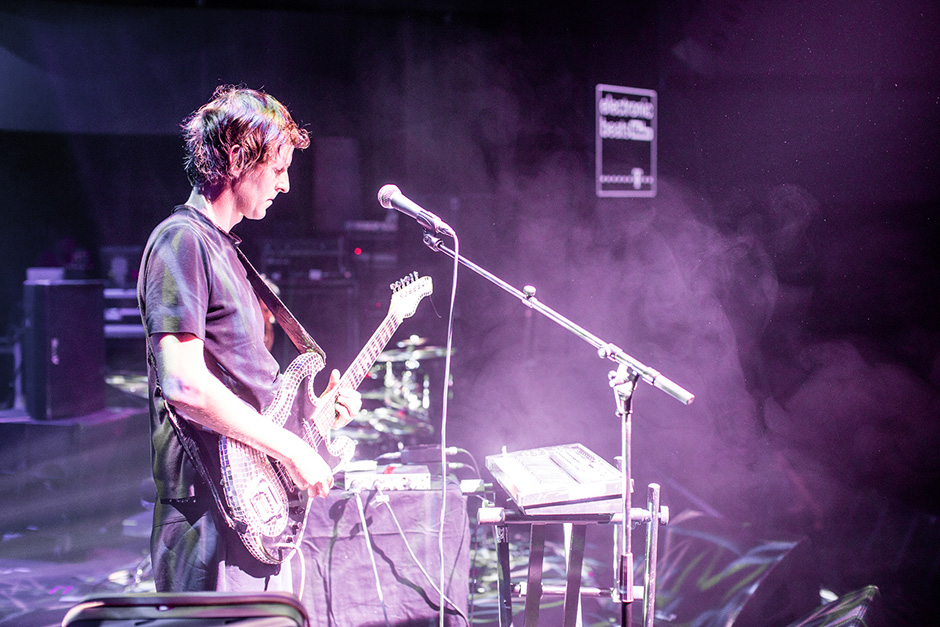 Popnoname
Stepping into the venue, I first take stock of the bar's location, where legal tender is replaced by the internal glow of alcohol's kiss. The Telekom photo booth nearby grants me a nice visual souvenir. Headshot, drink. Satisfied in both mind and liver, I'm now ready to be music'd at. It's a good night for it, too: the vibe is definitely weirder than your usual EB fest, with plenty of prettily depressed young things slouching about in fashion-black. After a warm-up set from locals Popnoname that alternated between rather vanilla indielectro and banging techno with an almost industrial vibe, Copenhagen-based Reptile Youth took the stage. While their bassist did his best Rowland S. Howard impression, grinding his instrument with gusto, vocalist Ian (essential name for any aspiring post-punk band, I reckon) alternated between a coo and a scream, shaking the crowd into tribal panic. Can't you just see them on the next NME cover? Better yet, can we have a S.C.U.M. reunion tour already?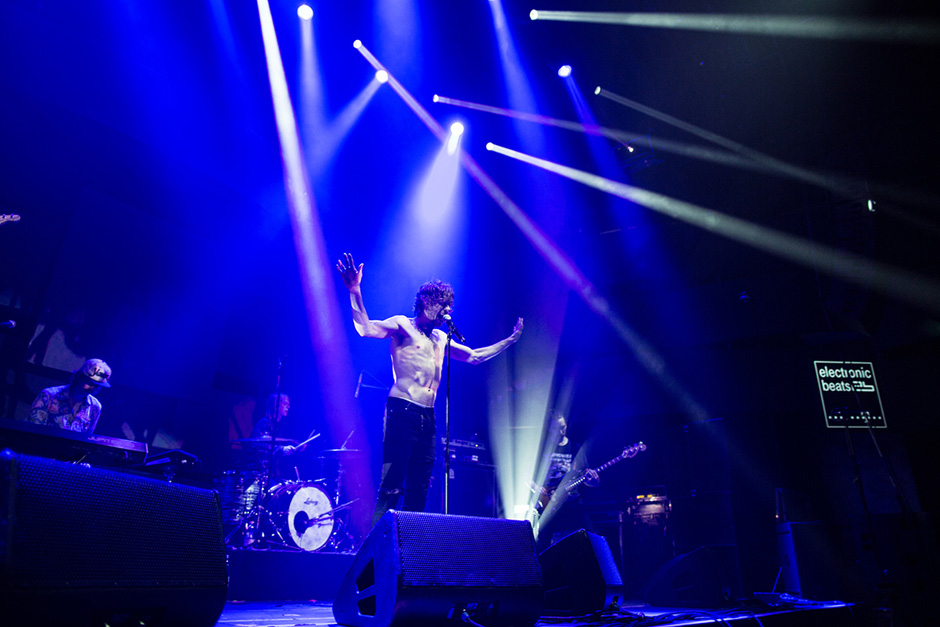 Reptile Youth
The last time I saw Dan Deacon he was opening for Devo in Brooklyn, shuffling the crowd through a routine that was like a human version of aerobic musical chairs. It was sweaty, hectic nonsense and I loved every second of it. Tonight Deacon was in even finer form, blasting the room with shattered electronics and leading the crowd through love-themed nonsense calisthenics at 777 BPM. At one point he split the crowd right down the middle, picking two "captains" to lead them in synchronized dance. While it swiftly transformed into chaos, it was of the extremely fun variety. By the time James Blake took the stage, most people seemed to be whipped into frenzy. Blake took them further; with a deft sweep of his fingers he made boys and girls gasp, clasp hands and brace themselves for the delicately booming power of it all—or a sudden crushing bass. The emotion in Blake's voice balanced the manic chipmunk energy of Deacon nicely, slow dances and slow chants.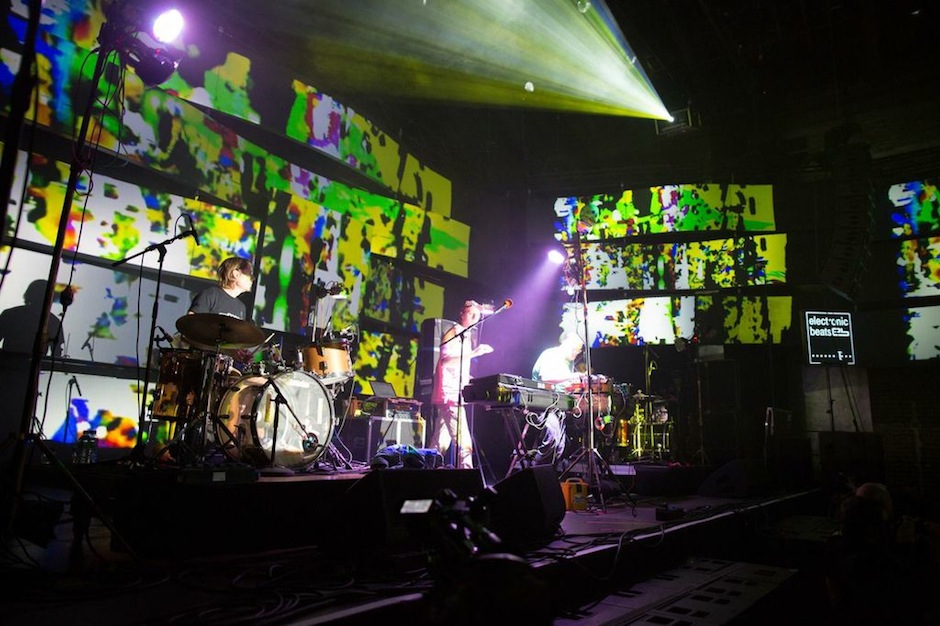 Dan Deacon
Trust was the perfect ending to a night, Robert Alfons bouncing onto the fog-shrouded stage  like a beautiful angel. If you've never experienced Trust live then you'd never know that almost all the vocals on his debut TRST, be they high and feminine or low and gothic, are performed by him. Seeing Alfons hit that chorus perfectly on "The Last Dregs" is strangely thrilling, but that might also be because I was (to the dismay of the tweens to my left) singing along in a rather falsetto-ish shriek myself. Kids' World no more, this big-boy journalist wants to bellow and wail with his favorite tunes and you'd better pray there's no encore (there wasn't, sadly.)  Pretty sure that at one point I caught a wink from Alfons but that might have been the sweat blinding my eyes. ~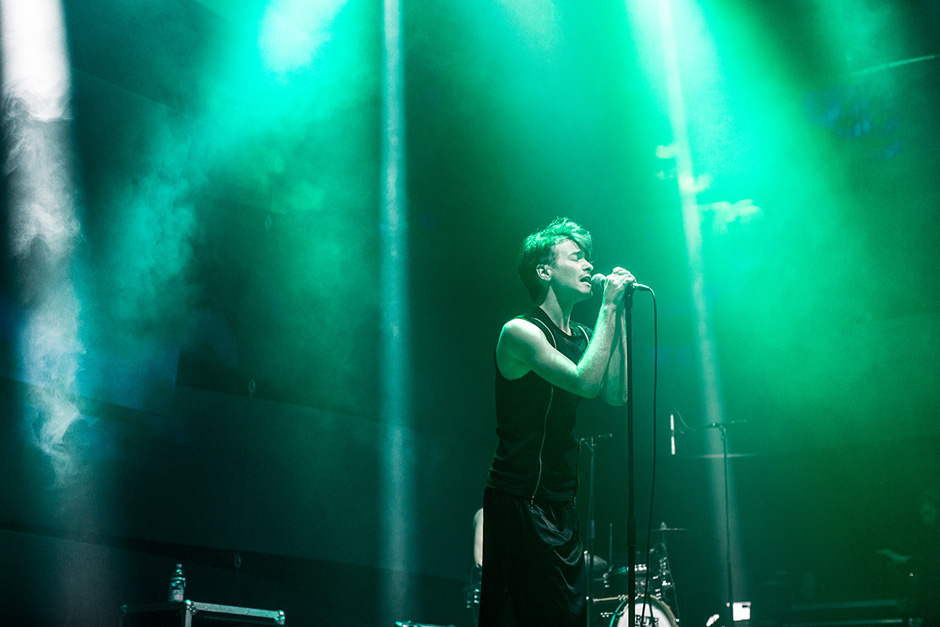 Trust