Live Report: Electronic Beats Festival Vienna 2013
EB takes up residence in Vienna with a night of  intense—and intensely fun—music to bring down the curtain on a showstopping EB Festival 2013 season. Louise Brailey was down the front to report on When Saints Go Machine, Laurel Halo, Metro Area and, of course, Giorgio Moroder. All photos by Doron Nadav.
In a city that's never quite shed its imperial poise you'd be hard pressed to find a more grand and stately setting than Vienna's MuseumsQuartier. The largely neo baroque complex is built on the kind of scale characteristic to the former capital of the Austro-Hungarian Empire, loaning anything that passes through the courtyard an air of expansive dignity. Tonight, there's a real sense of event as beautiful things—handsome, bearded chaps in LBDs and pearls, women wearing underwear as statement outerwear—are all united in their desire to be seen.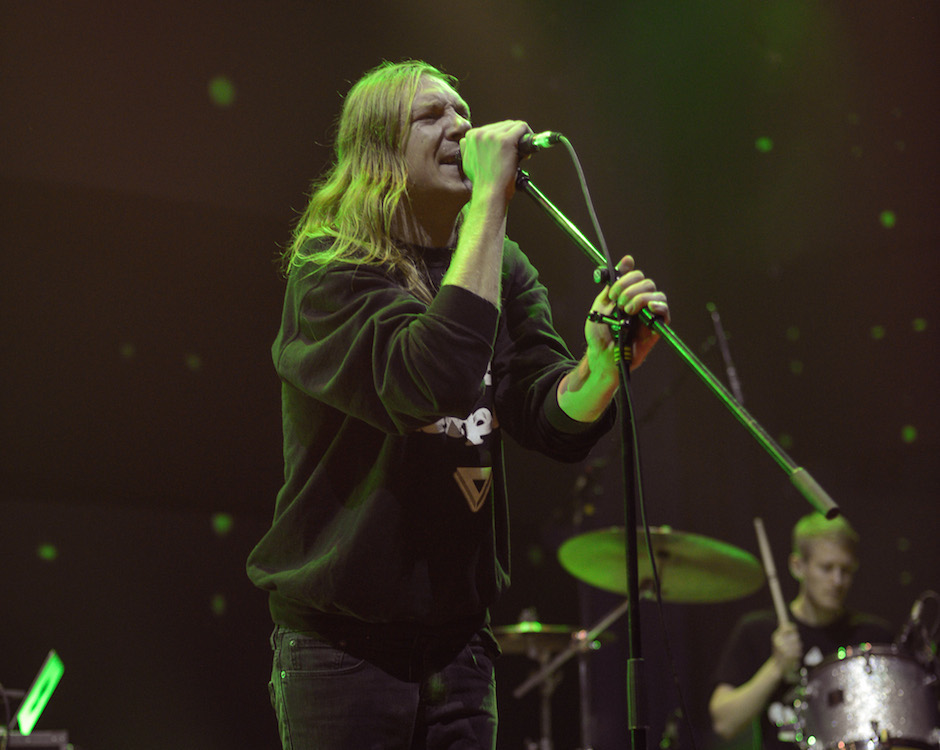 When Saints Go Machine
Still, such pomp and posing takes a backseat by the time When Saints Go Machine take their positions onstage. The Danish four-piece, swamped in black sweatshirts emblazoned with "Love and Respect", possess a quiet, unshowy magnetism that's distilled in frontman Nikolaj Manuel Vonsild. His heat-squeezing croon, nestled in that sweet spot between the studied quaver of Antony Hegarty and the ethereal soul of Arthur Russell, lends the glassy electro pop of "Parix" an all too human core—even when he bends over a bank of gear to time-stretch his vocals into a machine howl. "Iodine", with its boom-bap spine, carbonated pads and heart busting chorus makes explicit the melancholic pop splendor that frequently underpins their records. The highlight of their all too brief set is a vital rendition of their much loved"Fail Forever" the mournful cello figure working in the same way as Vonsild's vocals, offering a strange, organic counterpoint to the synthesized backdrop and the crowd sway along, mesmerized.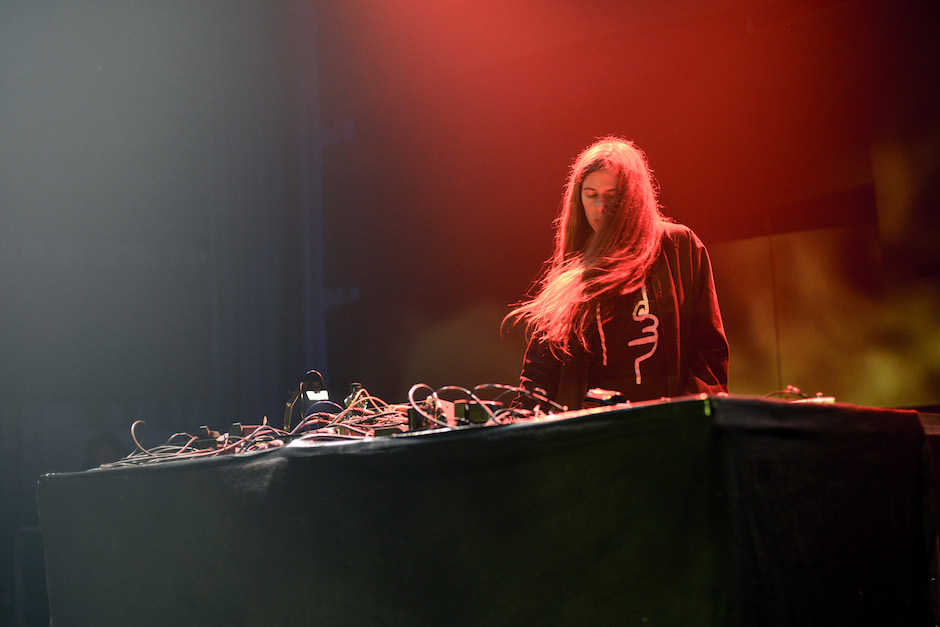 Laurel Halo
Laurel Halo's hardware driven set offers tough, rhythmic counterpoint to the understated drama of WSGM. Where their synths billow and swoon, her set is all sharp edges and metal-on-concrete pummel. Anyone familiar with her latest album Chance Of Rain would no doubt come expecting velocity—those enclosed atmospheres of Quarantine long since dispersed—but the forward momentum of her warehouse-ready set is breathtaking. Beneath whisps of steam or geometric patterns that make up the large scale visuals, some attempt to dance, their limbs spasming as they find footholds within the rolling snares while others are content to observe the ingenious way the percussive elements align on techno's grid pattern before falling into arrhythmic sputters and bursts. This is techno's life-force sublimated into strange new forms, given additional charge by the almost carnal analog textures, those blunt sounding chimes of "Thrax" take on a corporal heft live, "Ainnome"'s  planes of synth feels more like a shape than a sound as they wash throughout the space. Tellingly, Halo began her set playing to a smattering of people, by the time she picks up her microphone to thank the crowd, the only time she picks it up, the venue is full.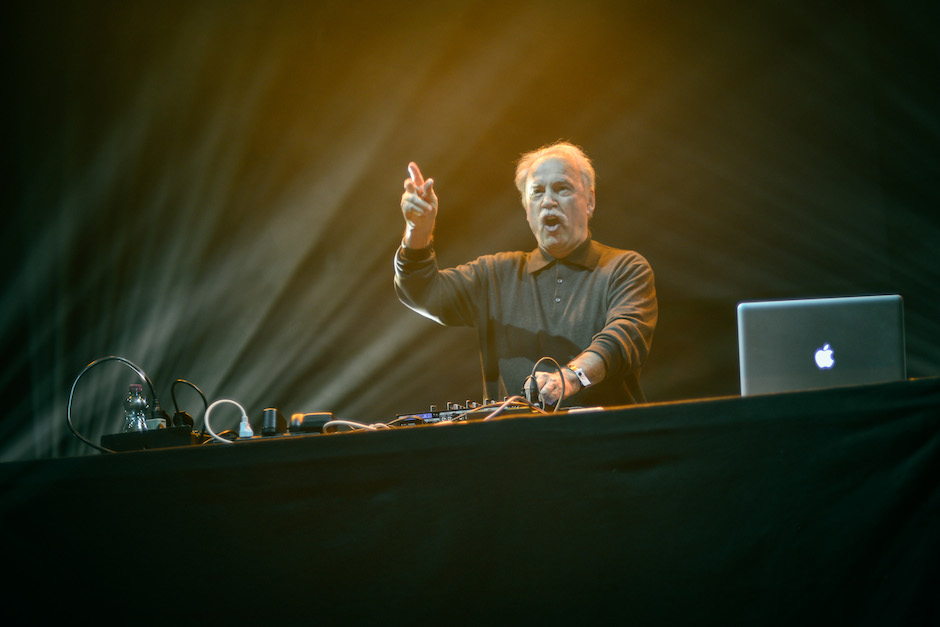 Giorgio Moroder
Next up, a living legend; the Munich Machine himself, Giorgio Moroder. At seventy-odd years of age he looks like a benevolent grandpa but don't be fooled. His late period revival, thanks to Daft Punk, is shot through with vitality made apparent in the way he mouths along and conducts his way through his set, the odd gesture and flourish supported with a flash of strobe. And while his DJ set is essentially a comprehensive megamix of his most loved work, the heady blend of pioneering and populism leaves the venue reeling. From "Love to Love You Baby", which is thrown in early, to Sparks' "Beat the Clock", via a disco-fied "Tony's Theme" from Scarface, arguably Moroder's best soundtrack work, then straight on through into "Together In Electric Dreams"all the big hitters are here, often slammed together with lashings of flanger effect. It's quite the ride with just a couple of minutes from each before the next world-famous record is introduced and we're ripping off our clothes with excitement because, oh God, it's "What a Feeling" from Flashdance. This is disco writ large in the stars: if you've got a handbag, dance around it, if you've got a podium, dance on it, hell, if you've got a white horse, get on it, give it a ride. But for all the outrageous, chart monstering megahits, it's "I Feel Love" that gets the biggest response. And rightly so, those carnal arpeggios, the cold, steely throb and Donna Summer's cyborg vixen schtick feels ageless in a way that say, Limahl's "Neverending Story" doesn't (but that one gets a big cheer, too). It seems that Moroder enjoys it as much as us too, playing, naturally, "Giorgio By Moroder", Blondie's "Call Me" and, um, Lady Gaga's "Applause" as an encore before begrudgingly leaving the stage amidst chants of, "Giorgio! Giorgio!"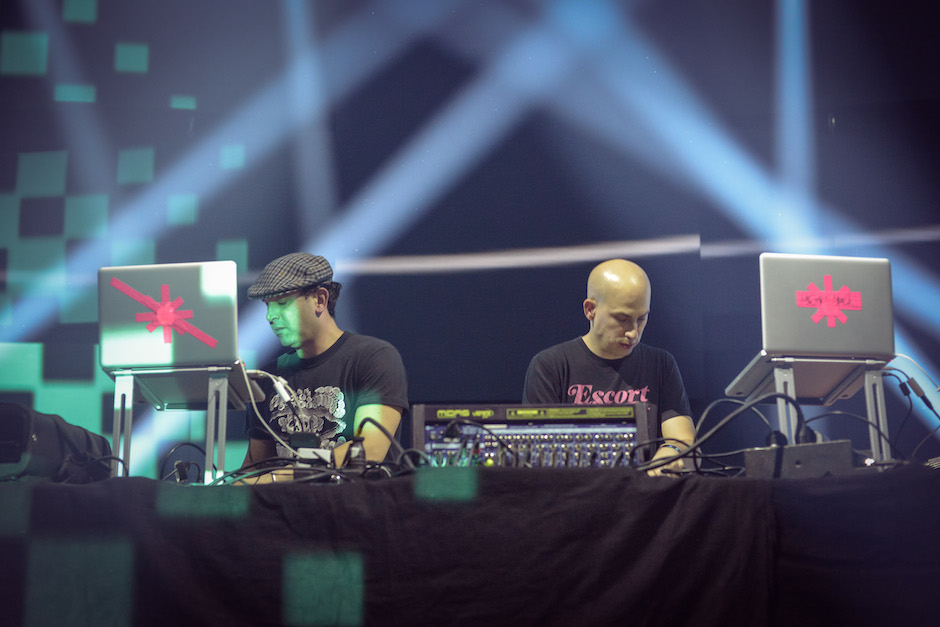 Metro Area
New Yorkers Morgan Geist and Darshan Jesrani no doubt have a fair few dues to pay to Moroder. However, their take on neo-disco is relentlessly restrained, its lines clean, its attitude chillingly hip. In short, Metro Area are the ideal proposition to stabilize the rocketing energy levels. It would be easy to crash after two hours of back to back hits, but they reign it back with their spacious sound and restrained, cleverly deployed samples—a string flourish there, a breathy gasp there, enough to suggest ecstasy. When they drop "Miura", those hiccuping vocals and fizzing chords provoke a collective second wind that lasts, among the faithful few at least, until curfew. Thanks Vienna, we feel love. ~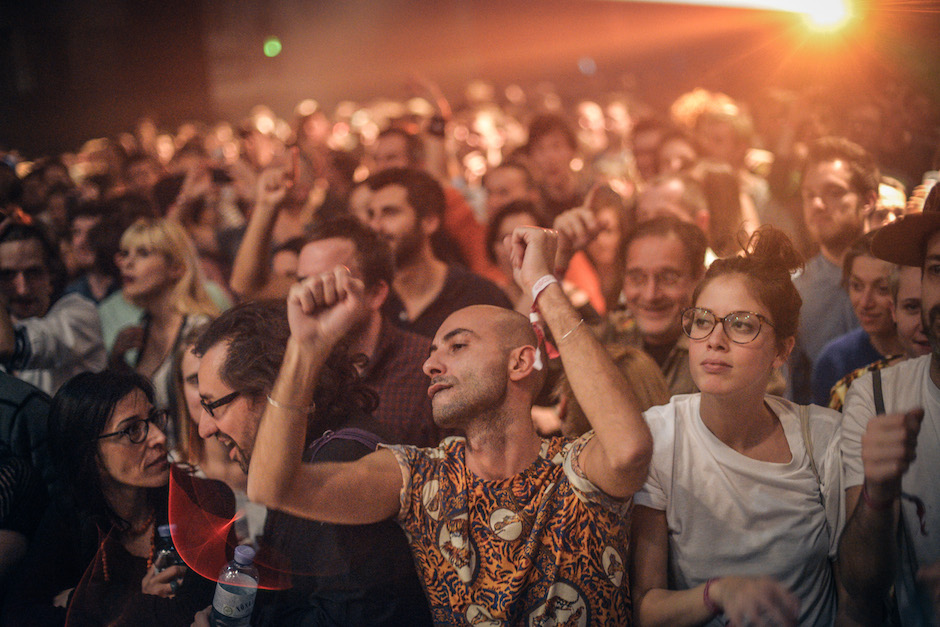 Stay tuned for live videos of the performances over the coming days.
Published November 24, 2013.