Live Report: Electronic Beats Festival Bonn 2014
Last Sunday, Electronic Beats hosted a special festival night at the Bonn Jazzfest. Wayne Shorter and Matthew Herbert—who bought with them their respective Ensemble and Big Band— played memorable shows, each illustrating their personal understanding of jazz in unique fashion. All photos by Eduard Meltzer.
"To me jazz means: I dare you!" Wayne Shorter, arguably the world's greatest living composer and band leader in jazz, whispered these words to me when I met him at his home in West Hollywood earlier this year. The statement was a key moment in our conversation that can be read in its entirety here and in the upcoming issue of Electronic Beats Magazine, but it wasn't until yesterday night that I fully   understood what Shorter really meant when I listened Shorter and his group consisting of Danilo Pérez (piano), Brian Blade (drums) and John Patitucci (bass).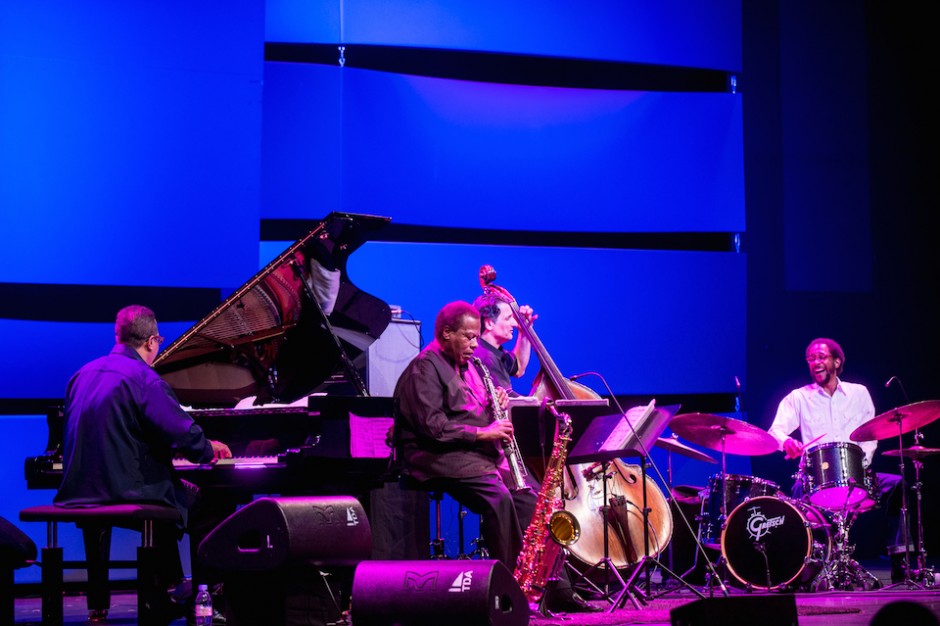 In Germany's former capital Bonn, the Wayne Shorter Quartet took the stage of the Telekom Forum —a modern, functional venue with a 1,800 capacity that usually hosts conventions and congresses, and the occasional concert thanks to its great acoustics—shortly after 8:30 pm and immediately started sparring with the audience's expectations.
From the very first notes it was obvious that the group has been playing together for a long time—some 13 years according to Shorter. After the show, Danilo Pérez described their musical communication as "a form of telepathy"—one that allowed the quartet to mutually anticipate each other's next rhythmic moves, chord changes, improvisations and breaks.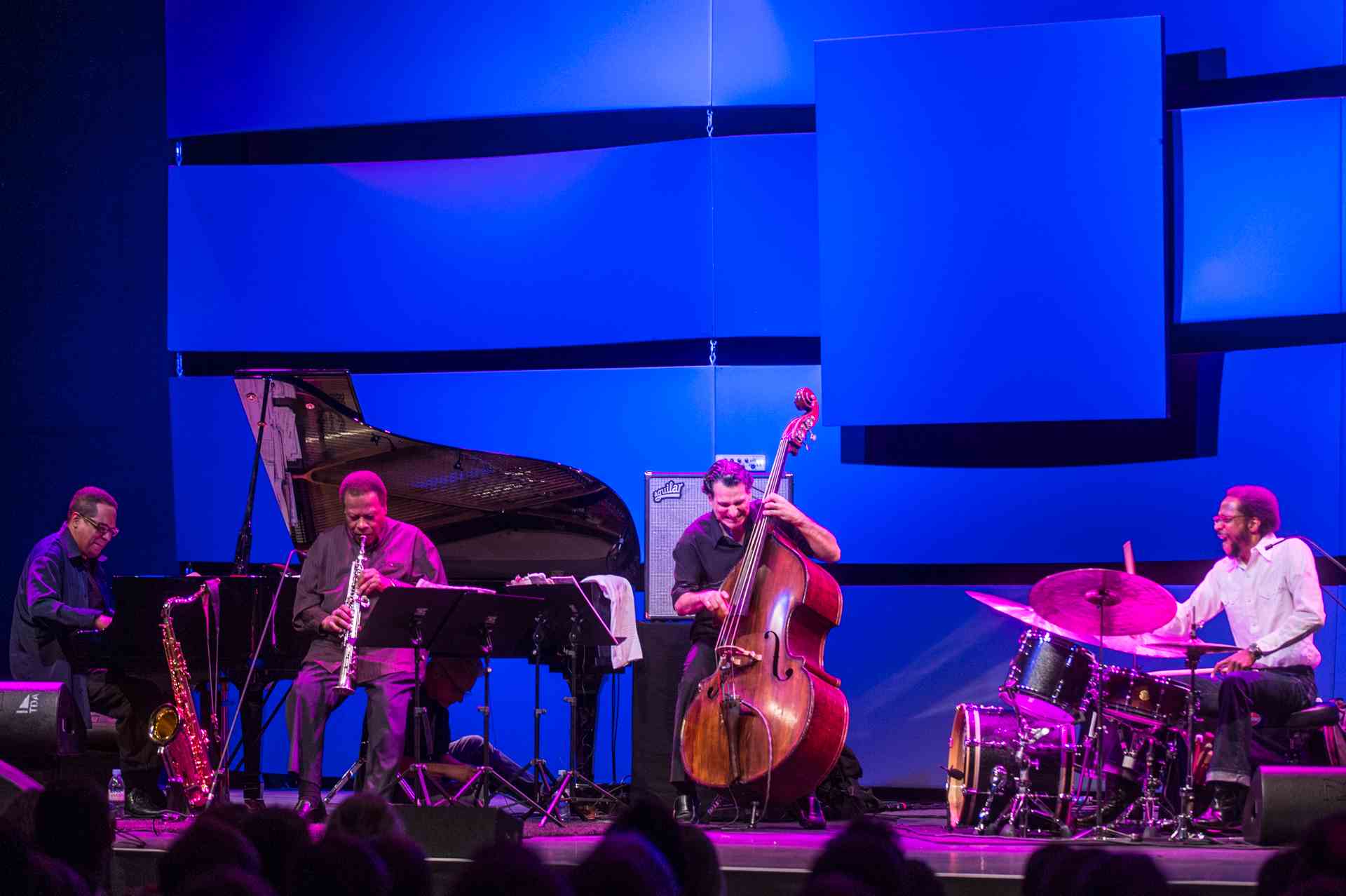 This  trust was particularly apparent in the dynamic performance of the songs "Adventures Aboard the Golden Mean" and "Orbits", both Shorter Quartet classics by now. Through relentless improvisation the group played both tunes in a markedly different fashion to both their recorded and their known live versions: "We are not thinking while we are playing, we are listening to each other," Shorter explained while signing records after the show. Wayne Shorter has been and still is an über-influential figure not only in jazz, but to artists of all genres, particularly electronic musicians.  Lest we forget: it was Shorter, together with Miles Davis who thrust jazz into new electronic territory in 1969 and 1970 with the releases of In a Silent Way and Bitches Brew. Which brings me to the festival's opening act, the Matthew Herbert Big Band.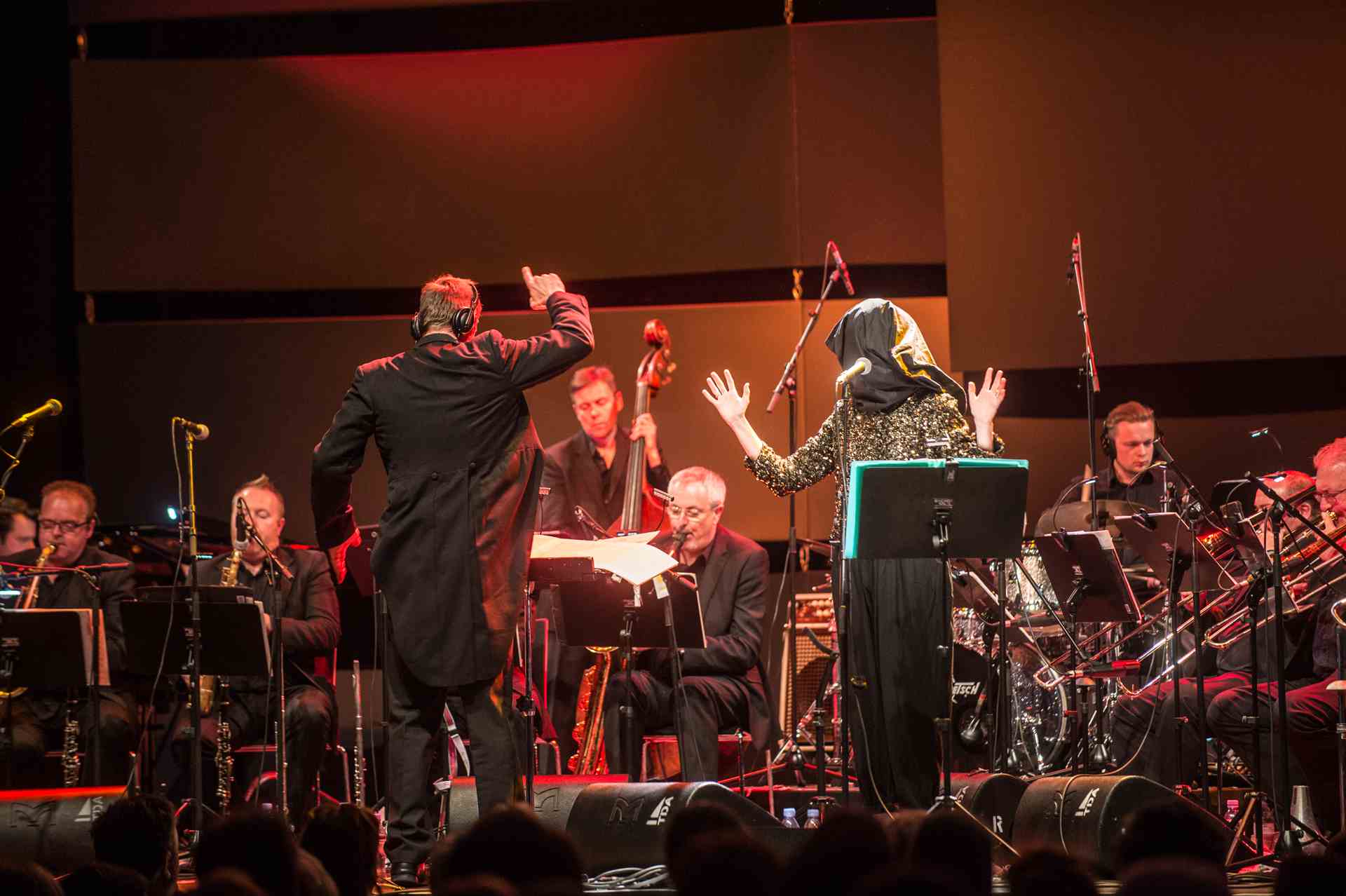 Beginning shortly after 7 p.m. in front of a packed audience, Matthew Herbert, who is himself a big fan of Wayne Shorter, played a solid one-hour set. The first half saw both Herbert's and vocalist Alice Grant's faces covered, veiled in what you might call a black hipster burka. In obvious contrast to conservative jazz big bands, Herbert used live sampling to redefine improvisation, by sampling, chopping and filtering a saxophone solo; or, alternately, tearing a magazine into pieces, recording the sound of the ripping paper and  turning the noise into a rhythm to which his band adapts.
After both Grant and Herbert freed themselves from their masks, the set moved into a more electric direction. Songs from Herbert's signature album Bodily Functions gave the performance in the context of a jazz festival a somehwat confrontational framework.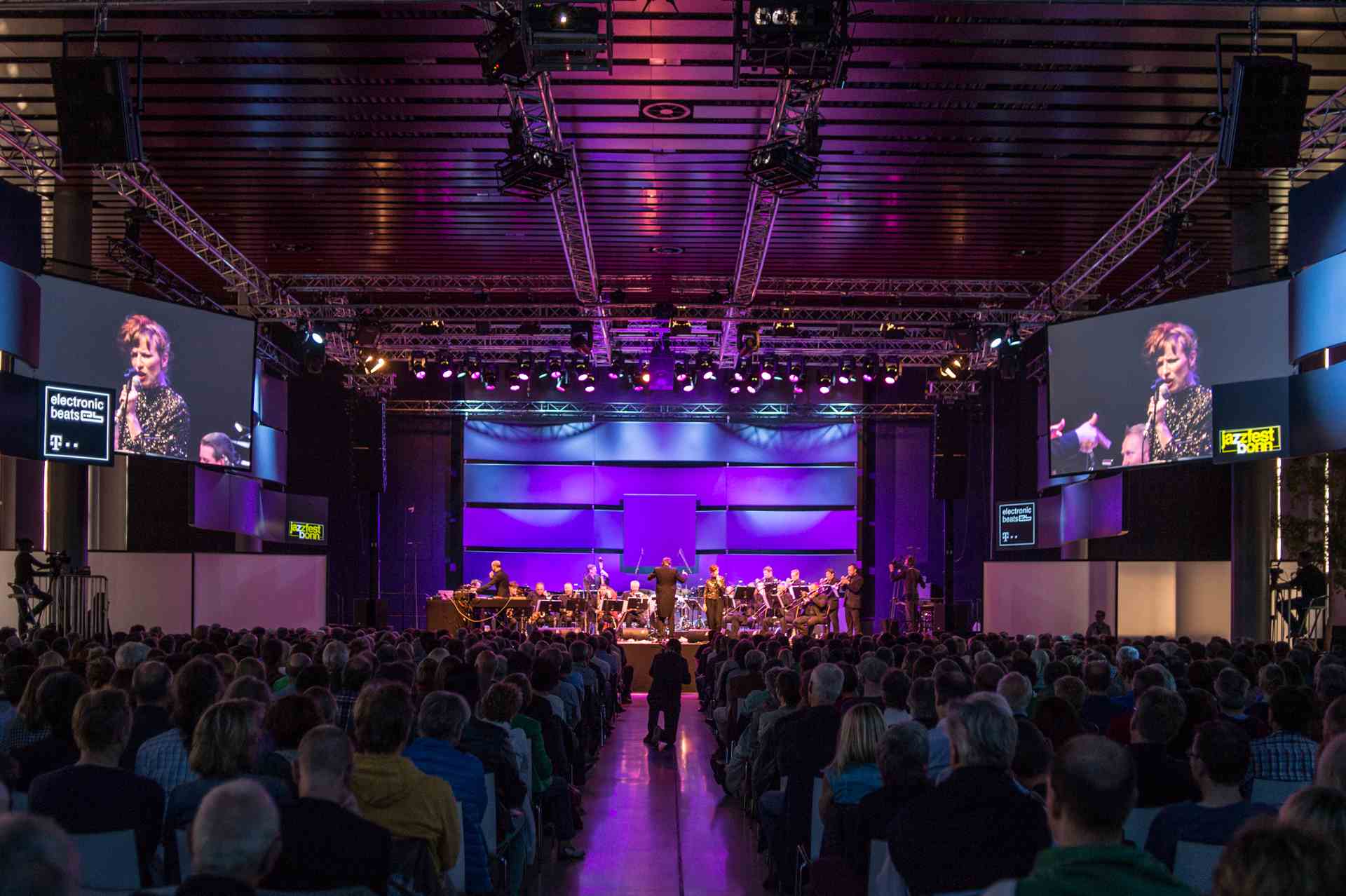 But, as Wayne Shorter said, nothing is more confrontational than a dare. Certainly, booking both the Wayne Shorter Quartet and the Matthew Herbert Big Band for an Electronic Beats Festival  dared audiences to step outside their comfort zone—which is the only way to perceive the outines of the shape of jazz to come.