Live Report: Unsound Festival 2013
The eleventh edition of the Polish festival has confirmed its reputation as an underground music and culture leader, says Lisa Blanning. Above: James Ferraro by Kasia Borzęck (photos and filming were banned at this year's Unsound). 
After four visits to Krakow, each time for Unsound, its medieval charm is still striking. The city, especially the well-preserved old town, has magic of a kind—perhaps leaking from the 'earth chakra' it's built upon. You can feel it at most of Unsound's venues; Alchemia—the cozy jazz bar in the traditional Jewish district of Kazimierz—seems to ooze with memories from centuries of creativity. Its dimly-lit intimacy is an excellent setting for the cabaret meanderings of James Ferraro & Dean Blunt's unannounced "Watch the Throne" performance. Encouraged to chat, the audience socialize amicably while Ferraro, on the house's grand piano, and Blunt, on Fender Rhodes and occasional vocals, jam freely, drifting in and out of musical synchronicity with conversation, laughter, chairs scraping, and the occasional glass shattering on the stone floor.
As quasi-performance, it's a warm-up for Blunt's own act as The Redeemer, another perfect setting in Teatr Stary—a nationally renowned playhouse dating from the eighteenth century. The low-level spotlight (the only source of light in the room) and smoke machine play important roles—more vital than the bodyguard stationed just out of light onstage behind Blunt. The dramaturgy of The Redeemer is validated by the quality of the music, which is rendered through his own baritone, playback, live trumpet, and guitarist Joanne Robertson. Even in the dark, Robertson's stage presence is clear, and her closing, solo rendition of "Imperial Gold" is Blunt's strategic razor, slicing free a wellspring of emotion brewed by his experimental, détourned torch songs.
Even so, as musical foil for Blunt, Robertson's contribution is more subdued than his former Hype Williams compatriot Inga Copeland. Framing her set by DJing dub records before launching into fuzzy loops and vocals that gel into hypnogroove, it's Copeland who broadcasts HW's hazy, pleasurable musicality. In the red lights of room two in Hotel Forum—a Soviet-era modernist monolith closed due to structural concerns in 2002, only to be re-verified five years later but never re-opened—she generates Bradbury-esque otherworldliness.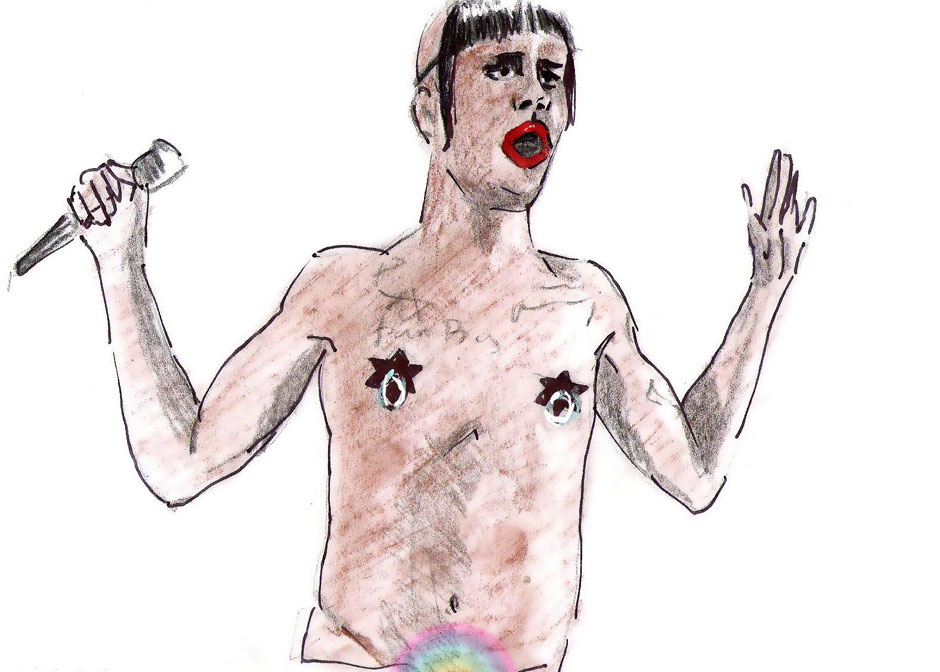 Mykki Blanco by Monika Izdebska
Hotel Forum, whose three conference rooms form the night venue of the festival, is a major locus of energy—the first spurt of which comes from Mykki Blanco. As a rapper, life on the road has sharpened those skills; as a performer, her natural exuberance is undiminished. But it's the stylish, sleek beat selection—and the slot following subpar Death Grips acolytes Clipping—that really makes this shine. Exuberant beats, my favorite kind, turn up again with the kuduro DJs Nigga Fox and Marfox and footwork originator RP Boo, providers of the three funkiest, compulsively body-moving sets of the entire event. The latter two occur simultaneously with Arca, making for a dash through the Forum where each room was left reluctantly. Arca's own DJ set, perhaps because it was so highly anticipated, ultimately was a bit of a letdown: although varied enough, it shared little of the wonder of his own productions. Underground Resistance's Interstellar Fugitives felt particularly inspiring—although, led by the gospel-trained keys of Mike Banks, the power of personality may have amplified the skeletal groove. And, on a Friday night lined with three rooms of techno, the breakbeat of gritty electro was welcome respite.
Dance music is an important part of Unsound, but this year's highlight performances came from the experimental programming. The gothic, more than six hundred year-old St. Catherine's church rang with drones from its pipe organ while Charlemagne Palestine taped its keys, stretched out his arms in a grand gesture high up on the organ parapet, and wailed into a microphone, meeting the squelches, blurts, and sonic farts of Rhys Chatham's trumpet and effects below. The layers of complementary sound conjure an alternative devotional, and when Palestine appears at the grand piano to add some sourness to the proceedings, Chatham quickly detunes the guitar, matching him in gorgeous discord. The final duet on the pianist's trademark stuffed toys is funny, sweet, and utterably memorable. Oren Ambarchi's Knots, performed in the Krakow Philharmonic Hall with the twenty-piece Sinfonietta Cracovia—led by Eyvind Kang—and drummer Joe Talia, is a stunning, rare concert where the classical ensemble seems a vital addition. That's in no small part thanks to Kang's direction (and arrangements), which both presage and echo Ambarchi's feedback swells, interplaying with his soaring amplified guitar, while Talia lays first a kinetic jazz beat and then driving rock drums.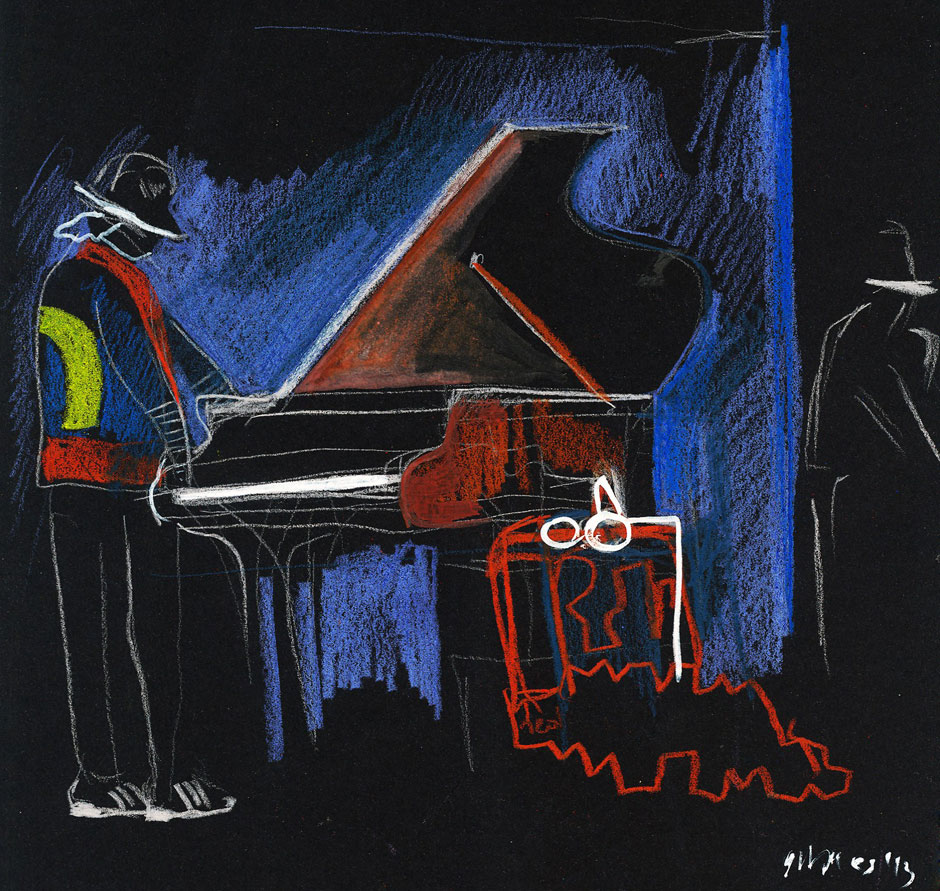 Charlemagne Palestine and Rhys Chatham by Magda Migas
The most disorienting set comes from James Ferraro, who—with the release of new album NYC Hell 3:00AM—is in one of the most oblique periods of his career. There's no existing genre tag for it, and here it feels less evocative of that city and more a lament for lost futurism. Digital tonal percussion gives way to sampled string quartet chopped by metallic beats. Lurching swing underlies audio non sequiturs that nonetheless brim over with emotion. Certain motifs return throughout—robot voice narration, for instance—acting as threads to cling to. You could interpret it as a confusing jumble of ideas, but it also feels truly exploratory, truly experimental, and absolutely unique. With Ferraro, you get the sense he's groping instinctively, regularly finding gold, tossing it over his shoulder, and continuing on his quest; it's exciting to share his discoveries.
A recurring strand of Unsound takes place in the Kijów Centrum cinema, where a huge screen accommodates audiovisual collaborations (often new commissions from the festival itself). The visual team of Marcel Weber (MFO) and Lucy Benson, regular artists at Unsound, launch from J.G. Ballard's Dream Cargoes with Roly Porter soundtracking environmental change and Keith Fullerton Whitman's molecular, modular synapses to vivid life. Whitman's section works particularly well, making the experience akin to a sci-fi version of Yo La Tengo's Sounds of Science, where that band's compositions accompanied the remarkable marine biology documentaries of Jean Painlevé. Robert Henke's Lumière dispenses with narrative for a laser lightshow that, despite its fresh modernity and the rush of spectacle, recalled fond memories of stoned teenage outings to my local planetarium, whose own, inferior lightshows were soundtracked by Pink Floyd rather than the clean, clipped electronics of the kind popularized by Raster-Noton.
This year also saw stakes rise in the accompanying installations, particularly the deeply unsettling and uncomfortable but luridly beautiful dual screen film The Enclave by Richard Mosse—a larger version of which also represented Ireland in this year's Venice Biennale—with soundtrack by Ben Frost. Works by Christ Watson and Steve Goodman's AUDiNT collective were icing on a multi-layered cake. And with the addition of venues like the Philharmonic Hall and Teatr Stary, it seems Krakow's city administration has thrown its civic weight behind the festival. It's support well-awarded; with its consistently adventurous, quality line-ups—and high percentage of repeat visitors—Unsound is clearly a powerful cultural event not just for Krakow, but for underground music in Europe. ~
More artist depictions can be found on Unsound's Facebook page. 
Published October 29, 2013. Words by Lisa Blanning.