"We don't orientate ourselves by the vanguard beats of others" – Max Dax interviews Tosca
As Tosca, Richard Dorfmeister and Rupert Huber released their first album, the wittily titled and groundbreaking Opera, in 1997. However, their friendship began much earlier, in school, where their shared love of musical experimentation, particularly with tape machines, proved a fertile basis for long-term collaboration. Their music while highly exploratory is also hugely popular; a distinctive take on downtempo and ambient music, uncoupled from the formal imperatives of electronic music made for the club. The duos latest album Odeon is released this month and Electronic Beats editor-in-chief Max Dax met up with them to discuss, among other things, the emotional resonance of Vienna, the joy of soundscapes and the essential records of Miles Davis. ~ All photos by Luci Lux
Even though you travel the world, you still consider Vienna as your hideout and refuge. Do you consider Vienna as an epicenter or is it more like a city on the periphery?
Richard Dorfmeister: The world is a ghetto. I strongly believe in the idea that home is where your roots are. Home, to me, can be the town where I am currently based; I can work with my laptop in New York, in Dresden or on some remote Austrian glacier. But for seven years now I have lived with my family and my three kids in Zurich. So, frequently coming back to Vienna to work there together with Rupert on new Tosca material always feels like really coming home—from a place I now call home.
How did Tosca's music change as a result?
RD: I wouldn't say that Tosca's music changed as a result of my traveling schedules, but certainly our working patterns have altered. Now every session has an end after three or four days. We both consider the time we have as very precious and valuable. So, as a result, we're probably more focused than before.
Rupert Huber: As opposed to the days gone by when we could endlessly work on new material as there was no time budget involved.
RD: I like the term 'budget'. Time has become a currency to us. But besides that, coming back to Vienna always triggers childhood memories—as well as more recent ones—as this is the capital I was born in. You can't erase strong feelings like that. The mood is present even if we encapsulate ourselves in our studio in the basement of the house where I used to live. Our studio is like a cosmos: once you enter the studio you're cut off from the world that surrounds you, there are no seasons and there's no time of day. I really love to be separated from the world like that when it comes to work. But I can't shake off the feeling that I'm home.
RH: A studio has to be, by definition, sealed off from the outside world and not only for acoustic reasons. I couldn't focus in a studio that offers me, say, a beautiful view. I prefer working in seclusion.
I recently interviewed Irmin Schmidt of CAN fame and he loves to have a view. When it was hot in summer in Weilerswist they would even leave the studio door open—you can hear children playing in the distant background on some of their recordings…
RH: If you left the door open to our studio you'd hear people yelling at each other, car accidents and street traffic.
RD: It never crossed my mind to sell the studio and build a new one in Zurich.
Tosca's Opera album from 1997 started as a pop album but tilted over into a dystopian soundscape after a couple of tracks. The album certainly helped to define how we perceive Vienna today. I remember having dinner with Arto Lindsay when Opera was just released and he remarkably stated that he'd forever link the musical freedom you'd expressed on the album with the city of Vienna.
RD: Wow! He said that? Great! I too love these soundscapes most. The deluxe version of our new CD Odeon has a bonus live disc of pure ambient soundscapes. Whenever Tosca comes close to this kind of music we are getting somewhere particular. Unfortunately, you can't perform these kind of ambient concerts everywhere. People are still not that open.
Why is it you like the soundscapes so much?
RD: I guess it's the cinematographic quality they have. When you listen to forty minutes of sound without beats it gets trippy and I'm fully aware of the fact that there's only a fine line between boredom and absolute trippiness.
RH: It took us some time to create this atmosphere on stage. We needed special equipment to do so and now we've assembled all the gear we can perform like we want to. The Odeon live bonus CD is a first glimpse of what you'll hear from us in the future.
What seemed to have been the obstacle?
RH: We didn't have the new version of Ableton Live. Now that we do it allows us to intuitively alter the tunings and the tempos of our pianos and everything else while playing live. This piece of software enables us to be rid of pre-set patterns.
RD: The different tunings of the sound sources proved the biggest problem when it came to live performance in the past.
RH: It's never easy to tune a piano to start with, but even when you've finally fine-tuned your instrument you have to sync all the other audio sources with the piano tuning.
RD: I envy real musicians for that reason. Take Miles Davis' band from the '70s, when they went electric. They didn't have to bother about midi or whatever. They'd tune their instruments and then play.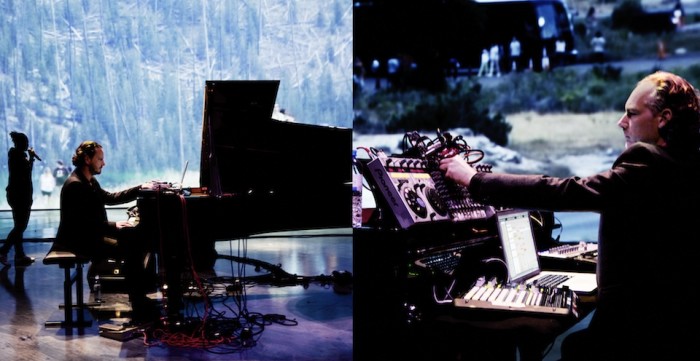 Which Miles Davis albums do you consider essential?
RD: The usual ones: Agartha, Pangaea, Live Evil. That kind of stuff.
What about The Cellar Door Sessions or The Complete Jack Johnson Sessions?
RD: I've heard about them. They're the original sessions that were then treated and edited by Teo Macero, right?
Right.
RD: Didn't they release The Complete On the Corner Sessions as well?
Yes, it's pure dope. I'm not at all surprised that almost every musician or producer who works in the field of electronic music calls these 'making-of' box sets an incredible source of inspiration.
RH: That's uplifting to hear because I'm actually, more often than not, disappointed when I try to talk with people about this exact kind of music. They haven't even heard of that body of work. All they come up with is Brian Eno. I mean, nothing against Eno, but Miles Davis is, well, miles ahead.
RD: I recently had this discussion about the sources and roots of Kraftwerk and CAN. How come that electronic music in the '70s went through the roof in West Germany of all places…?
Stockhausen probably, and his WDR Studio für Elektronische Musik in Cologne certainly was a major reason.
RD: I think so too. If you talk about electronic music you have to talk about Karlheinz Stockhausen, and Miles Davis too. That's when the tape machine came into play.
Irmin Schmidt and Holger Czukay of CAN were students of Stockhausen. Whereas Kraftwerk were heavily influenced by the Dusseldorf Kunstakademie, namely Joseph Beuys and Gerhard Richter—even though they didn't do music at all. 
RD: I understand what you mean. It's probably the spirit of that particular time and place which made things possible. I mean, it's obvious that Kraftwerk didn't try to enhance the musical ideas of other musicians who went before them. It's crystal clear to me that the concepts came from the art world.
Now Kraftwerk are taking their music into the museums. They performed at the MoMA in Manhattan, at the Kunstsammlung NRW and are due to perform at the Tate Modern. This raises an interesting contradiction: If they consider their music as an artistic performance that can be exhibited then how does improvisation fit into the equation?
RD: The unforeseeable element is the key essence when making music. Especially when you don't only improvise but also start to use dub effects. Then the whole set-up finally becomes totally unpredictable. But regarding Kraftwerk, I think the essence is that they have a strong framework of pre-set structures, but in between those they are allowed to improvise. I don't think that art performed in a museum implies that improvisation is not allowed.
Richard, you've been one half of Kruder & Dorfmeister. By what means is Tosca a counterpart to K&D?
RD: Well, obviously Rupert and I don't even try to do club music with Tosca. Even if we use beats we don't orientate ourselves by the vanguard beats of the others. Tosca is more about style than about beats. As a DJ I could easily include dubstep into a set of mine, but even if I like it the sound wouldn't become part of Tosca.
What kind of music does rub off when it comes to Tosca?
RD: It's basically music from the '80s. I've probably heard too much music in my life so now most of the new music that comes out leaves me completely unimpressed. When you're young and your memory is a blank slate you'll fall in love with every kind of good music that you hear for the first time. Don't get me wrong—I envy the beginner's mind for its openness and naivety. Every impression you get as a beginner is a strong impression. Of course I do envy anybody who experiences such a strong impression.
Can you recall such a strong impression in your own life?
RD: Of course. Watching Stop Making Sense by Talking Heads for the first time blew my mind. Nobody had ever seen such a thing onscreen before. I liked Some Kind of Monster by Metallica and Everyone Stares by Stewart Copeland of The Police fame too. But as I said before, I'm mostly impressed by the music that hit me when I was still going to school—The Doors, Serge Gainsbourg, Arto Lindsay, black soul music, funk and Studio One reggae. It was the heyday of new wave, only a couple of months before hip-hop and rap blew everything away. I mean, there were musical revolutions going on!
What about Falco, to name another musician from Vienna?
RD: Falco was pop. We didn't care about pop.
RH: He was commercial.
But didn't you often spin Falco's hit "Ganz Wien" as part of Kruder & Dorfmeister's DJ sets?
RD: Of course! That's his best tune. We had the pleasure of meeting him one year before his death. We respect him. Why shouldn't we? But when we were young we were so much more strict than we are nowadays.  ~
Published January 24, 2013. Words by Max Dax.